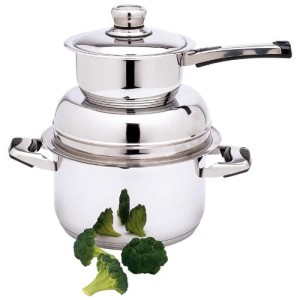 For a very reasonable price, you can get a 28-piece 12-element stainless steel cookware set. Now, is this too good to be true? After all, you can hardly find any cookware sets that have over 20 pieces in the bundle. Most would be around 8 to 12 pieces with a few having up to 17 pieces. So, it would be interesting to see if this 28-piece set is worth a buy in this waterless cookware review.
28-Piece 12-Element Stainless Steel Cookware Set Review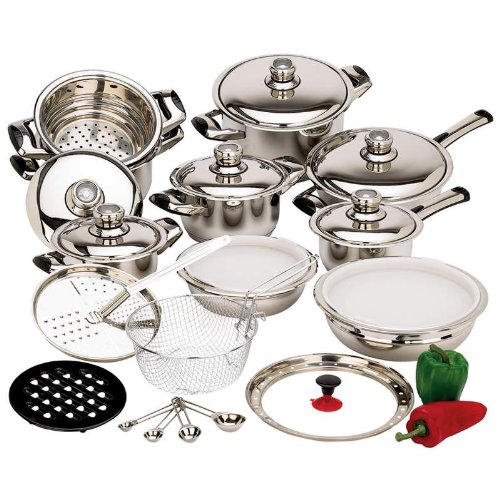 So, what is included in the 28-piece package?
1.6-quart covered saucepan
1.6-quart covered casserole
2.2-quart covered casserole
3.1-quart covered casserole
6-quart covered casserole
10-7/8-inch covered frying pan
Step steamer with side handles
Medium covered (air tight) mixing bowl
Large covered (air tight) mixing bowl
Grater with detachable handle
Grater ring adapter
Deep fry basket with detachable handle
Suction cup knob for mixing bowls (when they are used as dome covers)
Pan rest
4-piece measuring spoons
=> Check Price
This set has a surgical stainless steel construction with a 12-element encapsulated base. It is designed as a waterless cookware with a thermo knob on the lids to let you know when the right temperature has been reached.
With a mirror-finish appearance, it also has a riveted heat resistant handle. The set comes with quite a large number of accessories too. For example, there are two mixing bowls included into the mix which can also double up as double boilers. They are also designed to fit as dome covers for roasting purposes. The step steamer is another convenient inclusion as you can use it for the saucepan and different sized casseroles, depending on the amount of food that you wish to steam.
Should You Buy The 28-Piece 12-Element Stainless Steel Cookware?
Pros
Accessories – This may not be a good reason to invest in a cookware set, but you will be hard put to find another one that will offer you mixing bowls, grater, pan rest and a few other items in a bundle. So, for those who are starting out with a bare kitchen, it is not too bad a deal.
Sturdy – These are not real solid pots and pans but sturdy enough to pass the flimsiness test. The bottom is thick with its encapsulated design which provides even heating. For the price that you pay, this is a set of reasonable quality out of the box together with its shiny look.
Price – The price is very much lower than the high end waterless cooking cookware which could sell for over $1,000. It is an option for those who want to cook healthier meals but cannot afford the sky high prices of similar cookware.
Cons
Lids are not durable – Many complaints from buyers center around the durability of the lids. The temperature gauges are not accurate and the knobs tend to fall off after a short period of use rendering the lids useless. This is the same issue with a very similar set to this one, the Chef's Secret 22-Piece set, although that one has a slightly better review and rating from customers.
Handles break – A few customers have complained that the plastic part of the handles for their cookware have chipped off making it difficult to lift the pieces.
Sharp edges – The edges of the pots and pans are not rolled which results is sharper edges compared to most cookware.
For the low price and the high number of pieces, I would see this set as a budget purchase. It is not very well-made because the knobs on the lids and handles can certainly be improved for longer lasting pieces. Therefore, this is hardly a good buy and for about the same price, the Chef's Secret could be a better bet although that too has its own set of complaints.
Perhaps a better solution would be to spend a little more and get the Maxam KT17 if you are really interested in a waterless cookware set. Yes, it does cost about $100 more with fewer number of pieces, but at least, the Maxam KT17 has much fewer complaints and hence, you are more likely to have a more durable cookware. Otherwise, for a slightly lower price, you can opt for regular stainless steel cookware such as the T Fal Ultimate  which is still a healthier choice from your typical nonstick pans.
So, in conclusion, give this a miss. There are certainly better sets out there. While the price is right, it won't be economical in the long run if the pieces don't last.
Is There An Alternative Set At The Same Price Range? Find Out Now:

Other Cookware You Might Like: