In their quest to make cookware with better heat conduction and retention, manufacturers have experimented with varying layers of metal in the construction of their pots and pans. All Clad is no different. They have a few product lines and one of the differences among them is the number of metallic layers in the construction. The All Clad D5 vs D7 is one such example.
All Clad D5 Vs D7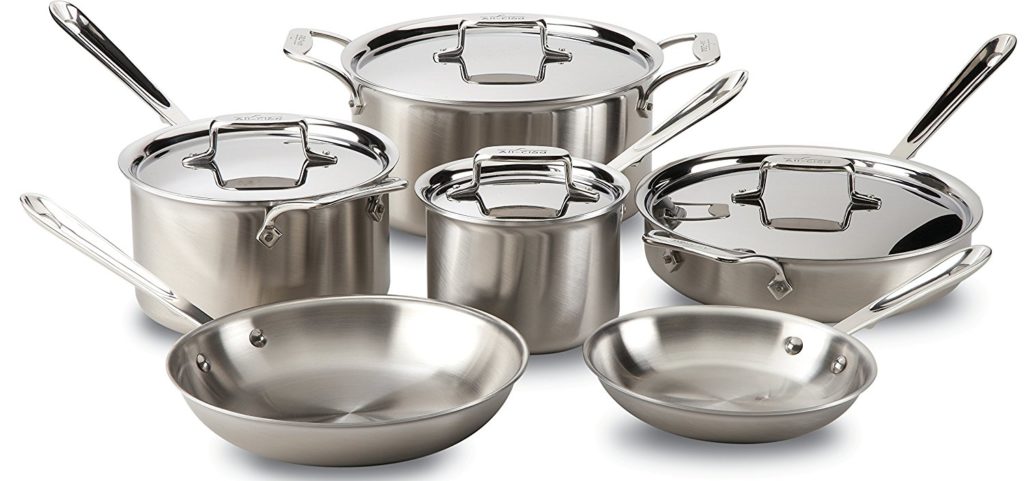 ==> Check Price For The All Clad D5
The review for the All Clad D5 can be found in our All Clad Tri-Ply vs D5 article. To recap, the D5 is a 5-ply bonded construction cookware. The core is stainless steel with 2 layers of aluminum on each side wrapped in a stainless steel interior and exterior. So, altogether you get a 5-layer construction which is supposedly better for heat conduction and retention compared to the Tri-Ply.
The features for the All Clad D5 vs D7 are as per the table below:
| | D5 | D7 |
| --- | --- | --- |
| Type | 5-Ply | 7-Ply |
| Layers | 3 Stainless Steel & 2 Aluminum Layers | 4 Stainless Steel & 3 Aluminum Layers |
| Interior Finish | Polished with Starburst Finish | Polished with Starburst Finish |
| External Finish | Brushed / Polished | Mirror Polished |
| Handles | Stainless Steel (Riveted) | Stainless Steel (Riveted) |
| Lids | Stainless Steel | Stainless Steel |
| Flared Rims | Yes | No |
| Oven-Safe | Yes | Yes |
| Dishwasher-Safe | Yes | Yes |
| Induction Ready | Yes | Yes |
| Made In | USA | USA |
| Price | $$$$ | $$$$ |
All Clad D7 Review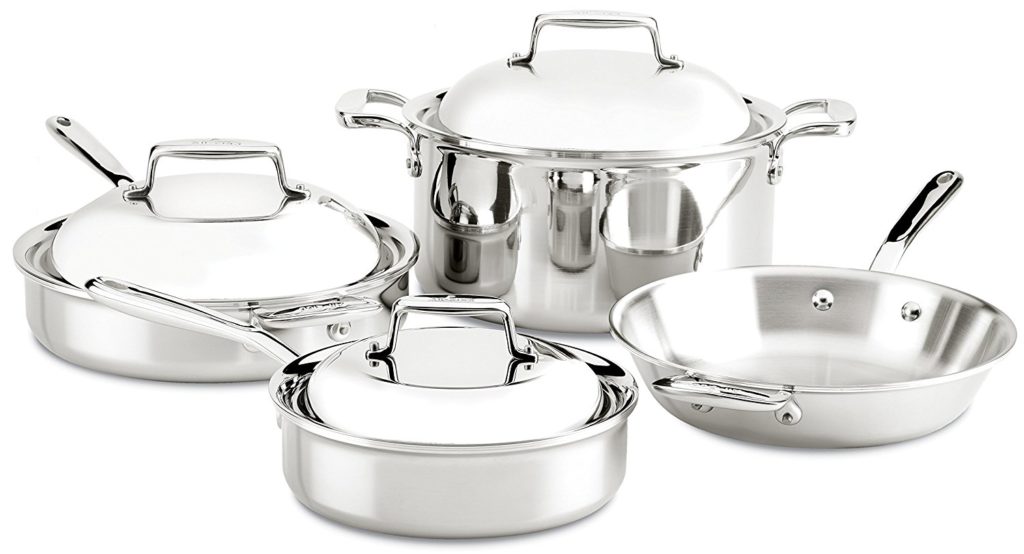 ==> Check Price For All Clad D7
The All Clad D7 has 4 layers of stainless steel alternating between 3 layers of aluminum. Altogether they are 7 layers to deliver heat evenness that  is excellent for browning and searing. It is claimed that the D7 can provide up to 2 times more even heating than enameled cast iron cookware. The multiple layers of stainless steel is also great for heat retention so that it is more energy efficient when cooking.
The outer stainless steel layer is magnetic to make it induction ready. The handles are large and comfortable and stay cool on the stove top. Both the handles and rivets which secure them are stainless steel. Flared rims are designed for mess-free pouring. The cookware can be put in the oven and dishwasher for convenience.
Some online retailers do have sets for the D7. However, most are sold as individual pieces.
Pros And Cons Of The All Clad D7
The good things about the D7 are:
USA made – Like the D5, the D7 is American made cookware. Let's not assume that every All Clad cookware is made in USA because their hard anodized non stick induction cookware is not.
Patented 7-ply construction – There are very, very few 7-ply cookware in the market. For those who want perfect results, the All Clad D7 is the most popular. Other 7 or 9-ply pieces are usually waterless cookware like the Chef's Secret that involves stack cooking.
Uniform heat – The heat evenness is superior to cheaper cookware which makes it perfect for searing.
Retains heat – With the thicker construction of 4 layers of stainless steel, the heat retention capabilities mimic the likes of cast iron cookware like a Lodge skillet.
The cons are:
Heavy – This is expected with its 7-ply construction. The D7 weighs over 4 lbs which is about 1 lb heavier than the D5.
Expensive – The cost is high for this cookware. A fry pan will set you back between $100 to $200 which is more than double the price of a Tramontina Tri-Ply.
Limited pieces – There are very few pieces to choose from at the time of writing. The sizes of the skillets and Dutch oven are also limited. Unlike the All Clad Tri-Ply which has a much wider range of pots and pans, you will have to mix and match if you want to expand on your D7 cookware set.
Should You Buy The All Clad D5 Or D7?
The All Clad D7 isn't as popular as the D5. In fact, there are many online reviews that doubt the benefits of the 7-ply construction. To us, it is an overkill because you can achieve more or less the same results with a D5 pan. It might save you some energy because of its better heat retention but even that is stretching it a bit too far. Don't forget that you also have to put up with a heavier pan to get that slightly improved heat retention.
So, it is not surprising that the price of the D7 isn't too far off from the D5 for certain pieces because the former just isn't selling too well. Sometimes, you can even get the D7 fry pan at a lower price than the D5. There are people who would rather opt for the D5 even if it is more expensive because it is lighter in weight and hence, more comfortable to hold.
To sum it up, the All Clad D5 vs D7 verdict is clear. A 5-ply construction is more than enough for cooking. So, if the D5 is cheaper, that should be the ideal choice. If the D7 is cheaper, you would still want to consider the weight before buying. And finally, if you are considering the heat retention capabilities, a cast iron cookware would be a better choice for that aspect of cooking and at a much, much lower cost too.
Any Great Deals For All Clad Cookware? Don't Miss Out:

Other Cookware You Might Like: