If you are thinking of buying an All Clad cookware set, the Master Chef 2 (MC2) is probably one of the cheapest. Their Copper Core 5-ply 10-piece cookware set costs over $1,000 compared to the MC2 which is much more affordable. But, of course, it is still expensive compared to other tri-ply cookware – more than double the price in some cases. So, is it still worth it to get the All Clad MC2? This review will take a look at the notable customer complaints to help you decide.
All Clad MC2 Review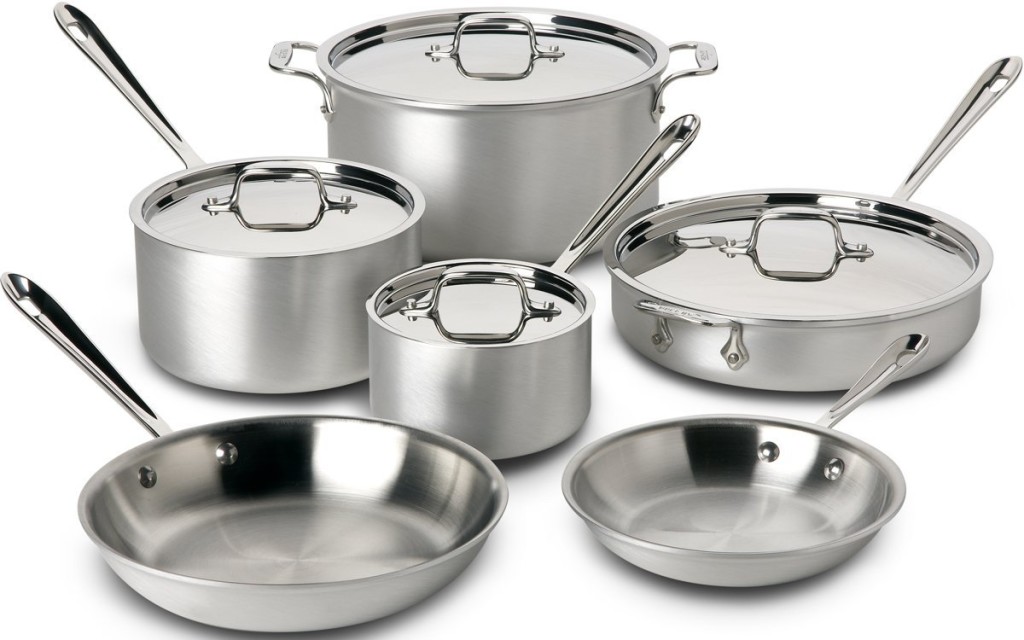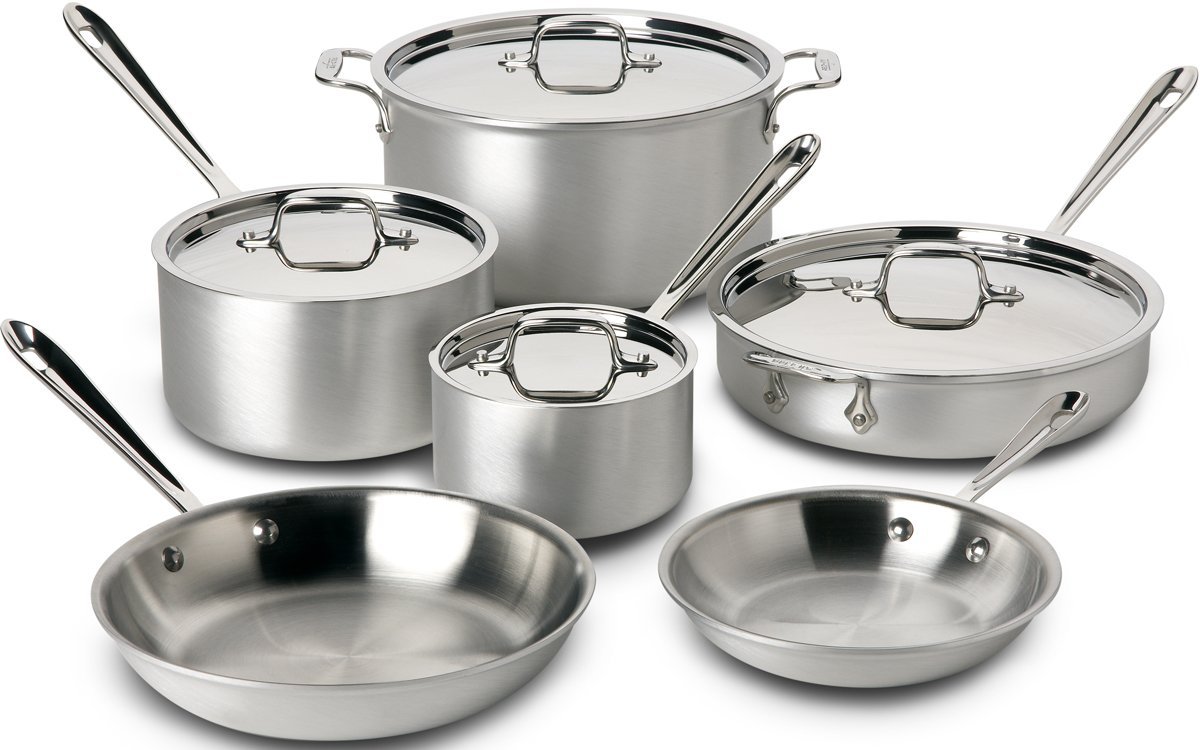 We have seen quite a few sets available under this series on Amazon including a 7, 8, 9, 10 and 14-piece set. The more popular would be the MC2 10-piece set but each bundle has its own items to suit different needs. Let's take a look at the 7, 10 and 14-piece sets:
Items
7-Piece
10-Piece
14-Piece
Chef's Pan (+Lid)
X
X
12-inch
Fry Pan
8-inch
8-inch
10-inch
8-inch
10-inch
Saucepan (+Lid)
1.5-quart
2-quart
3.5-quart
2-quart
3.5-quart
Saute Pan (+Lid)
3-quart
3-quart
3-quart
4-quart
Stockpot (+Lid)
6-quart
8-quart
8-quart
==> Check Price
The All Clad Master Chef 2 pieces has a stainless steel interior. It is matte-finished 18/10 stainless steel that does not react with food and is stick resistant. The exterior is brushed aluminum to match most kitchen decor. The core is pure aluminum to provide even and rapid heating. This inner layer is not only found at the base but also extends up the sides whereby all these 3 layers are bonded together with optimum heat conduction.
Both the handles and lids are also made of stainless steel. The handles are of the stay cool variety and are attached to the pots and pans using non-corrosive rivets. The lids are a snug fit to form a seal to keep in nutrients and flavor. The MC2 pieces are oven safe up to 600°F.
However, the Master Chef 2 products are not induction cooktop compatible. For that, you will need to invest more in the All Clad Gourmet or All Clad Stainless Steel cookware. Putting it in the dishwasher is also not recommended if you want to keep its appearance.
Should You Buy The All Clad Master Chef 2 Cookware Set?
Pros
Made in USA – For cookware, the price is a good reflection of the place of manufacture. Yes, you will need to pay more for All Clad cookware compared to other stainless steel sets of similar quality. But you will get the peace of mind of the cookware being America-made instead of Chinese-made for a change.
Cheaper than other All Clad sets – The Master Chef 2 is one of the cheapest of all All Clad cookware sets. At the time of review, you can get the 10-piece set for about $500 to $600, far less than what you would need to pay for the All Clad D5. Even the All Clad Stainless Steel Tri-Ply (401488R) will cost about $200 more compared to the MC2.
Heavy and solid – The weight of the 10-piece MC2 set is 29 lbs. Comparatively, the Cuisinart 77-10 Chef's Classic Stainless Steel weighs less than 20 lbs although the pieces are very similar. So, this All Clad cookware is definitely well-made which, again is reflected in the price. You will get the feeling that these pieces will last you years when you take them out of the box unlike those cheap sets.
Heats evenly and fast – The pure aluminum core that extends up the sides of the pots and pans certainly helps in heat distribution. Most customers find that the pans heat up rapidly and they are easy to cook with. Heat up the pan before you start cooking using low to medium heat and food will be less likely to stick.
Cons
Scratches easily – There are quite a few complaints about the appearance of the cookware after a few uses. The exterior seems to get scratched easily and also ends up looking dull. It may be due to the brushed aluminum finish compared to the more attractive polished finish with its gleaming look. So,if you are buying it also for the appearance, you may have to consider other options.
Not dishwasher safe – The pieces must be hand washed to keep its appearance. You would also void the warranty if you insist on putting them in the dishwasher.
Price comparison – For $300, you can get other tri-ply cookware with similar pieces and of decent quality. The Duxtop Professional sells for less than $200 for 10 pieces while the Calphalon Contemporary retails for over $300 for a 13-piece set. Both are also of tri-ply construction.
If you want an American-made cookware set but don't want to spend over $500 for it, then the All Clad Master Chef 2 deserves a buy. Pots and pans that are still made in the USA these days are few and you will have to pay for it if you want one in your kitchen. You can opt for European-made ones like the Woll Diamond Plus which is made in Germany, but the price point point is not cheap either compared to those cookware made in China.
We feel investing $500 to $600 in a stainless steel cookware is acceptable because they do last unlike nonstick ones whereby the durability is suspect. However, for the All Clad MC2, do it with the knowledge that the appearance can fade and you will have to hand wash the pieces. If you can tolerate these two inconveniences, then you are more likely to avoid disappointment for the high price involved.
Free Shipping For The All Clad MC2? Don't Miss Out:

Other Cookware You Might Like: