All Clad is a premier brand name for cookware. Even the lowest end of their product range will cost you much more than what you would typically pay for some other brands like T Fal or even Cuisinart. But to many people the extra cost is worth it since stainless steel cookware can last a very long time. Then the question becomes should you upgrade and buy their higher end cookware? This is what we are looking at for the All Clad Tri-Ply vs D5 review below.
All Clad Tri-Ply Vs D5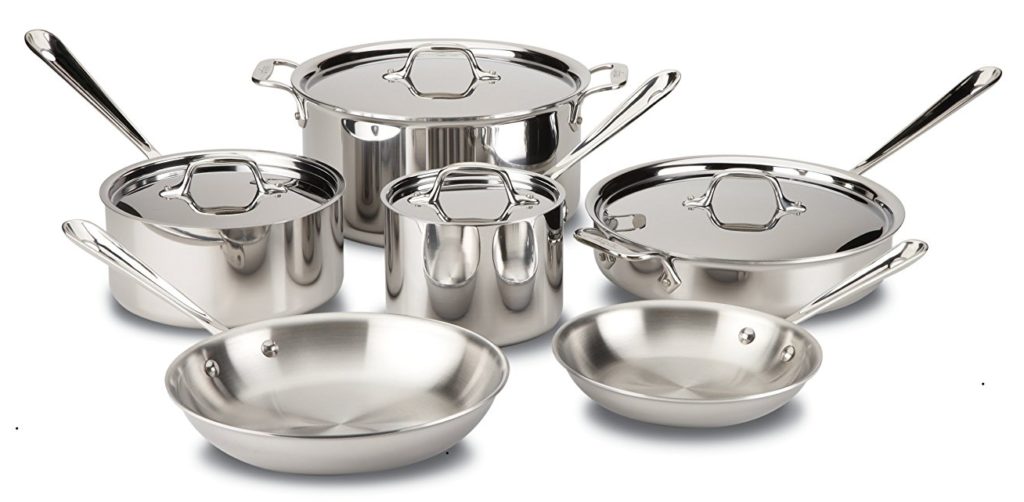 ==> Check Price For All Clad Tri-Ply
If you want a full review of the All Clad Stainless Steel Tri-Ply, you can click here. To summarise, the All Clad Tri-Ply is a 3-ply bonded cookware with an aluminum core sandwiched in between stainless steel layers. This aluminum core is cladded all the way up to the rim. So, the Tri-Ply is not a cookware merely with an impact bonded aluminum disc at the base. It is a single piece construction with an aluminum core all around for a more even heat conduction compared to just an aluminum encapsulated bottom. The latter tends to be cheaper and one example would be the Cuisinart Chef's Classic Stainless Steel cookware.
Below is a table comparing the All Clad Tri-Ply vs D5 for easy reference:
Tri-Ply
D5
Type
3-Ply
5-Ply
Layers
Interior: Stainless Steel
Middle: Aluminum
Exterior: Stainless Steel
Interior: Stainless Steel
Middle: Aluminum/Stainless Steel/Aluminum
Exterior: Stainless Steel
Interior Finish
Polished with Starburst Finish
Polished with Starburst Finish
External Finish
Mirror Polished
Brushed / Polished
Handles
Stainless Steel (Riveted)
Stainless Steel (Riveted)
Lids
Stainless Steel
Stainless Steel
Flared Rims
No
Yes
Oven-Safe
Yes
Yes
Dishwasher-Safe
Yes
Yes
Induction Ready
Yes
Yes
Made In
USA
USA
Price
$$$
$$$$
All Clad D5 Review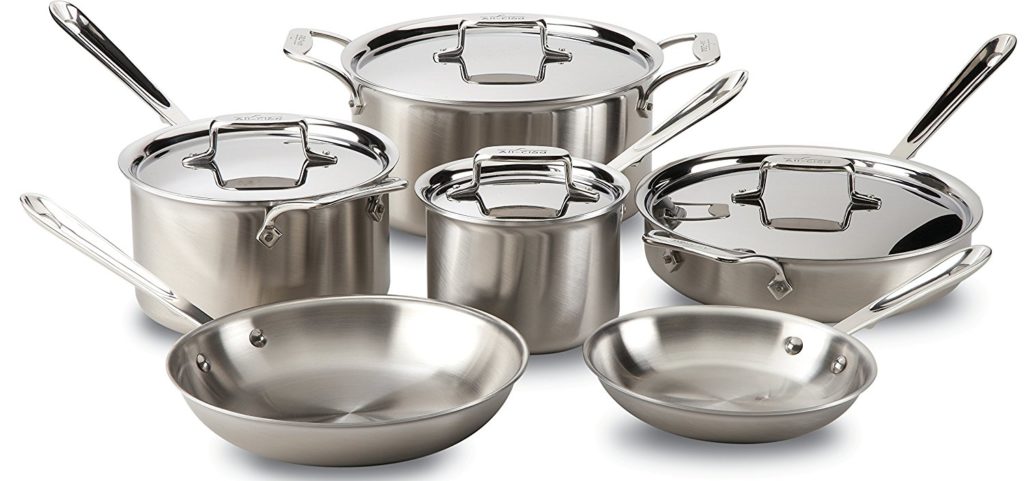 ==> Check Price For All Clad D5
Before we decide which is a better buy, let's take a look at the All Clad D5 review. D5 signifies a 5-ply bonded construction. So, what you get are alternating layers of stainless steel and aluminum for the whole pot or pan. You will get a stainless steel exterior and a 18/10 polished stainless steel interior. In between would be 2 aluminum layers and a stainless steel core.
Like the Tri-Ply, the All Clad D5 comes with stainless steel lids and handles. The handles are heat resistant with large bolster and securely attached to the pots and pans with stainless steel rivets. The rims are flared for drip-free pouring.
You can put the D5 cookware into the oven as well as dishwasher. It is also an induction compatible cookware. You can buy the D5 in sets or individual pieces. There are also brushed and polished stainless steel finishes for you to choose from.
All Clad D5 Pros
Great for searing – The All Clad D5 is great for browning and searing. This is because the hot spots are very much reduced compared to cheaper cookware. So, the uneven browning or cooking pace is hardly noticeable with the D5. Another cookware set with a 5-layer metal construction would be the Calphalon Signature.
Made in USA – There is greater comfort for buying made in USA cookware and some people really do not mind paying more for this assurance of quality and safety.
Durable – The cookware would probably last you a lifetime. Unlike ceramic cookware like NuWave which needs to be replaced every year or two, the All Clad D5 would be a big change from non stick options.
Solid – The D5 10-piece set weighs more than 30 lbs while the T Fal Elegance weighs less than 20 lbs. From here, you can see the difference in thickness which gives the All Clad cookware a more solid feel all around. This is also better at preventing warping and dents.
The Cons
Very costly – You can't run away from paying a lot of money if you want All Clad cookware. At the time of writing, the 10-piece D5 set costs 3 to 4 times more than the 12-piece Cuisinart Multiclad Pro which is a pretty popular cookware by another reputable manufacturer. So, it is indeed a lot of money just for a cookware set.
It takes practice – An expensive cookware does not automatically turn you into a better cook. If you have got used to non stick cookware, you can end up feeling frustrated with the sticking after spending so much of money. So, you have to be patient and be prepared to learn how to cook with stainless steel before food like eggs end up sliding out of the pan.
Short handles get hot – The short handles on the pots would get hot under the heat. This is expected for stainless steel handles. So, there is no difference there even if you are paying much more compared to cheaper cookware.
All Clad Tri-Ply Vs D5 : Which One Should You Buy?
On the face of it, the D5 should give you better heat distribution with its double aluminum layers compared to the Tri-Ply. This is why the D5 pan is better for searing because it can give you a more even result. On top of that, the D5 has a flared rim for its pots for easy pouring which is not available for the Tri-Ply.
Having said that, the Tri-Ply is definitely sufficient for everyday home cooking. You don't have to have the D5 to sear your meat and cook other stuff. The Tri-Ply is an All Clad classic that is functional and durable.
At the end of the day, it really depends on how good a deal that you can find for the All Clad Tri-Ply vs D5. At times, you can get D5 pieces which are cheaper than the Tri-Ply from different sellers. If that is the case, then it makes sense to invest in the D5. But if the price difference is big, it doesn't hurt to get the Tri-Ply. You can cook just as well with it and master your skill without paying a bundle more. The small incremental benefits of the D5 do not really justify a big price difference with the Tri-Ply.
Any Great Deals For The All Clad D5? Don't Miss Out:

Other Cookware You Might Like: