The All Clad vs Cuisinart is a very common debate for cookware buyers. They are both renowned for their stainless steel pots and pans and more often than not, prospective buyers cannot find a significant difference between these 2 brands at a glance. However, the price difference is huge. Obviously, the place of manufacture does play a part. But is it worth it to buy All Clad cookware when the Cuisinart pots and pans look the same and is much cheaper?
All Clad Vs Cuisinart Cookware
All Clad Stainless Steel Tri-Ply Vs Cuisinart Multiclad Pro
We have taken these 2 models as comparison because both are tri-ply cookware with stainless steel lids and suitable for induction cooktops. Shown above is the All Clad Stainless Steel Tri-Ply 10-Piece set.
| | All Clad Stainless | Cuisinart MultiClad Pro |
| --- | --- | --- |
| Type | Tri-Ply | Tri-Ply |
| Core | Aluminum | Aluminum |
| Interior / Exterior | Stainless Steel | Stainless Steel |
| Interior Finish | Polished with Starburst Finish | Polished |
| External Finish | Mirror Polished | Brushed |
| Handles | Stainless Steel (Riveted) | Stainless Steel (Riveted) |
| Lids | Stainless Steel | Stainless Steel |
| Oven-Safe | 600°F | 500°F |
| Dishwasher-Safe | Yes | Yes |
| Pouring edge | Yes | Yes |
| Induction Ready | Yes | Yes |
| Made In | USA | China |
| Price | $$$$ | $$ |
As you can see from the table above, the features are more or less the same for the All Clad Stainless Steel Tri-Ply and Cuisinart Multiclad Pro. The huge difference is the place of manufacture which in turn affects the retail price in a fairly big way. The cost of a 12-inch fry pan for the All Clad is almost twice the price of the Cuisinart. So, if you are paying $70 for the Multiclad Pro fry pan, you will have to fork out nearly $140 for a similar sized pan for the All Clad.
Therefore, this brings us to the question of is the All Clad worth the price? Which one should you buy?
Should You Buy All Clad Or Cuisinart?
Ratings – Both have similar high ratings for their pans. However, there have been a small number of complaints of the Cuisinart Multiclad Pro fry pan warping, especially on electric stoves. But the All Clad also has its complaints. A small number of buyers has claimed that their pans do not sit completely flat on their stove.
Performance – Both heat up very fast and they get hotter than nonstick cookware for the same stove setting. They don't stick if used correctly and clean-up is manageable for both brands.
Handles – There are more complaints about the All Clad handles which some users think is not so comfortable to grip and lift.
Price – As mentioned, the All Clad cookware is much more expensive. Depending on the items, the All Clad Stainless Steel Tri-Ply is about 2 to 3 times more costly than the Cuisinart Multiclad Pro.
 Origin – All Clad is America made cookware and it does matter to some buyers who prefer it for safety and other reasons.
The bottomline is the Cuisinart Multiclad Pro cookware is about value for money. It is a quality stainless steel cookware that should last for a good number of years. We feel that the differences in features and performance of the All Clad vs Cuisinart are minimal to justify the very high price for the former. Unless being made in USA cookware matters a great deal to you, there is little reason to splurge so much on pots and pans.
Yes, you have a greater assurance of quality control with All Clad. If it is any consolation to you, the video clip below shows a test of different brands of skillets and the All Clad came out tops. However, the Cuisinart Multiclad Pro wasn't included in the test which is a pity. But in many customer reviews across the web, there are also plenty of buyers who have used both brands that find both All Clad and Cuisinart to be similar in quality and performance.
Are There Cheaper Made In USA Cookware?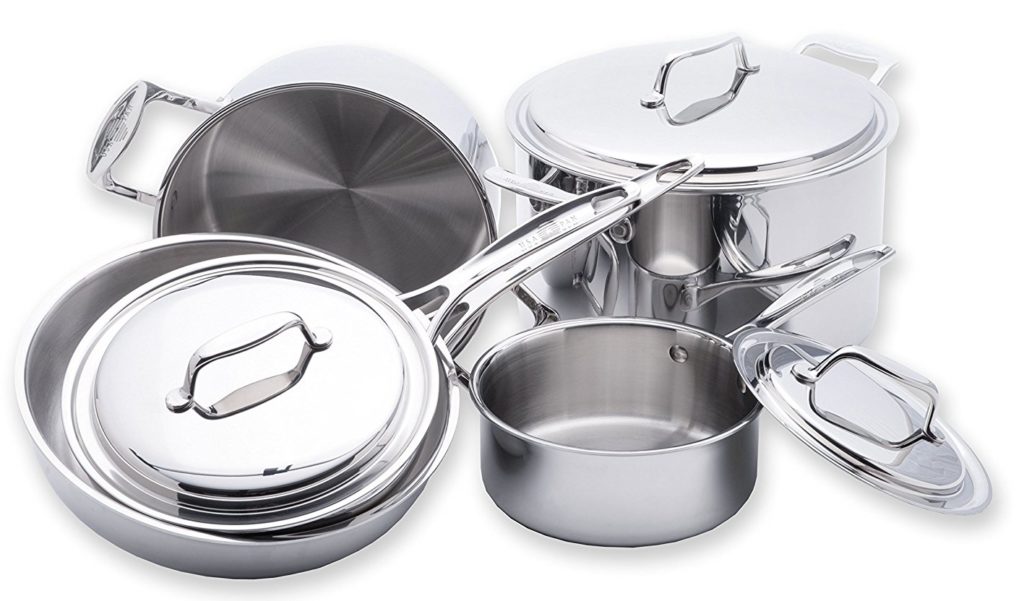 If you really want America made cookware, there are alternatives to the All Clad Stainless Steel Tri-Ply line. If you want to stick to the All Clad brand, there is the Master Chef 2 series which is slightly cheaper than the Stainless Steel Tri-Ply. It is still more expensive than the Cuisinart Multiclad Pro but, at least, it will be able to save you some money, especially if offered on sale. However, the Master Chef 2 is not compatible with induction cooking.
Another made in USA brand that is worth a look is USA Pan (shown above). It is a 5-ply stainless steel cookware and yet, the price tag is cheaper than All Clad's 3-ply series. If you compare it to All Clad D5 5-ply cookware, the price difference for a fry pan could be in the range of $30 to $60 depending on the size of the pan.
In other words, you don't necessarily need to stick to All Clad to get the benefits of cookware made in America. There are other options out there that could, perhaps, give you a better value for your money.
Any Great Deals For All Clad Cookware? Don't Miss Out:

Other Cookware You Might Like: