Bialetti may not be as famous as Cuisinart and All Clad when it comes to cookware but it is still a fairly popular brand name in Italy. Under review here is the Bialetti Aeternum Ceramic Cookware set and overall, it does enjoy a certain level of buyer interest with the trend shifting towards more healthy cookware choices.
Bialetti Aeternum Ceramic Cookware Review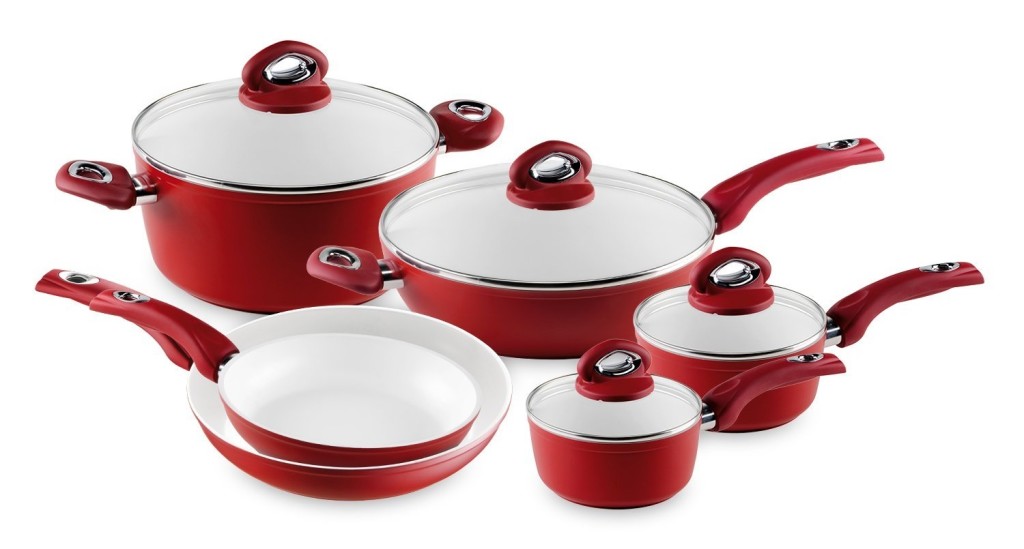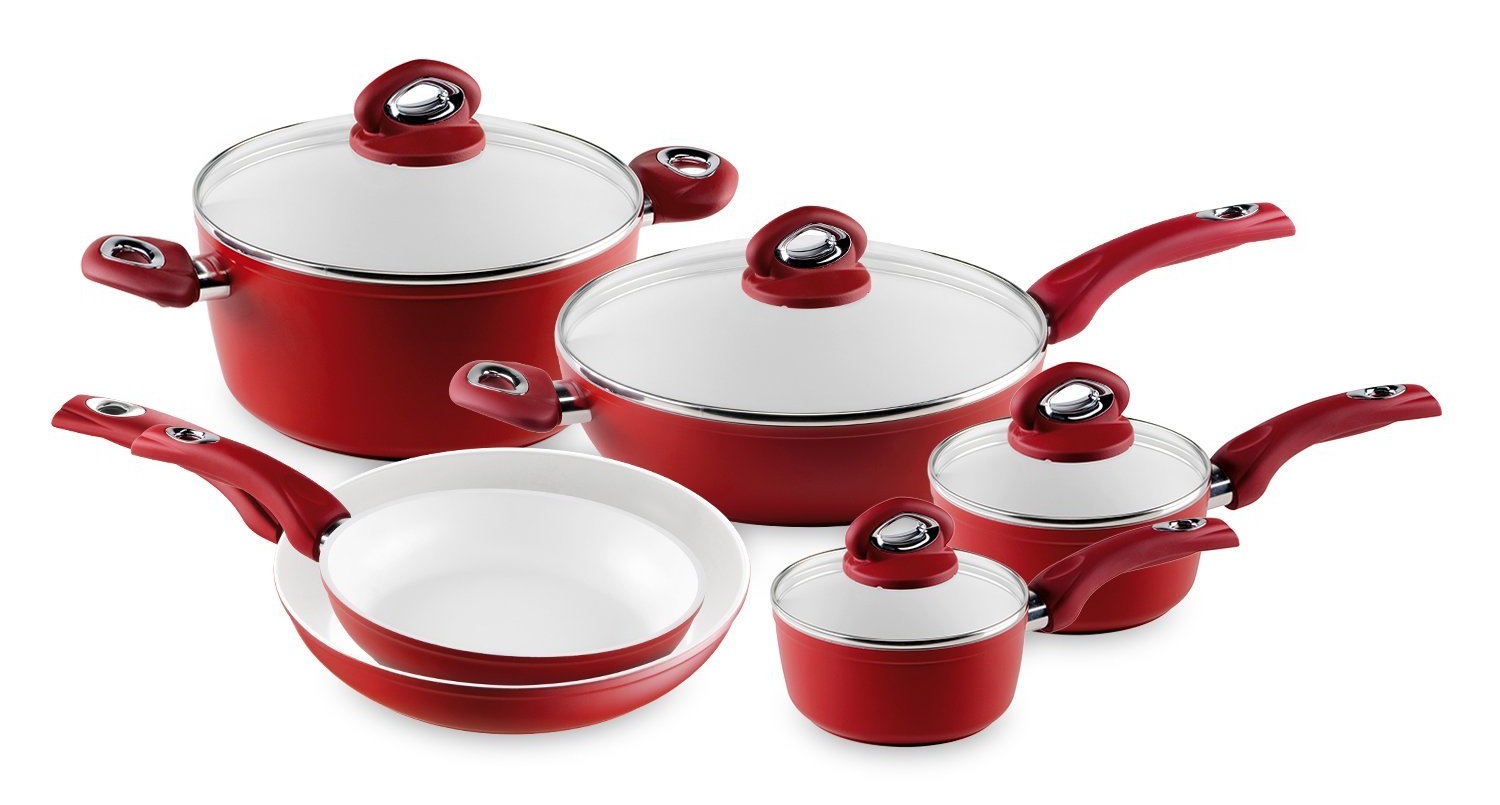 The Bialetti Aeternum is available in red and the set consist of 8 (model no. 7252) or 10 pieces (model no. 7272):
2-quart saucepan with lid
2.5-quart saucepan with lid
5.5-quart Dutch Oven with lid
8-inch saute pan
10.25-inch saute pan
Additional for the 10-piece set: 11-inch deep saute pan with lid
==> Check Price
The Bialetti Aeternum has a white nano-ceramic finish on the interior that is nonstick and easy to clean. More importantly, it is a healthy choice being PTFE and PFOA- free with the ceramic coating being applied at a low temperature to to reduce carbon dioxide emissions.  Meanwhile, the exterior also has a high-temperature finish to keep its bright red appearance.
Constructed using heavy gauge aluminum, heat should distribute evenly across the cooking surface. The handles are heat resistant with an ergonomic, soft touch design. The lids are see-through glass with a stylish knob that matches the color of the pieces.
The pots and pans are for hand wash only, using non-abrasive cleaners. Putting them in the dishwasher will damage the coating and void the warranty. The set is also not suitable for induction stovetop.
Should You Buy The Bialetti Aeternum Ceramic Cookware?
Pros
Cheaper – At the time of writing, the 8-piece set seems to be more economical than its competitor, the WearEver Pure Living Ceramic set. While the latter is a 10-piece set, two of them are merely nylon kitchen tools. The number of pots and pans are the same although there is a slight difference in terms of the sizes and type of cooking utensils in both sets.
Lightweight – These are light pieces, perfect for those with weaker arms. Weighing 13 lbs for 8 pieces, you can lift this up easily even when filled with food unlike cast iron cookware whereby a single Dutch Oven, like the Lodge Color, could weigh just as much.
Color scheme – The red matches the white interior perfectly which could be why many ceramic cookware has bright red sets to offer. CeraStone PressureForged is another attractive ceramic cookware with the same color combination as the Bialetti Aeternum, if you are looking for more choices. And of course, porcelain enamel cookware like the Rachael Ray Cucina would offer even more color options if style is one of your main considerations.
Nonstick cooking – The pans cook well with good heat distribution and it is easy to use with its nonstick nano-ceramic coating. You have to use a little oil though and you will have food sliding out with ease afterwards. This video clip below would clearly show you how smooth and easy it is to sear meat using the Aeternum by Bialetti:
Cons
Not oven safe – This set is not for oven use as per its online care instructions. If you have the habit of popping your pots and pans into the oven, you will have to look elsewhere.
Not long lasting – Complaints are common regarding the durability of the pans. Buyers find them last a mere few months before they need to be replaced because of chipping and erosion of the nonstick coating. The surface also scratches easily. Even the cheaper Cook N Home Ceramic Cookware set enjoys a better rating on Amazon than the Aeternum.
Discoloration – The interior can discolor over time and if food is burnt while cooking. While it is normal for white pans to have stains and they can still be used, not everyone likes the sight of a discolored pan. On top of that, a few buyers have also experienced discoloration on the outside as well.
Judging by the many customer reviews, it is a risk indeed to categorize the Bialetti Aeternum as a buy. There are simply too many complaints about its durability although the price is not that expensive. Although ceramic cookware, like its Teflon counterparts, are not known to last forever, a few months is still too short a time for a replacement set, no matter the cost.
With many brands hoping to get a slice of the market for healthier cookware, fortunately, there are now many more choices available. WearEver Pure Living is definitely one of the most popular ones and it can be a better alternative to this Bialetti cookware set. For a higher end option, you can go for the Cuisinart Pro-Classic Ceramic too.
Free Shipping For The Bialetti Cookware? Find Out Now:

Other Cookware You Might Like: