Breville is popular for its coffee makers and toaster ovens. But they also have cookware as part of their product lines. While not so well-known for pots and pans, the pieces that come under their name are high end cookware. They are even more expensive than Calphalon and just a tad cheaper than All Clad. Given the price, it is worth it to get Breville cookware? Below are 2 Breville cookware reviews which feature their stainless steel and non stick pieces.
Breville Thermal Pro Clad Stainless Steel Cookware Review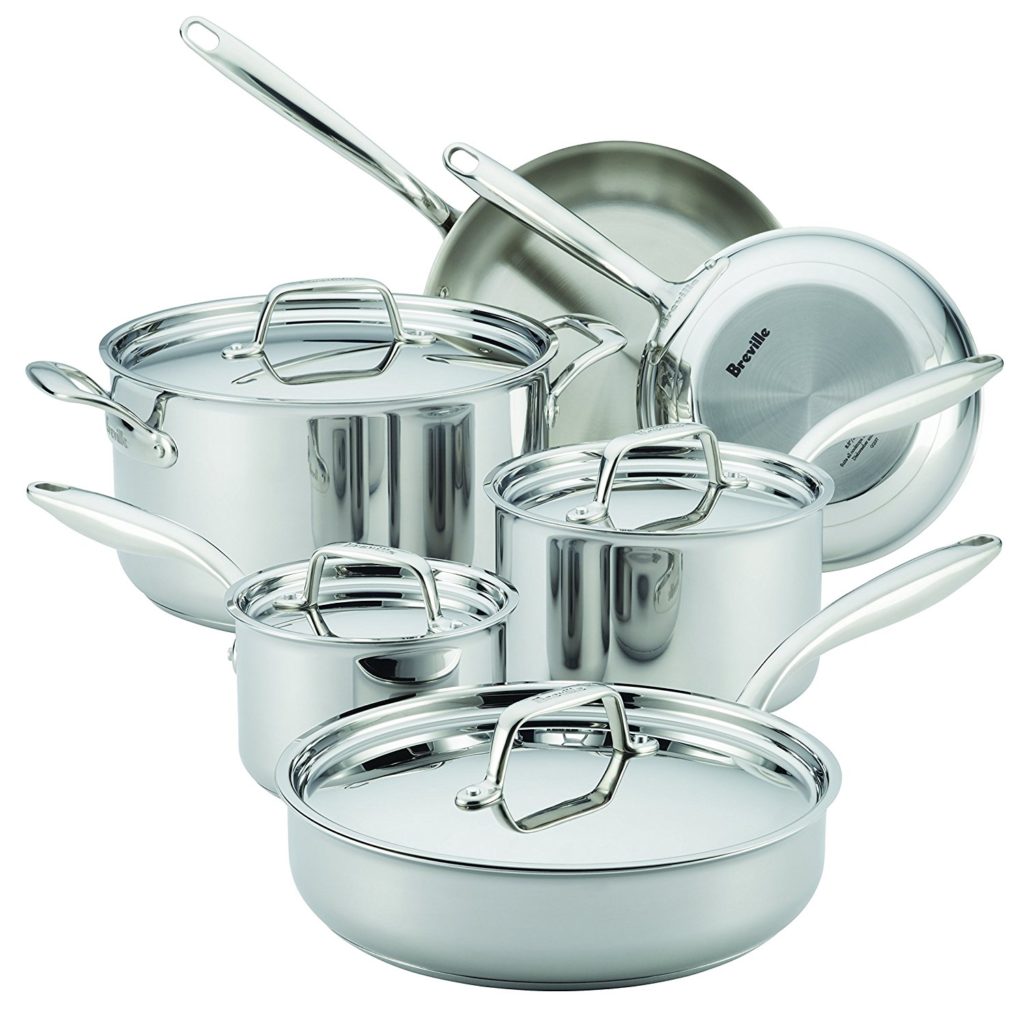 The Breville Thermal Pro Clad Stainless Steel cookware is available as individual pieces or a 10-piece set with the following items:
8.5-inch open skillet
10-inch open skillet
1.5-quart saucepan with lid
3-quart saucepan with lid
3.5-quart sauté pan with lid
8-quart stock pot with lid
==> Check Price
This product line is a tri-ply cookware with stainless steel layers encapsulating an aluminum core. This delivers superior heat distribution, control and retention all the way from the base, up the walls to the rim. The base is warp-resistant and made of magnetic stainless steel which qualifies it as an induction compatible cookware.
The interior is brushed stainless steel with laser-etched markings for more precise volume measurements when you are following recipes. It also has a tapered curve which makes access easy for cooking and cleaning. The exterior is mirror-polished stainless steel for a slick look with matching stainless steel lids and dual riveted handles.
The rim has a rolled edge. This not only provides drip-free pouring for convenience but also protects the aluminum core around the rim. The cookware is oven safe to 500°F and also dishwasher safe.
The Good Things About The Breville Thermal Pro Stainless Steel
Solid set – This cookware is beautifully constructed and the quality is apparent at a glance. It is the type of cookware that is fit for display on open racks in your kitchen. It is also durable with a thickness that is not so susceptible to warping and dents.
Even heating – Apart from looking good, they do perform well with even heating throughout. Food that are in the centre and at the side of the pan are both more evenly cooked compared to using thinner cookware.
Volume marks – Not many pots have volume marks inside to make it more convenient for measuring liquids. Even top end cookware like the All Clad Copper Core doesn't have this same convenience.  If you really like these marks, you can also take a look at the Duxtop Professional which is much cheaper than the Breville.
The Bad Points
Expensive – The Breville Thermal Pro Stainless Steel costs much more than the Calphalon Contemporary which is a well-known brand name for cookware. Instead its price is comparable to the All Clad Master Chef 2. However, do note that the Master Chef 2 is not induction compatible.
Heavy – Many users find the Breville pieces to be heavy. Once the pot is filled up, the weight can be cumbersome for some. So, while it is a good quality cookware, it might not be suitable for everybody.
Breville Thermal Pro Hard Anodized Non Stick Cookware Review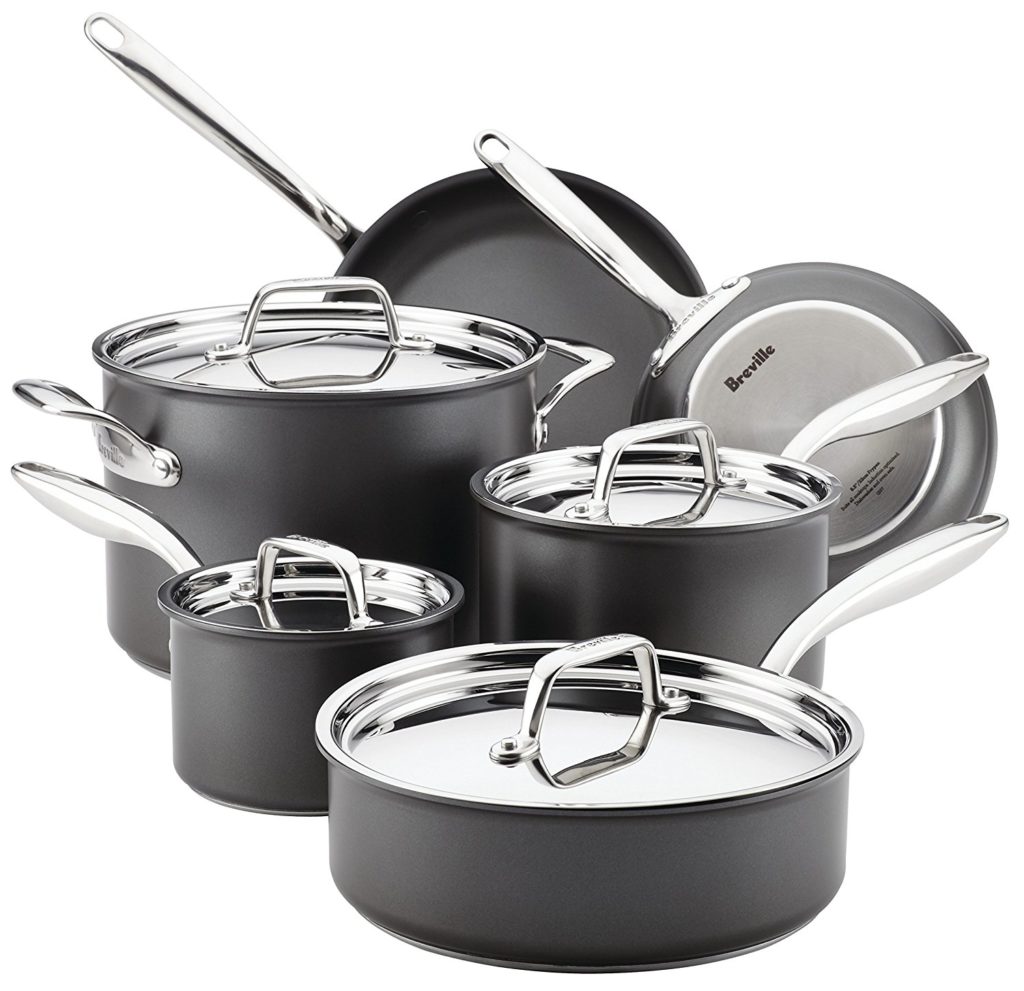 This is the second Breville cookware line – a non stick option with hard anodized construction. Also available as open stock pieces, the 10-piece set would make a more economical buy. The pieces included are similar to the stainless steel set:
8-inch open skillet
9.5-inch open skillet
1.5-quart saucepan with lid
3-quart saucepan with lid
3.5-quart sauté pan with lid
8-quart stock pot with lid
==> Check Price
The hard anodized set is different from the stainless steel one as both the interior and exterior has a non stick coating. This is a premium triple-layer coating that has easy food release and is metal utensil safe. The base is impact bonded and warp-resistant. This Breville Thermal Pro Hard Anodized is a non stick induction cookware that efficiently conducts, controls and retains heat as ingredients are added and removed as you cook.
The rest of the features are the same as the stainless steel set above like flared rims, stainless steel handles and lids as well as oven and dishwasher safe. However, there is a slight difference in the rivets. In the non stick pots and pans, the rivets are flushed for a smooth pan interior.
The Pros Of The Breville Thermal Pro Hard Anodized Cookware
Flushed rivets – This makes cleaning easier as no food will get stuck around the rivets when you have a smooth interior.
Non stick works well – No elbow grease is required to wash the pots and pans. The surface is slick and food residues are easy to wipe off.
Even heating – Although they are non stick, the heat conduction is great. Food gets cooked evenly throughout the pan.
Induction ready – Not many non stick cookware are induction compatible. This is one of the few that are available in the market designed for induction cooktops.
The Cons
Scratches – The non stick coating may be advertised as metal utensil safe but the cooking surface can still get scratches as some users have found out. Hence, wooden and silicone utensils are still recommended for this Breville cookware.
Expensive – At the time of writing, it is selling at the same price as the stainless steel set. This is also about the same price as the 10-piece All Clad Hard Anodized Non Stick cookware set although prices may fluctuate.
Breville Cookware Reviews : Should You Buy?
So, should you buy either of the Breville cookware? There is no doubt that they are quality pots and pans with a hefty weight to them. There is a clear difference between them and a $50 Vremi cookware set.
However, there are still plenty of cheaper alternatives like Circulon Symmetry and Calphalon Tri-Ply. To us, these are sufficient for home use. There is not going to be a major difference in cooking performance between these brands and Breville. The more expensive cookware may give you a thicker aluminum core and better heat conduction, but whether the improvement in performance is great enough to justify the higher price is debatable.
But if you want the best and are aiming for All Clad cookware, then Breville may be a good alternative. As the Breville cookware reviews above show, their quality is top notch and if you can get it for $100 to $200 cheaper than All Clad, it may be worth it as a substitute.
Any Great Deals For Breville Cookware? Don't Miss Out:

Other Cookware You Might Like: