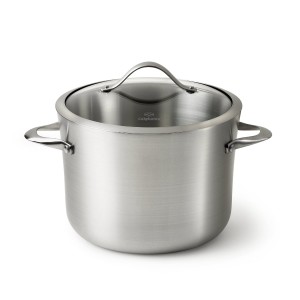 Buyers often wonder what is the difference between the Calphalon Contemporary and Tri-Ply Stainless Steel cookware. After all, there are both stainless steel pots and pans by the same manufacturer. The answer is not much, apart from style. There are both manufactured using the same technology, giving buyers the same durability and quality. So, should you buy the Calphalon Contemporary then? This is what we intend to explore in this review.
Calphalon Contemporary Stainless Steel Cookware Review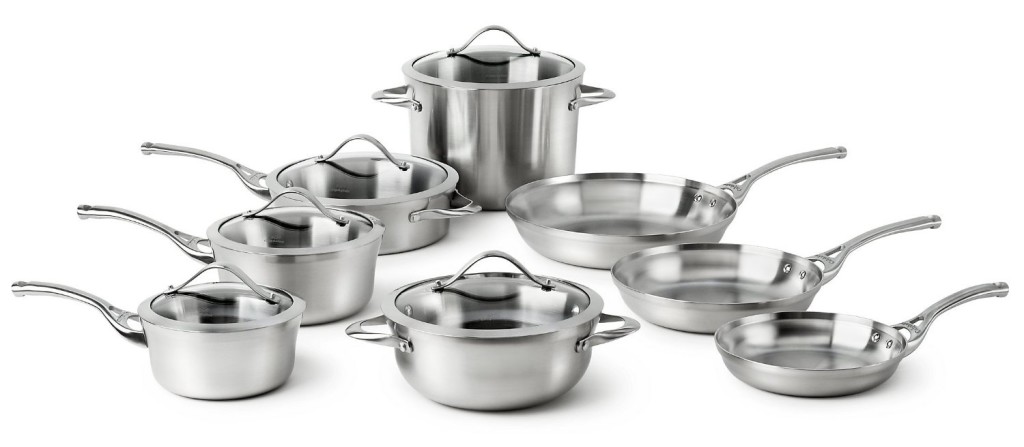 The 13-piece Contemporary stainless steel set will give you the following:
1.5-quart sauce pan with cover
2.5-quart sauce pan with cover
3-quart chef's casserole with cover
3-quart sauté pan with cover
8-quart stock pot with cover
8-inch omelette pan
10-inch omelette pan
12-inch omelette pan
=> Check Price
For the 8-piece set, you will not have the chef's casserole, saute pan and 12-inch frying pan. Instead of a 2.5-quart covered sauce pan, you will get a bigger 3.5-quart substitute.
The Contemporary Stainless Steel is a tri-ply cookware with a layer of heavy gauge aluminum in between two layers of stainless steel. It has a brushed steel exterior which is better at hiding stains and other signs of wear and tear compared to a polished finish. The pieces also have a sleek and modern styling with a slightly curved shape that they will look good enough to present on the dining table.
The lids are made of tempered glass with stainless steel rims and they also have a slight dome shape. The cast stainless steel handles are curved and of the stay cool variety. The set is both dishwasher and oven safe although the lids can only withstand a maximum of 450°F. The pots and pans are suitable for all cooktops including induction.
Should You Buy The Calphalon Contemporary Stainless Steel Cookware?
Pros
Stylish – It is hard to find a stainless steel cookware set that has a sleek design. The Contemporary is one of the few that tries a little harder to incorporate some style into its pots and pans with its flared tulip shape and curved handles so that they look good for a modern kitchen.
Solid and durable – The 13-piece set has a shipping weight of 35 pounds as listed on Amazon. So, these are pretty solid and heavy cookware for those who are used to thinner sets. Even the Cuisinart Multiclad Pro 12-Piece set only has a shipping weight of less than 30 pounds, much lighter than the Contemporary.
Even heat – The pans heat up evenly with no glaring hot spots. Most buyers are able to cook using a lower heat setting as they retain heat well. Buyers are also able to cook eggs without them sticking to the omelette pans. If used correctly, stainless steel cookware is not as sticky as many tend to think and as such, cleaning is also not as difficult as anticipated.
Handles stay cool – The handles for the pans are cool enough to touch if the right sized burner is used. The handles for the lids do get pretty warm though that a mitten may be necessary.
Cons
Made in China – Some online retailers that have the origin information listed have mentioned this set as manufactured in China. Not many people will be happy to know that a high end cookware set like the Calphalon Contemporary is China-made. However, to be fair, its origin has not affected the high ratings given by the majority of its buyers who feel that it is a high quality cookware set.
Price – The list price for the 13-piece bundle is $499.99 at the time of writing. Although there is a discount of 17%, it still costs over $400 for this cookware, double that of the Cooks Standard Multi-Ply Clad. And for this price, you can also buy the All Clad Master Chef 2 Tri-Ply Bonded 8-Piece Cookware set. Of course, the prices could change over time, but the point is for $400 and more, the options are aplenty.
If you want a stainless steel cookware that look good in your kitchen, then the Calphalon Contemporary would be an ideal choice. After all, many people are willing to pay more for style if they know that the product will perform as expected.
But if you are just looking for a quality cookware, the Calphalon Tri-Ply Stainless Steel set would be just a s good and it is selling for less. The only differences are the style and a slightly smaller stockpot for the 13-piece package. Overall, Calphalon stainless steel line is an alternative to the more expensive All Clad and if the latter is your goal, Calphalon is a worthy substitute with its solid pieces.
Free Shipping For The Calphalon Contemporary? Check It Out:

Other Cookware You Might Like: