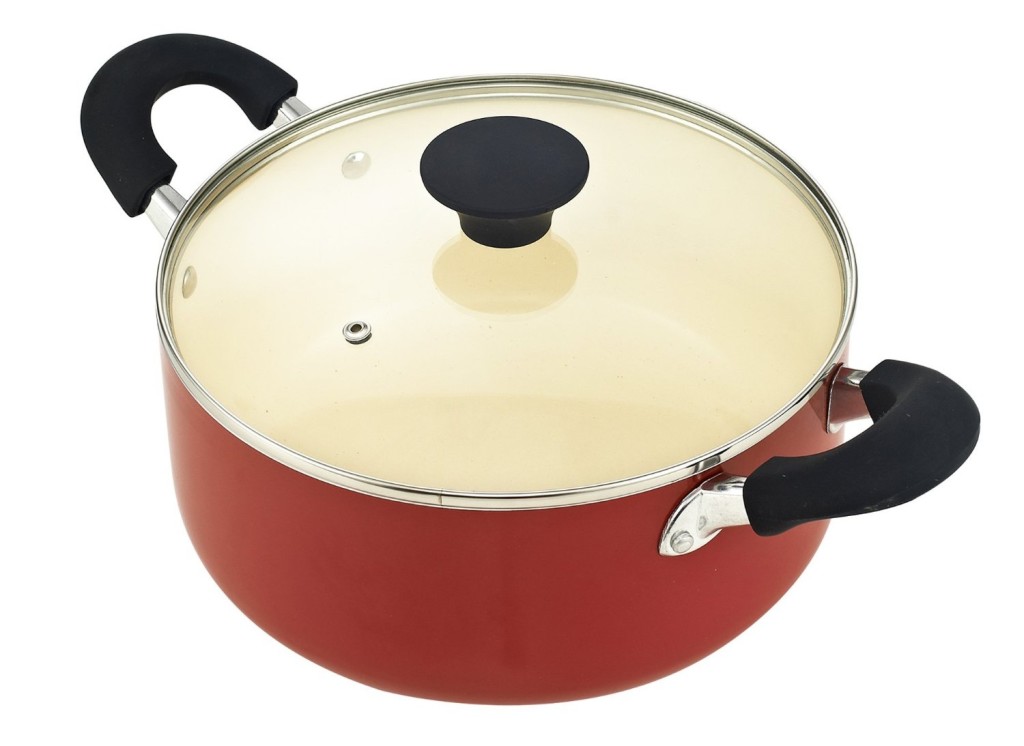 When you see a cheap pots and pans set like the Cook N Home Nonstick Ceramic Cookware set (NC-00359), you might wonder about its quality and durability. Consumers will always have a tendency to associate price with quality and therefore, when we see an item that costs less than what we expect to pay for, we would naturally be skeptical.
However, where cookware is concerned, cheap does not necessarily mean bad. And for a nonstick pan, the interior of a more expensive pan could also peel just like a cheaper one does. So, for many people, they would rather spend less and have lower expectations of the cookware's durability and replace the pieces as and when needed. For some, this is a better option than investing in an expensive set and taking the risk that it wouldn't last.
So, for nonstick pots and pans, taking the cheaper route is probably not a bad choice. Unlike stainless steel or cast iron pieces that you know could possibly last you a lifetime, the same cannot be said of nonstick ones. Thus, many people are reluctant to spend so much on nonstick pieces than they would on more traditional cookware.
Cook N Home Nonstick Ceramic 10-Piece Set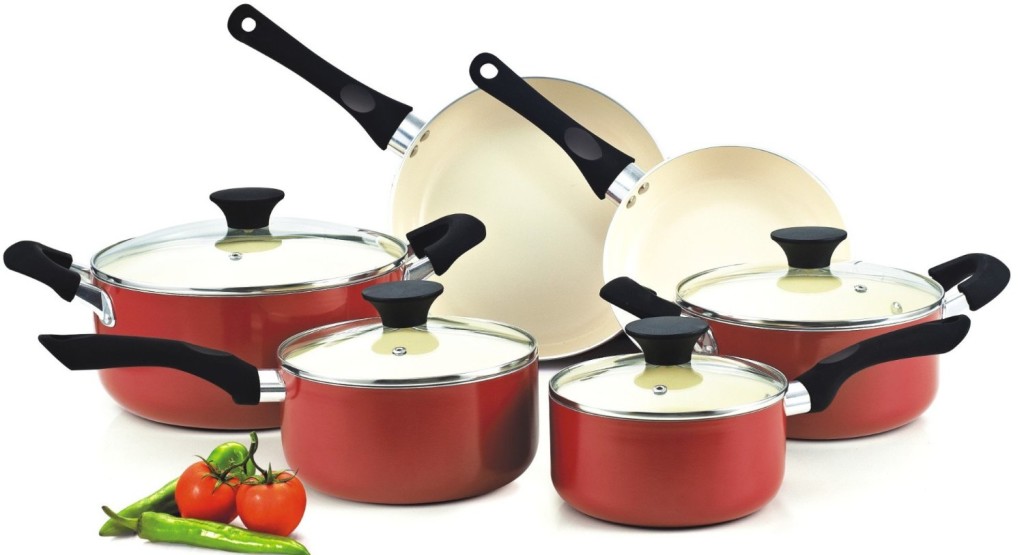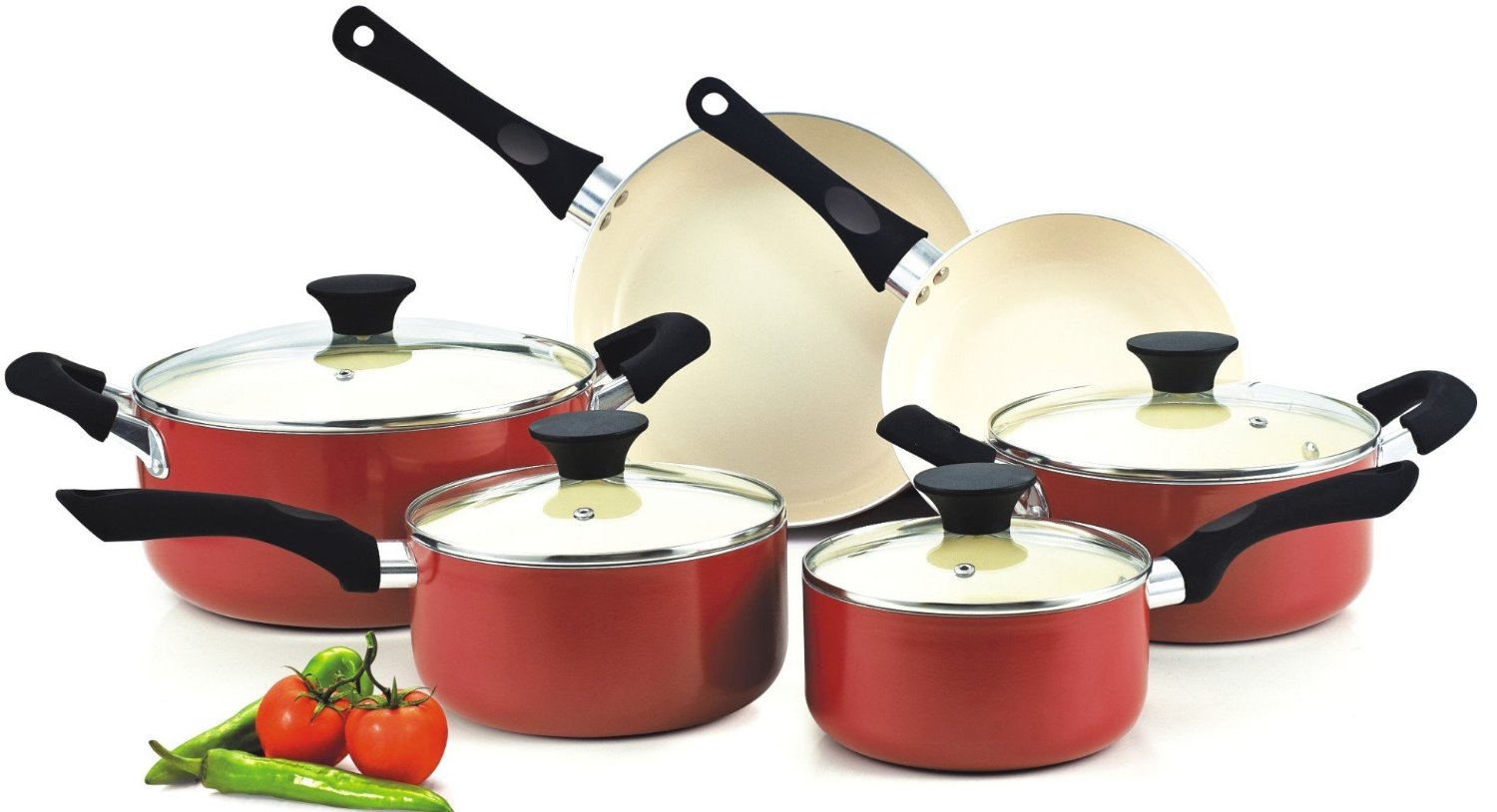 Shown above is the red Cook N Home 10-piece ceramic cookware set. It is also available in green which matches the light-colored interior very well. Compared to traditional Teflon pans, the ceramic coating is more resistant to scratches and less likely to peel. It is also free of the usual PTFE, PFOA, Cadmium and lead which are harmful to our health and the environment.
For heat conduction, the pieces uses a thick gauge aluminum in their construction. The handles are soft to the touch with an anti-slip coating. They are also resistant to heat. The exterior is also easy to clean and can withstand high temperature without the paint discoloring to mar its visual appeal. The lids are made of glass. Pieces in the set include:
6 quartz Dutch oven with lid
3 quartz casserole with lid
1 quartz saucepan with lid
2 quartz saucepan with lid
8 inch fry pan
9.5 inch fry pan
Should You Buy The Cook N Home 10-Piece Set?
Pros
Price – It is cheap for a 10-piece set. In fact, it would be kind of hard to find another comparable set at this price and rating at the time of writing.
Quality – For the price, there have also been few complaints about the quality. The cooking surface is slick and little oil is needed. Hence, clean up is also a breeze.
Right number of pieces – There are no non-essential items like spatula and turner in the set. Rather than inflating the number of pieces, the company has kept them down to the essential pieces and selling the set at a more affordable price.
All the lids fit – The lids also fit the fry pans which means all the pieces would have a lid for cooking purposes.
Cons
Size – The size of one of the ceramic fry pans could be bigger. There is little difference between an 8-inch and a 9.5-inch fry pan. Turning the 9.5-inch piece into a 12-inch one would have been more practical.
Low heat tolerance – The pieces are oven-safe up to 350°F only. So, if you like to put the pans in the oven on high heat, this set wouldn't be suitable.
Made in China – It could be a problem for some but not for others. People tend to think of cheap China-made products as unsafe and of poor quality. If you have such concerns, then you would need to check out some other sets.
The main selling point of this ceramic coated cookware is, naturally, the price. Unlike the reputable brand names like All Clad and even Calphalon which you can associate with quality, this brand name is relatively unknown. But to mitigate the downside, this set has great reviews from buyers overall. All the good experiences of the buyers will certainly help to take away some of the hesitation to give this set a try. The low price also helps to minimize the risk.
It may not be the best ceramic pots and pans set out there but if price is your main consideration, then you can't possibly not take a good look at this item. After all, it is also a set worth buying just looking at the reviews alone.
Is This Available With Free Shipping? Find Out:

Other Cookware You Might Like: