Cook N Home seems to have positioned itself as an affordable cookware brand that gives consumers great value for money. In this Cook N Home Stainless Steel cookware review, we find that this set is not only cheaply-priced but also attracts lots of positive comments, just like their 15-piece nonstick model.
Cook N Home 12-Piece Stainless Steel Cookware Review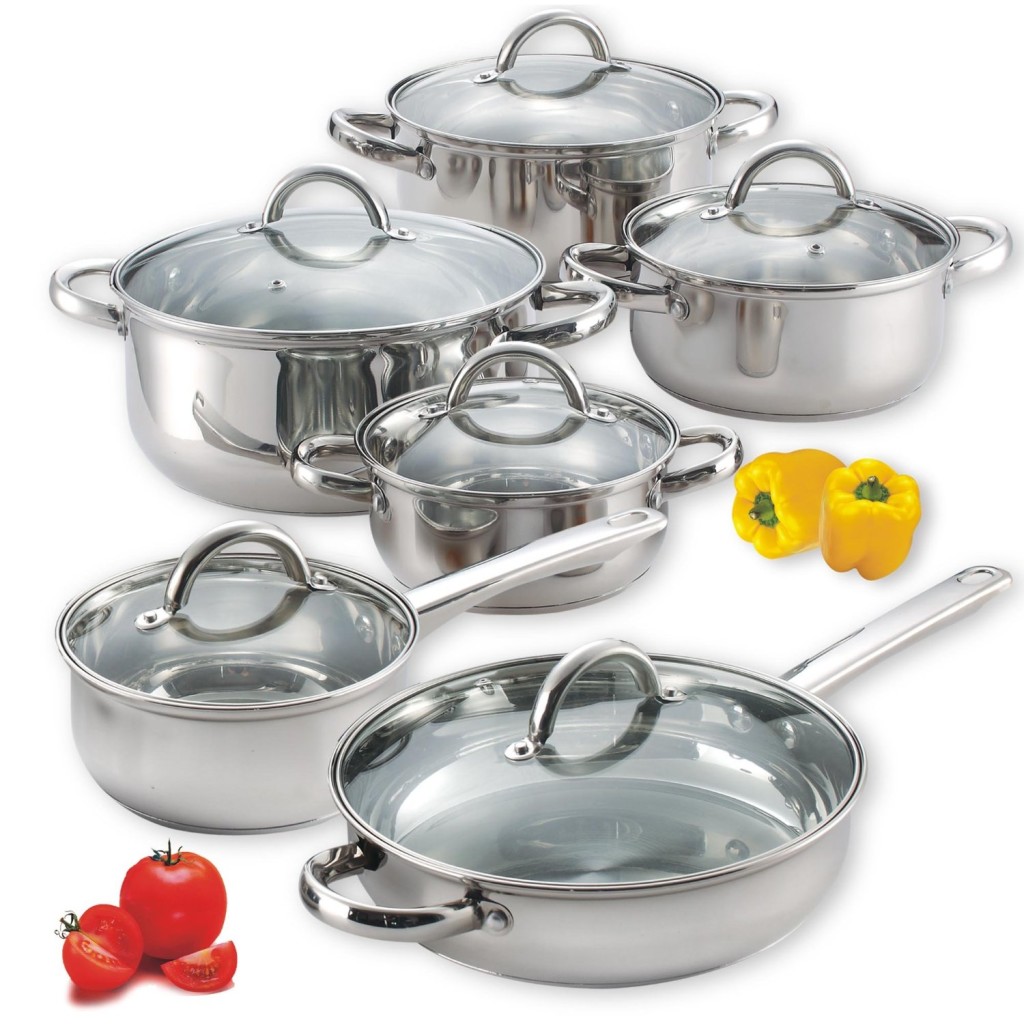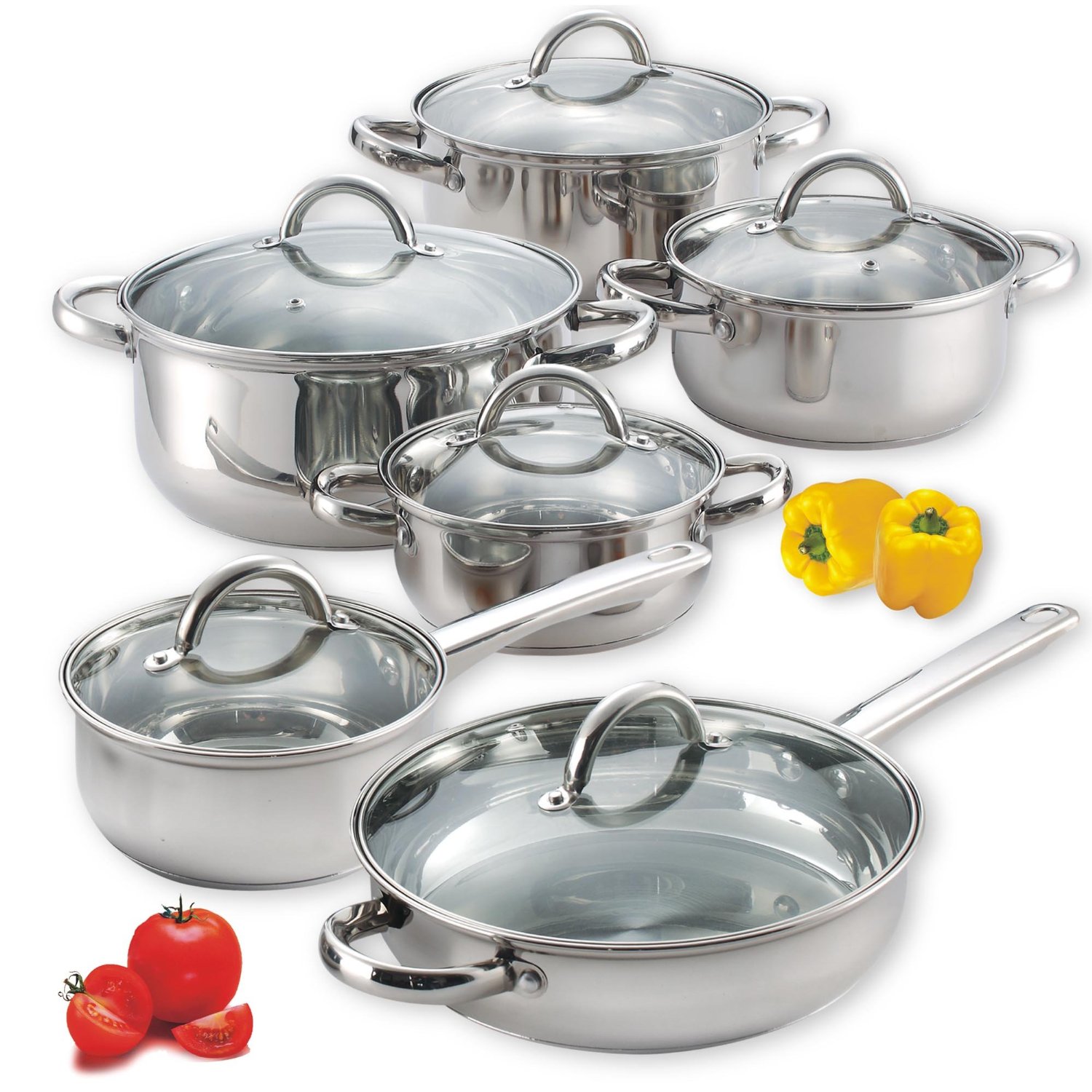 For their stainless steel set, the following items are found in the box:
1.5-quart covered sauce pan with lid
1.5-quart covered casserole
2-quart covered casserole
3-quart covered casserole
5.5-quart covered stock pot
10-inch covered fry pan
=> Check Price

The pieces look shiny with mirror-polished stainless steel construction, both on the interior as well as exterior. The stainless steel bottom layers housed a layer aluminum disc for even heat distribution. They are suitable for gas, electric, ceramic and glass stoves. The set is not listed as induction compatible in its features but many buyers have claimed to be able to use them on their induction cooktops with no problem.
The handles are also made of stainless steel and riveted to the pots and pans. The lids are made of tempered glass which provides a clear view of your food while cooking. The pieces are also dishwasher-safe.
Should You Buy The Cook N Home Stainless Steel Cookware Set?
Pros
Affordable – The price will not disappoint for the number of pieces in the set. It is about half the price of the T Fal Ultimate Stainless Steel set which also has 12 pieces in the bundle. So, the price is definitely the Cook N Home's strongest selling point.
Great reviews – The majority of buyers are highly satisfied with this cookware. While cheap, the quality certainly seems good enough with little complains of flimsiness which are often associated with cheap cookware.
Functional – All the pieces are cookware with no kitchen tools to inflate the number of pieces in the set.
Sizes – The set has a good array of sizes from small to big for the pots which should work out well for a small to medium-sized family.
Lids – All the pieces have their own lids which many cookware sets do not have, especially for the fry pans.
Cons
Handles get hot – The stainless steel handles will get hot sitting in the heat and you will need pot holders to lift the pieces up.
One skillet – There is only one fry pan in the set. The 10-inch pan could be a little too small if you are cooking for a few people at home. There is also no smaller pan if you are just cooking something simple for a person or two. So, having another fry pan in the set would have made this set more complete.
Is this premium quality cookware? Definitely not! Not when you are paying such a low price for a stainless steel set. It won't disappoint only if you know what you will be getting will not compare to a thick, solid cookware like Cuisinart. The body of the pieces of the Cook N Home 12-Piece Stainless Steel cookware and their handles will be thin and may even border on the flimsy for some. But the quality in relation to the price for this set is what makes it worth a buy.
Is this nonstick? No, it is stainless steel and it will stick badly if you do not know how to cook using this type of cookware. Some buyers have raised this complain that food sticks to the surface. You will need to know how to adjust your temperature accordingly when you cook when you switch from a Teflon pan to stainless steel. Different pans will give you different results for the same heat setting. And if your pan is on the thin side, all the more you need to control your heat setting well to avoid food from getting burnt quickly. That is why some people love using a stainless steel pan while others hate it. It is the technique which you have to get right, and most of the time, it is not the pan which is at fault.
Cheap Price For the Cook N Home Cookware? Don't Miss Out:

Similarly, that is why a lot of people say that this Cook N Home set cooks great but a few others think it sticks badly. You will find this same complaint even for the more expensive stainless steel cookware. So, it is not something that has to do with the cookware being cheap, but the technique of cooking with stainless steel pieces. Get it right, and if you don't care much for rock solid and heavy cookware, this Cook N Home 12-Piece set would work just as well.
Other Cookware You Might Like: