A stainless steel cookware set can be very expensive. The top range All Clad cookware sets can cost you over $1,000 with its 5 ply construction. But for the Cooks Standard Multi-Ply Clad Stainless Steel 10-Piece Cookware set, the price is much more affordable. Most people would spend less than $200 on a cookware set and this is where the Cooks Standard is priced at.
Cooks Standard Multi-Ply Clad Stainless Steel Cookware Review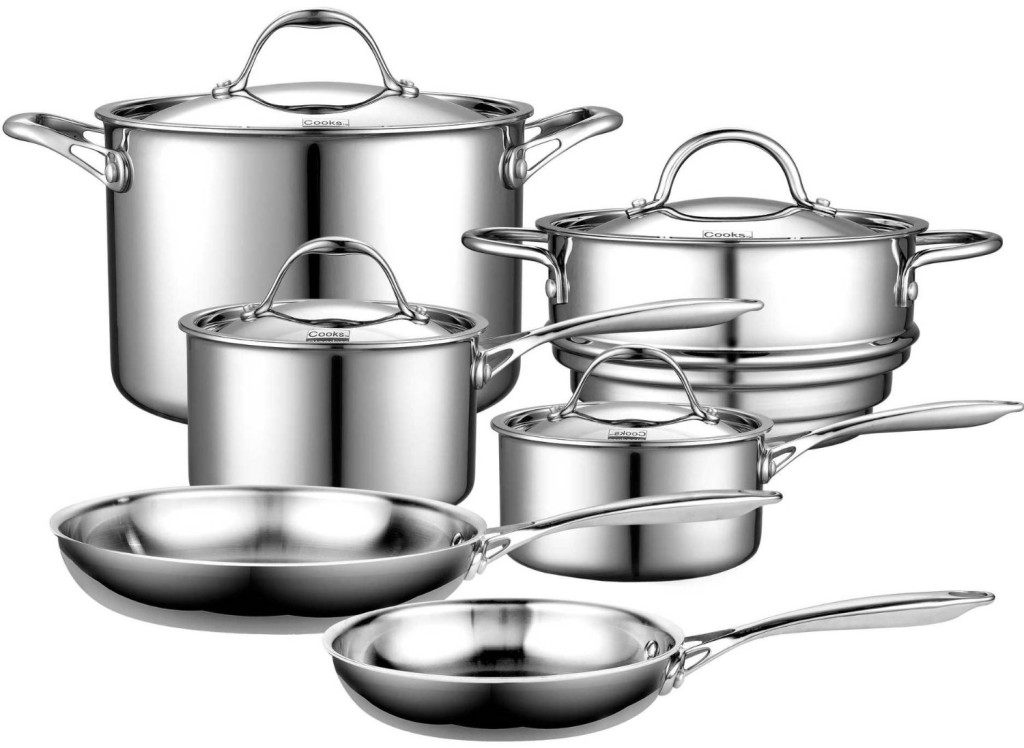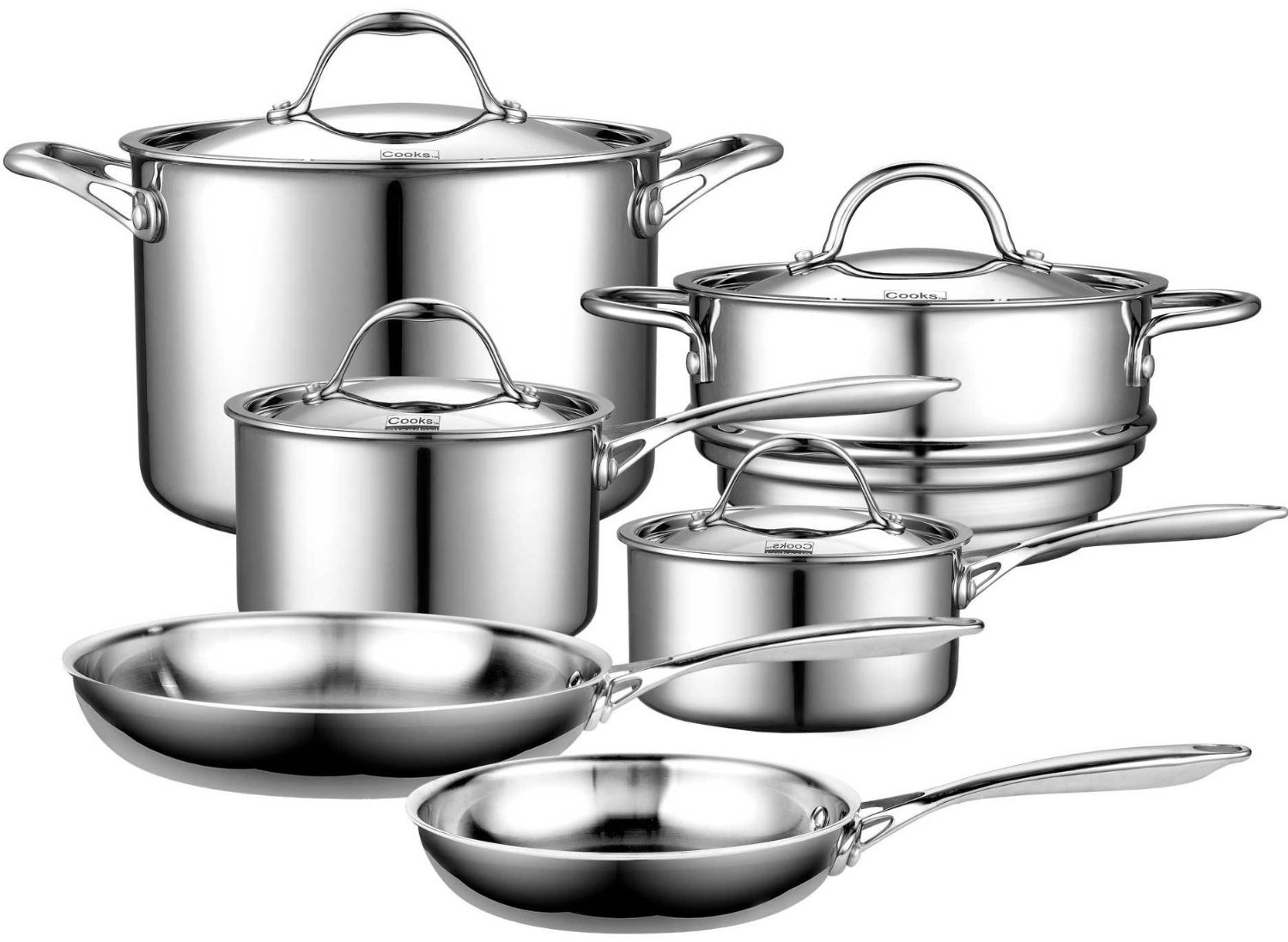 For the 10-piece set, you will get the following items:
1.5-quart saucepan with lid

3-quart saucepan with lid

8-inch open fry pan

10-inch open fry pan

8-quart stockpot with lid

Steamer insert with lid
For the 12 pieces package, there is an additional 11-inch deep saute pan with lid.
Made with 18/10 stainless steel with an aluminum core sandwiched in between, both at the bottom and up the sides, the pieces would have fast and even heat distribution all round. The interior is tough and smooth while the exterior has a mirror-polished finish for an elegant look.
=> Check Price

The lids and handles are also made of stainless steel for a matching look. The long handles has a V-shaped design for better air flow to keep them cooler during cooking. They are also riveted tot he pots and pans for strength.
Oven-safe up to 500°F and dishwasher-safe, the pieces are also designed to be used on induction stoves.
Cooks Standard also has a different stainless steel set which is cheaper under the Classic product line, which is also induction stove compatible.
Should You Buy The Cooks Standard Multi-Ply Clad Cookware?
Pros
A good alternative – If you don't want to spend too much money on a stainless steel cookware set, this is a good alternative. A similar All Clad set like the Master Chef 2 would cost you much more, so this is a steal at under $200 and would make a great starter set.
Well-made – The quality is acceptable for the price of the set. It is solid with a nice gleaming look with a little weight to the pieces.
Easy to use – Cooking and cleaning are easy to do with these pieces as long as you pre-heat them first before adding oil and food. Food will be less likely to stick to the pan when the correct heat is used.
Handles are cool to touch – The handles stay cool when cooking which is a plus for convenience.
Cons
Made in China – The pieces are made in China but for the price it is selling at, this is to be expected. In fact, many pots and pans now are made in China, even from the more expensive brand names.
Complaints of stickiness – This is the most common issue with cooking with stainless steel and the Cooks Standard is no different. However, no matter the brand, it takes trial and error to get used to a stainless steel pan. You will need to adjust your cooking style to fit the pan, especially if you have been using cookware of different materials previously.
This Cooks Standard Multi-Ply Clad is very similar to the Cuisinart Multiclad Pro cookware set. Both have 18/10 stainless steel construction with aluminum core and stainless steel lids. The difference in weight for both models is also slight. For instance, for the 8-inch fry pan, the weight difference is only 0.4 pounds for both the brands with Cooks Standard being the heavier of the two.
Given that there is not much difference between the two cookware sets, I would say go for whichever brand is on sale on that day. Since the buyer ratings are also more or less similar, there is really little to separate the Cooks Standard Multi-Ply Clad and Cuisinart Multiclad Pro. They both offer the 12-piece set although the latter does not have a 10-piece bundle at the time of writing. However, Cuisinart does have a 7-piece set but the price wouldn't be as economical as a 10 or 12-piece package.
Free Shipping For The Cooks Stamdard Multi-Ply Cookware? Find Out Here:

Other Cookware You Might Like: