Cooks Standard pots and pans certainly look like high end cookware but the price is definitely much more reasonable than top end brand names. The Cooks Standard NC-00203 Classic Stainless Steel 10-Piece cookware set looks polished and elegant that it is hard to resist having one for the kitchen but can the pieces perform up to expectations? This review will try to find out more about this set.
Cooks Standard NC-00203 Classic Stainless Steel Cookware Review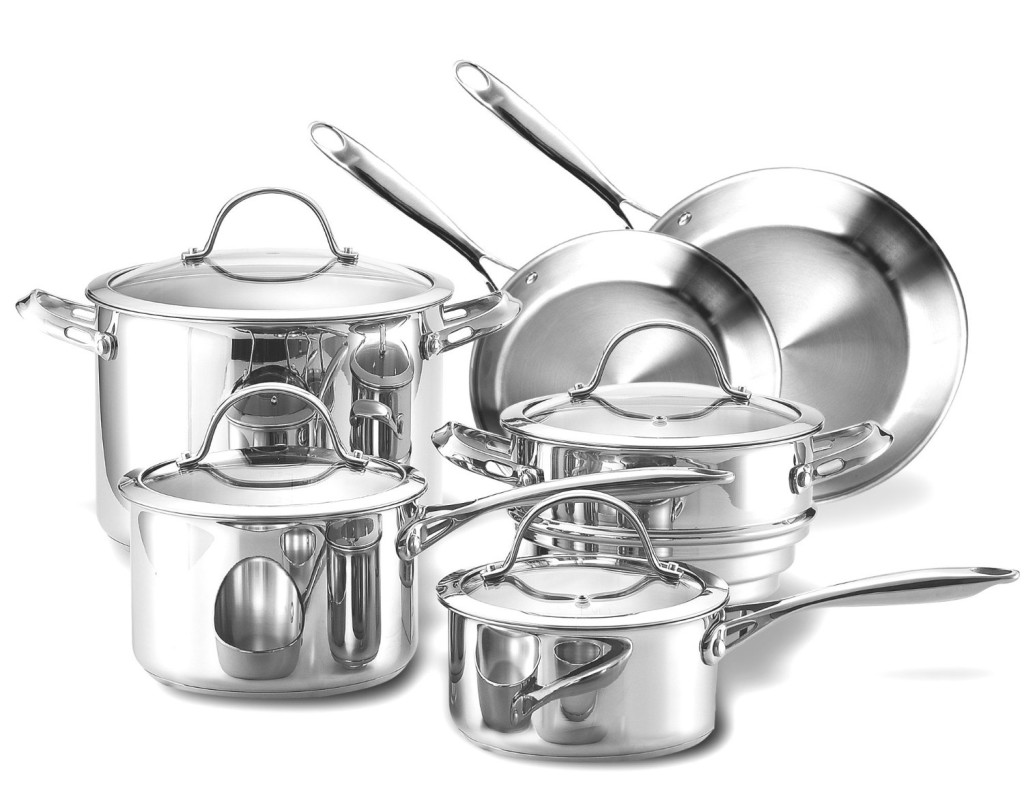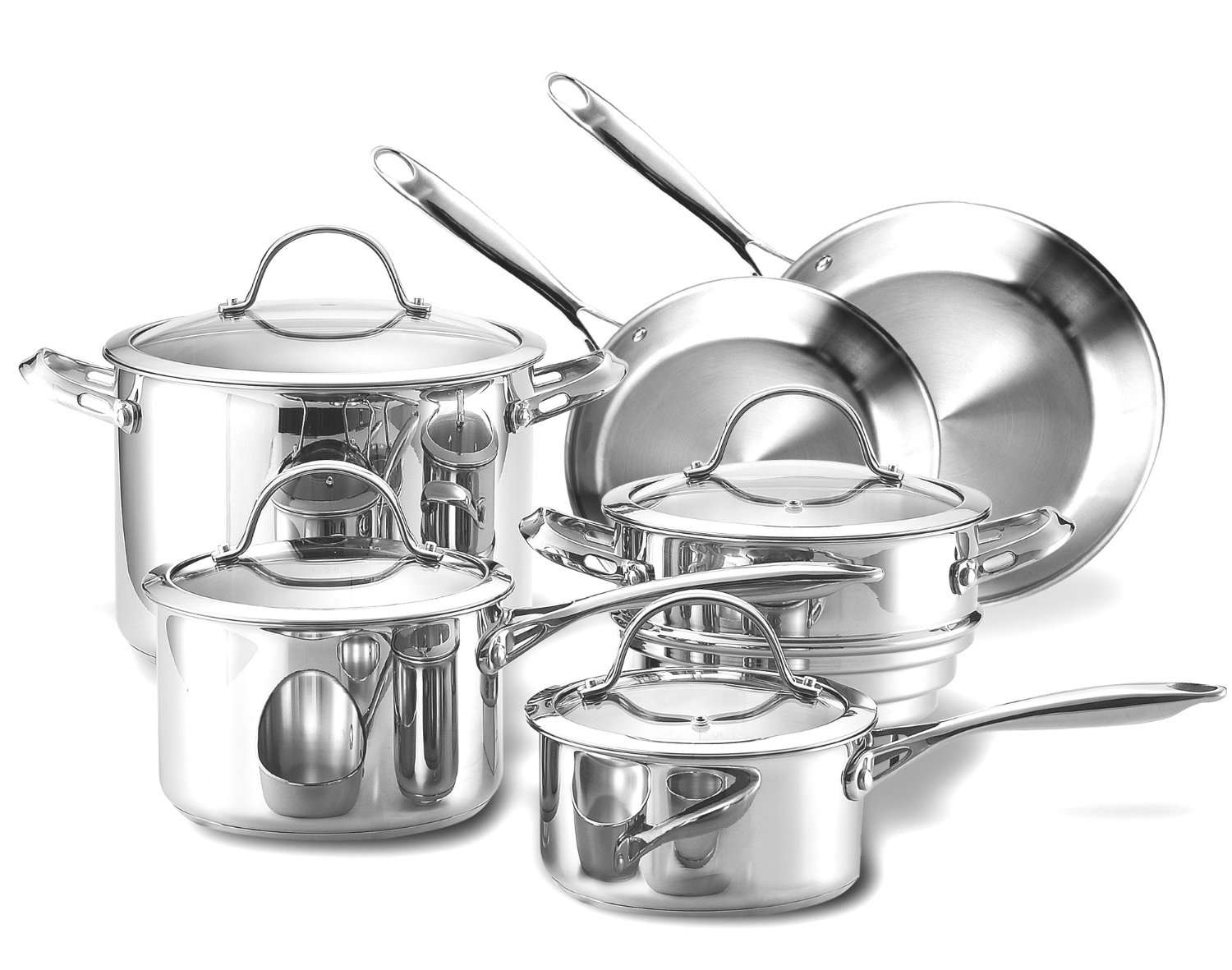 The NC-00203 is a 10-piece set and comprises the following pots and pans:
1-.5-quart covered saucepan
3-quart covered saucepan
8-quart covered stockpot
8-inch open skillet
10-inch open skillet
universal steamer insert with cover
==> Check Price
The Cooks Standard Classic Stainless Steel cookware is different than the company's Multi-Ply Clad line. This set here has an impact bonded base whereby an aluminum disc is applied to the bottom of the pieces. On the other hand, the Multi-Ply Clad has a multi-element aluminum core that is sandwiched between the interior and exterior layers which runs from the bottom all the way up the sides for more thorough heating. Naturally, the Multi-Ply Clad has a higher list price although it is sometimes available at a discounted price that is about $50 more than this Classic set.
The interior of the Cooks Standard Classic Stainless Steel cookware set is made of 18/10 stainless steel. The bottom has a magnetic stainless outer layer to make it suitable for induction stove tops as well. The impact bonded aluminum disc layer provides the even heat distribution and conduction.
The pots and pans are oven-safe up to 500°F. However, the lids are not suitable for the oven as they are made of glass. The pieces are also dishwasher-safe. The handles are riveted to the pieces and they are designed using air-flow technology which supposedly keeps them cooler while they are being heated on the stove.
For this product line, Cooks Standard also has an 11-piece set (NC-00391). It has an extra 5-quart covered deep saute pan with helper handle although the stock pot is smaller at 6-quart.
Should You Buy The Cooks Standard Classic Stainless Steel Cookware?
Pros
Reasonable pricing – The Cooks Standard NC-00203 is being retailed at slightly over $100 at the time of this review. For the quality, it is a reasonably-priced cookware set. It is cheaper than the Cuisinart Chef's Classic which also has a 10-piece bundle, but it is not as cheap as the T Fal Elegance either as it doesn't fit into the lower end category.
Few complaints of stickiness – Stainless steel pans are notorious for being a nightmare to cook with due to their stickiness problem. But so far, customer complaints of stickiness for the Cooks Standard Classic is few and far in between. According to the reviewers, as long as proper instructions of cooking with stainless steel cookware are followed, food sticking to the pan can be avoided.
Easy to clean up – Should food get burnt, the pots and pans are also easy to clean up. Buyers recommend soaking the pieces or boiling water with vinegar to remove the residues. Clean up seems easy as per most customer reviews.
Sturdy – The cookware set is sturdy in its construction. Not flimsy at all with a shipping weight of about 19 lbs, neither is it too heavy like cast iron pans that it becomes difficult to lift for those with weaker hands.
Cons
Pots and pans can get stained – There is a complaint or two about the pieces getting stained after a while of use. Regular cleaning with Bar Keepers Friend is recommended to maintain its polished appearance which is definitely more inconvenient compared to having nonstick cookware.
Lacks individual pieces – It is a little difficult to get individual pieces of the Cooks Standard Classic Stainless Steel cookware should you find the set lacks a certain item that you need. What is available is pretty limited unless you don't mind mixing and matching your set with their Multi-Ply Clad line or other stainless steel cookware like the Duxtop Whole-Clad Tri-Ply.
This Cooks Standard NC-00203 Classic Stainless Steel cookware has been mentioned by a reviewer on Amazon as being able to match the highly expensive All Clad in terms of quality after having the opportunity to use both brands. It is indeed hard to justify spending up to 6 to 7 times more for a similar set unless you are particular about having USA-made products in your kitchen. Otherwise, the overwhelmingly positive reviews from buyers makes it hard to let go of this reasonably-priced stainless steel cookware set.
Free Shipping For The Cooks Standard Classic Cookware? Find Out Now:

Other Cookware You Might Like: