Nowadays, most of the cookware that is available in the market are made in China. If you want things to be cheap, you won't be able to escape from buying goods that are made in that part of the world. However, not all people are comfortable buying Chinese made cookware because of safety concerns. So, there is still a market for American made cookware but you must be prepared to pay a much higher price for what is perceived to be better safety standards. Below are a few cookware made in USA reviews to help you determine if these pieces are worth the cost.
Stainless Steel Cookware Made In USA Reviews
USA Pan Review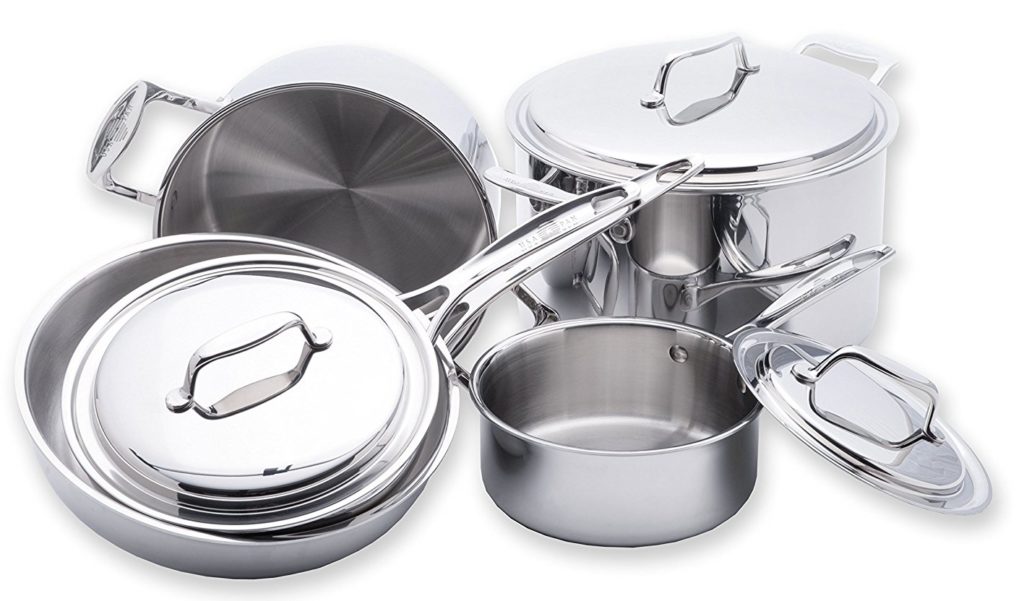 For a little background, this family-owned business has been around for over 50 years. It is famous for its bakeware supplying to commercial bakeries and baking professionals. The commercial brand, USA Pan, was launched in 2009. They operate out of Pennsylvania.
==> Check Price
You can get USA Pan in a set or as separate items. A set is definitely more economical because one skillet alone will set you back around $70. At the time of writing, there is a 8-piece set available which has the following pieces:
8-inch chef skillet
10-inch chef skillet
7-inch sauce pan with cover
4 quart stock pot with cover
8 quart stock pot with cover
These pots and pans are 5-ply stainless steel pieces. They have an aluminium core paired with advanced metallic design for optimum heat transfer and distribution across the bottom and up the side walls. The handles are cast steel with stainless steel rivets. The lids are also stainless steel and have a vapor seal design to lock in flavor and nutrients in your food. Once cooking is done, the easy pour rim ensures no mess when transferring food to the plate.
The cookware is warp-resistant with a reverse panel bottom. It has a vibrant look as each piece is hand polished to a mirror shine. You can put it in a dishwasher but hand-washing with sponge, mild soap and warm water will keep its shiny look. The pieces are induction ready and suitable for low and medium heat cooking with its energy efficiency.
The Pros & Cons Of USA Pan
The pros are:
Sturdy – The difference is obvious between the USA Pan and much cheaper options. If you compare their 10-inch skillet to the tri-ply Cuisinart Chef's Classic, it is heavier by about 1 lb. Hence, the USA Pan cookware will feel much more solid in your hands.
Still affordable – Yes, they are expensive if you compare them to cookware made in China. But USA Pan is still far cheaper than All Clad, another American made cookware.
Easy to clean – While you may think that stainless steel cookware is hard to clean, the buyer reviews of USA Pan seem to indicate otherwise. Soak and wash it off with a sponge seem to work for most users.
Quick heating speed – Use the cookware correctly and you will find USA Pan very easy to use. Food don't get stuck if you do things right and cooking is fast with the efficient heat transfer.
The cons are:
Limited pieces – Unlike All Clad with their various types of pots and pans, USA Pan has limited choices to cater to every need. They do not have a cheaper tri-ply option or the more expensive copper core pots and pans.
Handles get hot – This is expected for steel handles. So, you will need pot holders to touch the short handles and open the lids while cooking.
Viking Cookware Review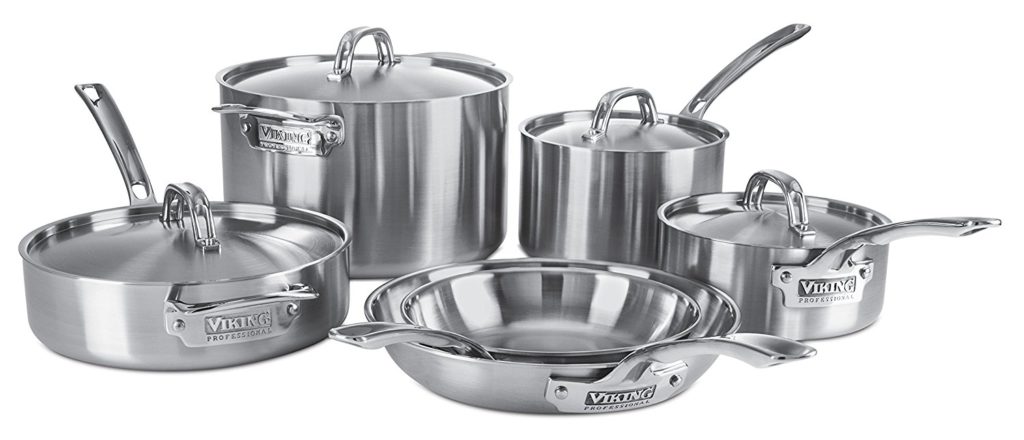 First of all, Viking has a wide range of products besides cookware. They have cooktops, ovens, refrigerators, dishwashers, cutlery and many other products. In fact, Viking is part of a very large corporation unlike USA Pan. Secondly, not all of Viking cookware are made in USA. Some lines are made in China and other places such as Belgium.
==> Check Price
One of their more popular American made cookware is the Viking Professional 5-Ply Stainless Steel. Like the USA Pan, you can get it in a set or open stock. If you are getting the 7-piece set, be prepared to fork out at least $600 for it. What  you will be getting are:
8-inch fry pan
10-inch fry pan
2 quart saucepan with cover
3 quart saucepan with cover
8 quart stockpot with cover
3.4 quart sauté pan with cover
There is also a 10-piece set for the 5-ply Professional Series. The 5-ply construction maximises heat transfer for even cooking and heating. It has a thick 3-ply aluminium core sandwiched in between stainless steel layers for optimum heat conductivity and retention. It has a 18/10 stainless steel interior for easy maintenance as it is non-reactive to food.
The magnetic stainless exterior means it can be used on induction cooktops. It has cast stainless handles that are easy to hold and control. An elegant satin finish makes this a very beautiful set for the kitchen. You can put the cookware in the dishwasher or stick it into the oven as it is safe up to 600°F.
Pros & Cons Of Viking Professional 5-Ply Cookware
The pros include:
Wide range – Viking has a much wider range of pots and pans compared to USA Pan. Even the 5-ply Professional series has nonstick fry pans in its lineup. This is in addition to casserole pans and other pots and pans of various sizes to suit every need.
Easy to cook with – Because these cookware conduct heat so well, it doesn't take long for them to heat up. The heat transfer is also even and smooth with no hot spots to worry about.
No clean up headache – While stainless steel is not nonstick, high quality stainless steel cookware like Viking is still relatively easy to clean and maintain. Bar Keeper's Friend will work well and keep your pots and pans looking great.
The cons are:
Expensive – The price of Viking Professional is close to the price of All Clad. A 10-piece set will cost almost 4 times the price of a Calphalon Tri-Ply set.
No lid for the fry pans – The fry pans do not come with a lid and as far as we know, it is not available as a separate item either.
Origin – As mentioned, the 5-ply Professional is made in the USA. The 3-ply Mirror series is also handcrafted in the USA but the 3-ply Contemporary is not. So, it can get confusing as to the manufacturing location although all are under the Viking brand name.
All Clad Cookware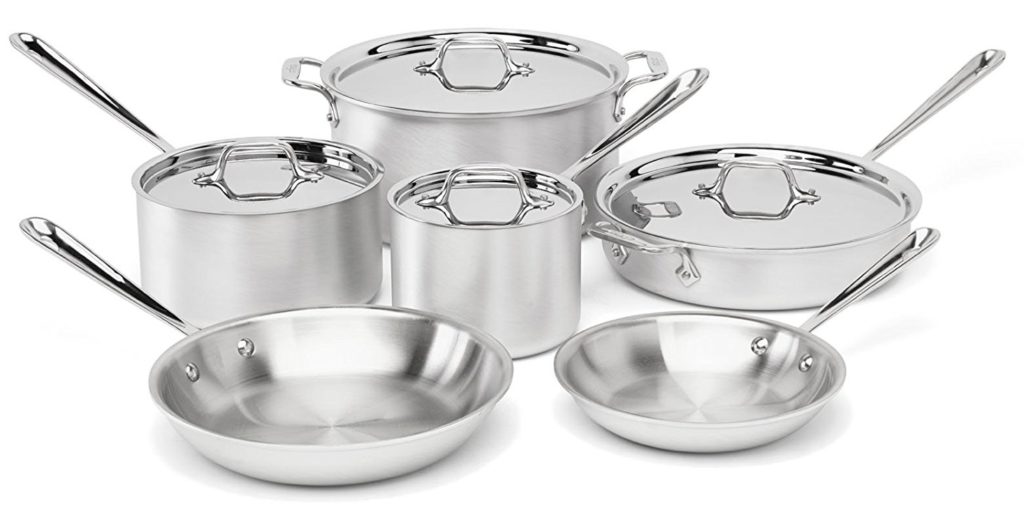 This brand name requires no introduction for most American consumers. It is a premier brand name and famous for its made in USA cookware. However, they are expensive although buyers seem to think they are worth the cost. One of their cheapest cookware made in USA is the All Clad MC2. You can click on the link to read the detailed review.
==> Check Price
However, the MC2 is not induction compatible. It is also bi-ply bonded which is why it is on the cheaper end of the scale. There are 2 bonded layers with an aluminium core compared to 3 layers for their All Clad Stainless Steel Tri-Ply cookware which is the next step up. But if you want the All Clad name and need it to be more affordable, then the MC2 series will fulfil that need.
American Made Cookware Other Than Stainless Steel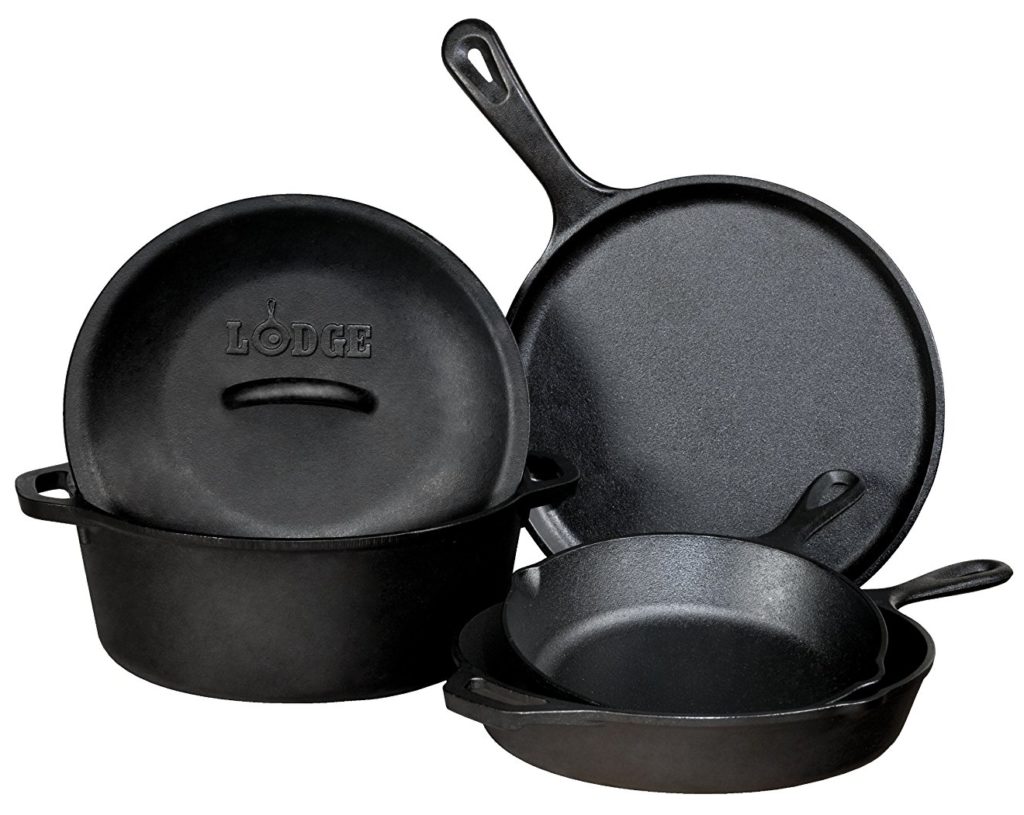 If you want cheap American cookware that won't cost you an arm and a leg, you will have to move away from stainless steel and take a look at cast iron cookware. Lodge is famous for this and we  have the review for the Lodge 5-Piece Cast Iron Set here.
==> Check Price
But cast iron is very different from stainless steel cookware and not everybody is comfortable with it. It is heavy which makes it unsuitable for those with weak arms. It also needs to be seasoned and requires a higher level of maintenance. If not properly seasoned, food will stick to the cooking surface and cleaning will be a pain.
However, the upside is cast iron cookware is highly affordable even if they are made in the USA. And if you know how to use it well, the food will come out tastier. Unlike nonstick cookware which need to be replaced often, cast iron pots and pans will last you a lifetime.
Any Great Deals For Made In USA Cookware? Don't Miss Out:

Other Cookware You Might Like: