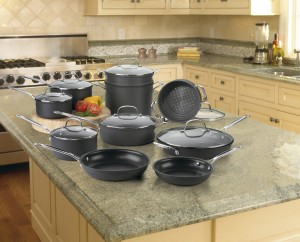 The Cuisinart 66-17 Chef's Classic Nonstick Hard Anodized cookware set is not exactly cheap but it is still a very popular item for those who are looking for a higher quality and longer lasting nonstick cookware. Being hard anodized, the exterior is harder than stainless steel for durability. While most cookware with hard anodized exterior will be less likely to become dented or warp, it is the interior that commonly causes problem due to peeling of the nonstick coating.
Therefore, if you are spending a little more to get a hard anodized cookware set, don't forget to check out the interior as well to ensure a higher quality of coating is applied, so that the pieces are able to better withstand the usual wear and tear.
Cuisinart Chef's Classic Nonstick Hard Anodized Cookware Review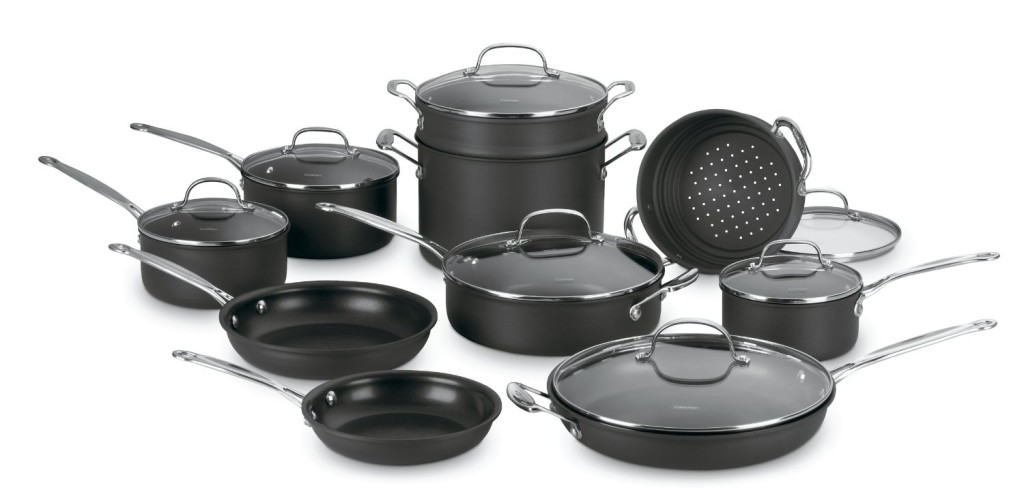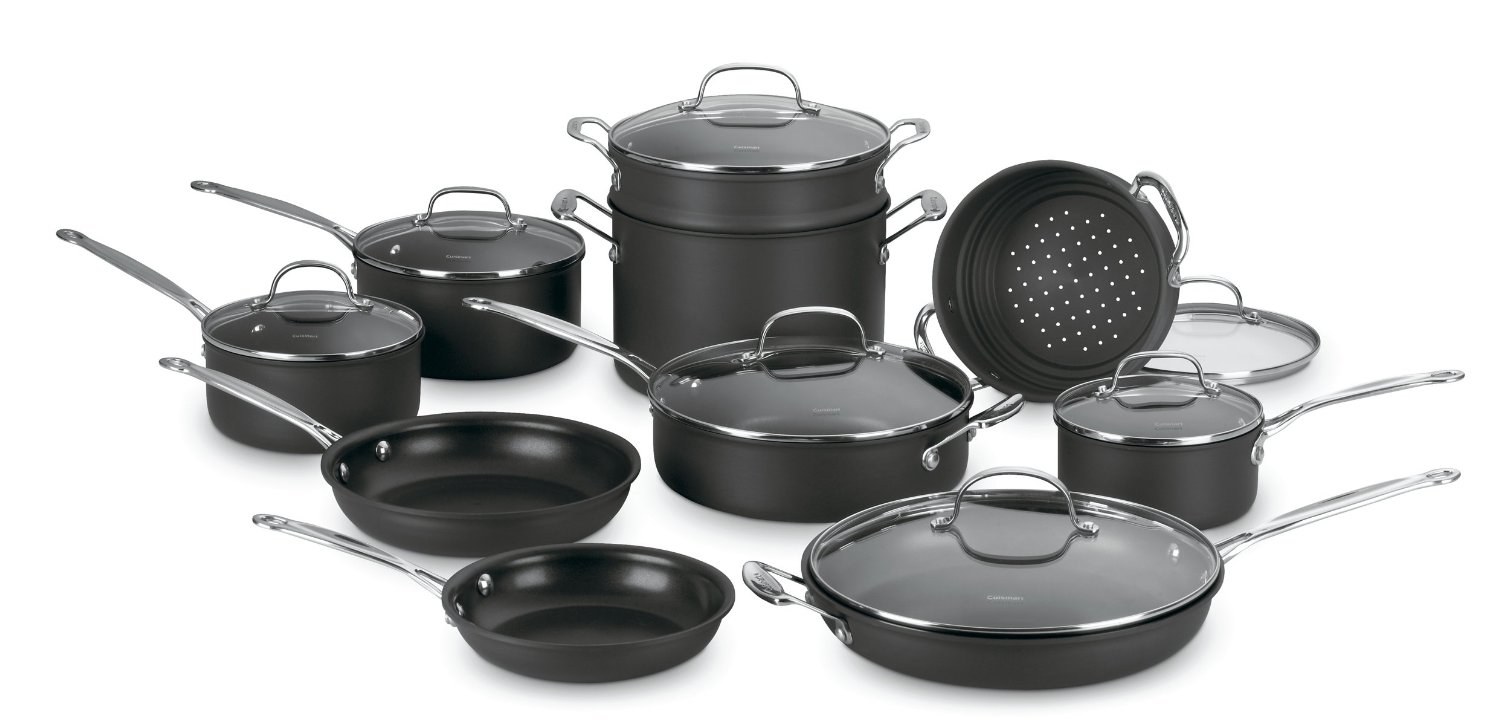 The Chef's Classic hard anodized cookware set is available in 14 and 17 pieces. For the 17-piece set, you will get the following items:
1.5 quart saucepan with lid
2 quart saucepan with lid
3 quart saucepan with lid
4 quart sauté pan with helper handle and cover
9 quart stockpot with cover
8 inch open skillet
10 inch open skillet
12 inch skillet with cover
20 cm multi-steamer insert with cover
24 cm pasta insert
For the 14 pieces, the 2 quart saucepan and 12 inch skillet with cover are omitted. The rest of the items are the same. Another hard anodized cookware set with 14 pieces would be the Rachael Ray Hard Anodized II.
At the time of writing, the Cuisinart 14-piece set is about $40 cheaper than the 17-piece bundle, which would be roughly the cost of the 12 inch skillet. But for that same $40, you will also be able to get the 2 quart saucepan if you buy the 17-piece set.
As mentioned, with a hard anodized construction, the exterior is harder than stainless steel and is better able to resist wear and tear. The middle layer has a pure aluminum core for heat conductivity. The interior is coated with Quantanium® which is a titanium reinforced nonstick layer and is metal utensil safe.
The handles are cast stainless steel and is contoured for better grip and cool to touch. These are riveted to the pieces and designed for balance. The covers are made of break-resistant glass with stainless steel rims and a tight fit to lock in flavors while cooking. The edges on the pots and pans are tapered for mess-free pouring. The cookware is also oven-safe up to 500°F but it is not meant for induction cooktop.
Should You Buy The Cuisinart Chef's Classic Nonstick Hard Anodized Cookware?
Pros
All cookware pieces – A lot of cookware sets will add in spoons, spatulas, turners and such to make up the number. The Cuisinart 66-17 only has cookware pieces in the whole bundle that you won't feel ripped off for the non-essential items.
Handles stay cool – The handles do stay cool while on the stove which makes it convenient when you need to lift the cookware up. Only the  handles on the lids are hot to touch when the pots have been left in the heat for some time.
Performance – The pans heat up evenly and the nonstick coating works well with no food sticking onto the surface during cooking. This makes cleaning a breeze too.
Good rating – It has an overall good rating in terms of performance. Most buyers are satisfied with the cookware and feel that is is well-made and cooks well.
Cons
Durability issue – Most complaints are about the nonstick surface after a year or two of use. The surface will peel and turn sticky rendering the pans useless. It also get scratched easily. Although it is advertised as metal utensil safe, it is still advisable to use wooden or plastic tools to do your cooking and high heat should be avoided.
Not dishwasher safe – You will need to hand wash these pieces if you want them to last longer which could be a chore for some.
No medium-sized pot – The 9 quart stockpot could be a little big for some. It is missing a medium-sized 4 or 6 quart pot which would be what most small families would use.
The price for the Cuisinart 66-17 is mid-range. There are certainly more expensive ones but if you are not looking to spend hundreds on a cookware set, this could be an option. It is still more expensive than the T Fal Signature Hard Anodized Nonstick cookware though, which is another set that is worth a look with its favorable ratings. However, the cheaper T Fal set shouldn't be much different compared to the Cuisinart Chef's Classic in terms of durability if we were to look at the reviews of hundreds of buyers.
Hence, perhaps looking at the pieces that you require and what is included in each bundle would help you arrive at a decision on which to buy. The price difference is not overly huge between the two for roughly the same number of pieces in a set although Cuisinart is definitely the more "up market" one in terms of brand name and thus, the higher price for its cookware is to be expected.
Free Shipping For This Cuisinart Cookware? Find Out Here:

Other Cookware You Might Like: