With the trend to go green for the environment, there is a market for green cookware too. This is where companies try to incorporate more recycled materials into the manufacturing process. On top of that, the cookware needs to be toxic free in line with the green theme. So, let's take a look at this type of eco-friendly cookware with the Cuisinart Green Gourmet review below.
Cuisinart Green Gourmet Review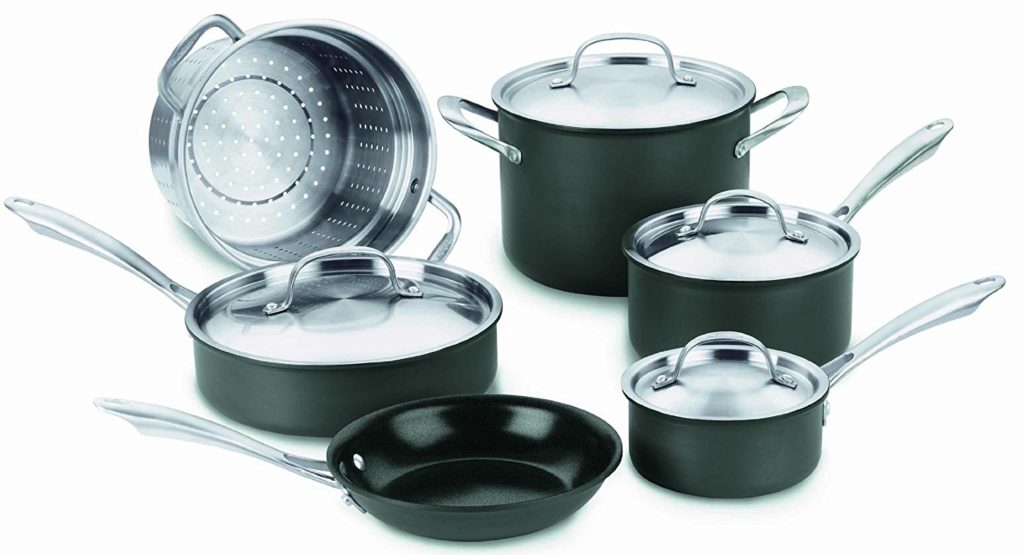 ==> Check Price For Cuisinart Green Gourmet Hard Anodized
The Cuisinart Green Gourmet has 2 types of cookware in its product line-up. One is a hard anodized version while another is a tri-ply stainless steel. The former is harder than stainless steel for extra durability. Both the interior and exterior is hard anodized which is dense, non-porous and highly resistant to normal wear and tear. The cookware set shown above is the hard anodized version and consists of 10 pieces as follows:
8-inch skillet

1-quart covered saucepan

2.5-quart covered saucepan

3-quart covered saute pan

6-quart covered saucepot

Pasta insert
On the other hand, the tri-ply stainless steel model has a stainless steel interior and exterior. The magnetic exterior means the Green Gourmet Tri-Ply is a non stick induction cookware.
Sandwiched in between the hard anodized and stainless steel layers for both models is an aluminum alloy core for superior heat conductivity. The interior layer is coated with the exclusive Cuisinart Ceramica non stick coating. This coating is greener because it is a ceramic-based coating that is free of petroleum and the manufacturing process involves less harmful carbon emissions with a lower energy consumption. It is also a water-based coating rather than the usual solvent-based. Like all ceramic cookware, the Cuisinart Green Gourmet does not contain PTFE and PFOA.
On top of that, it goes one step further in being eco-friendly by using 70% recycled stainless steel for its riveted stainless steel stay cool handles. The same goes for the handles for the lids which are also made of stainless steel. Handwashing is recommended for the cookware. But the pieces are oven safe and can withstand a temperature of up to 500°F.
The Cuisinart Green Gourmet cookware comes in a packaging that is made with 100% recycled materials and printed with biodegradable soy ink.
Should You Buy The Cuisinart Green Gourmet Cookware?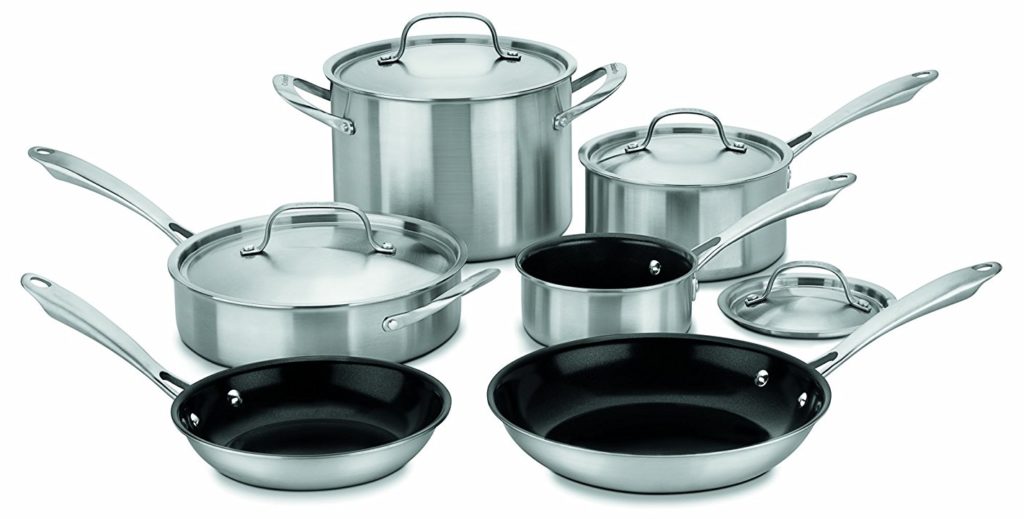 ==> Check Price For Cuisinart Green Gourmet Tri-Ply
Pros
Eco-friendly – If you like going green for the environment, the Cuisinart Green Gourmet is a small step in that direction. At the very least, the packaging is environmentally-friendly. The cookware is also toxic free which does not emit fumes that are harmful to our surroundings when heated up.
Easy to cook with – The coating is non stick and doesn't require much oil or fats to cook with. This means you will get to enjoy less greasy food for a healthier lifestyle. Cooking also becomes easier as food slides smoothly in the pan.
Quick and uniform heating – The heat up is quick and even across the pan. You can't compare it to All Clad but the Cuisinart Green Gourmet still performs reasonably well compared to cheap cookware that tends to have hot spots. You also don't need a high setting for the cookware to heat up adequately for cooking with its efficient heat conduction.
Sturdy – The cookware isn't too heavy like a cast iron piece but neither does it feel flimsy and thin. It is not as lightweight as other ceramic cookware like GreenLife with its hard anodized and tri-ply construction. Another ceramic cookware brand that also has hard anodized models would be GreenPan.
Cons
Non stick coating erodes – The ceramic-based coating seems to have a short lifespan as it can wear off within a couple of months. There are many who complain that their pans' cooking surface turns sticky pretty quickly and becomes difficult to clean.
Coating chips – You will need to be very careful when handling the pots and pans. The coating is a little fragile and can chip easily, especially along the rim and if stacked up one on top of another.
Need to season – The cookware needs a little work as it must be re-seasoned to maintain its slickness. The recommendation is to re-season it twice a year to maintain optimal performance.
If you have an induction cooktop, then you will need to get the Cuisinart Green Gourmet Tri-Ply Stainless Steel cookware. The 10-piece set costs about $20 more than the hard anodized set at the time of writing.
Price-wise, the Cuisinart Green Gourmet isn't exactly cheap. It is more expensive than the popular WearEver Pure Living ceramic cookware and other non stick sets like Gotham Steel. However, it is still much more affordable than high end cookware like the Zwilling Spirit 3-Ply. So, it is a mid-range option for those who are looking for sturdy cookware but at a more affordable price point.
As the Cuisinart Green Gourmet review reveal, the non stick coating for ceramic cookware is always its weakest point. It is a risk but that is the price to pay for a healthier diet and greener planet.
Any Great Deals For The Cuisinart Green Gourmet? Don't Miss Out:

Other Cookware You Might Like: