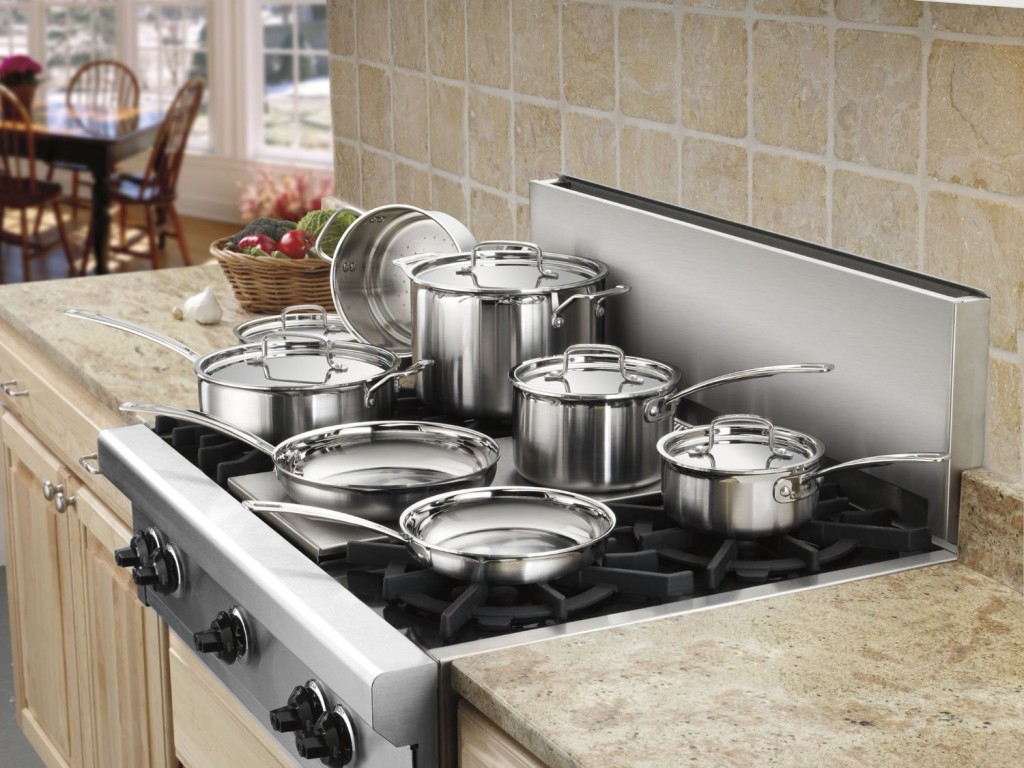 For stainless steel cookware, you certainly have a lot to choose from like the set above. In this Cuisinart Multiclad Pro 12-piece set review, you will see what this product has to offer.
While stainless steel is safe as a cooking utensil, it is not the best material when it comes to heat conduction. That is why many stainless steel pots and pans come with a multi-ply construction. The most common is probably the tri-ply in which an aluminum core is sandwiched between the stainless steel layers to provide even heating on the cooking surface and up the sides of the pieces. This is to enhance cooking performance and prevent hot spots on the cooking surface.
The typical stainless steel grade used would be the 18/10 which is also typically known as Type 304. Basically, 18/10 means that the steel comprises of 18% chromium and 10% nickel. The chromium is for the hardness while the nickel content is to resist rust.
Cuisinart Multiclad Pro 12-Piece Set Review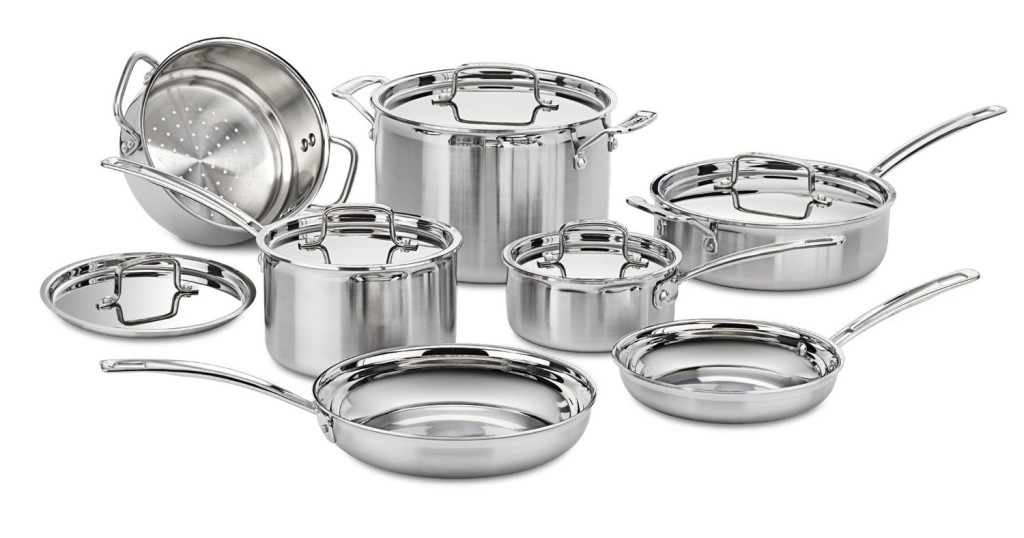 This Cuisinart Multiclad Pro Stainless Steel set contains the following items in the bundle:
1.5-quart saucepan (with lid)
3-quart saucepan (with lid)
8-inch fry pan
10-inch fry pan
3.5-quart saute pan (with lid)
8-quart stockpot (with lid)
steamer insert (with lid)
You will find lids from the other pieces to be a good fit for the two open fry pans. The lids are also made of stainless steel and they are a tight fit to lock in the flavors while cooking.
The exterior is brushed stainless while the middle layer is pure aluminum core for optimal heating performance. This is then covered with a stainless steel mirror-finished interior which does not react to food. The steel used is the 18/10 one as described above.
The handles are made of the same material and stay cool to touch while cooking. It is ergonomically designed with a thumb rest for an easier grip and rims are tapered for convenient pouring of food without the mess.
Being high quality stainless steel, this set is both dishwasher-safe and oven-safe up to 500°F. A very similar set to this one is the Cooks Standard Multi-Ply Clad and Emeril Pro-Clad Tri-Ply cookware which are also made of 18/10 stainless steel and selling in the same price range. You can also check that out for more options.
Should You Buy The Cuisinart Multiclad Pro (MCP-12N) Cookware?
Pros
Looks good – The pieces look shiny and nice, even the interior. For those who like to display their pots and pans in the kitchen, you wouldn't mind having this set at all.
Durable – The pieces are heavier than your usual nonstick cookware and will last for a long time since with its 18/10 material that is corrosion-resistant.
Heats up quickly and evenly – For stainless steel pans, you need to get it sufficiently heated up prior to adding oil. This should prevent food from sticking to the pan. For the Multiclad Pro, buyers are generally happy that the pieces heat up fast and evenly on their stove tops.
Easy to clean – While it is not as easy to clean as nonstick pans, it is not too difficult either to get rid of burnt food that got stuck to the cooking surface. Many buyers find it easy to clean as long as you soak it before washing. You also have the option to dump it into the dishwasher too.
Cons
Lids are stainless steel – You can't check on your food while cooking without lifting the lid, unlike glass covers which are are way more convenient.
Stains – This is a common complaint for all stainless steel cookware. It could be due to overheating or minerals deposits from water or starchy food. To clean it, try using vinegar or lemon juice to get back its mirror-finish. Such stains will not take away the performance of the cookware. It is only the look that will be marred.
Size – The bundle seems to have some smaller pieces and a big stockpot but missing something in the medium-sized range. For a typical family of four, the 8-inch skillet would be too small while the 10-inch could be a tight fit. The stockpot is huge at 8-quart while the bigger saucepan is only 3-quart. So, check the size of the pieces before buying to see if these pieces will fit your needs.
The Cuisinart Multiclad Pro 12-Piece Stainless Steel cookware set is not exactly the top of the line model but neither does it belong in the bottom range category like the value for money T Fal Ultimate. So, it will be best for those who are looking for an average stainless steel set for daily use – not too cheap that you need to compromise on quality and material used and not too expensive that it seems extravagant to spend on a few pots and pans.
Expect a bit of stickiness when you cook and discoloration to occur with these pieces. If you are not too fussy about keeping the glossy look on the insides of your cookware, then this stainless steel set would be great to have for heavy, everyday use.
Free Shipping With The Cuisinart Multiclad Pro? Find Out Now:

Other Cookware You Might Like: