As ceramic cookware is fast gaining a following among the more health conscious buyers, it is not surprising that Cuisinart is also jumping into the bandwagon to offer pots and pans with a ceramic coating. But as you would expect, there is a premium to be paid for the Cuisinart brand name and compared to other ceramic cookware sets out there, the Pro-Classic is costlier that most. Is it worth it then to pay so much just for the brand name? We will try to find out in this review.
Cuisinart Pro-Classic 14-Piece Ceramic Nonstick Cookware Review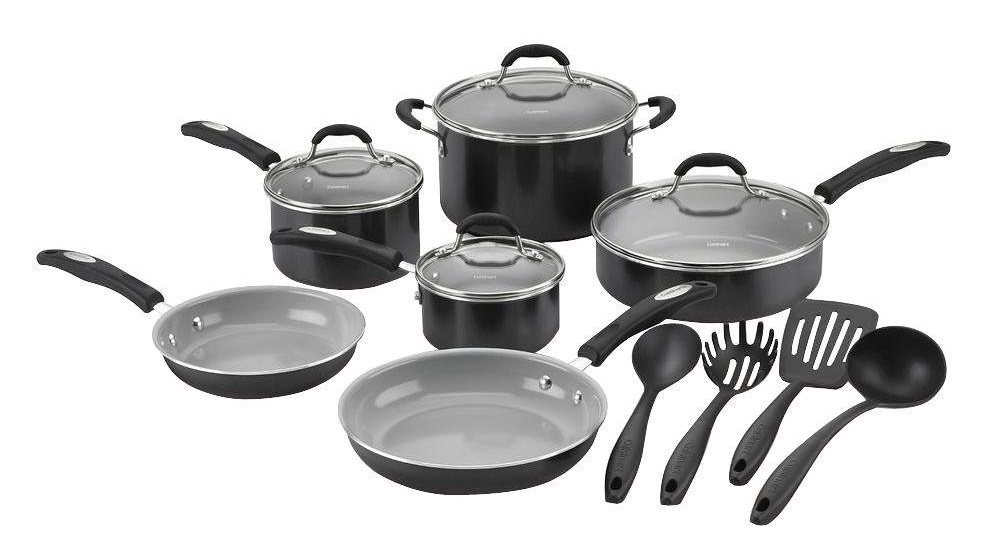 What is offered in the Cuisinart Pro-Classic 14-Piece Ceramic Cookware are these items:
1-quart saucepan with lid
2-quart saucepan with lid
3-quart saute pan with lid
5-quart stockpot with lid
8-inch skillet
10-inch skillet
4 kitchen tools: slotted turner, solid spoon, pasta fork server, ladle
=> Check Price
The pieces are of aluminum construction for even heat distribution. The interior is nonstick using a coating based on nano ceramic technology which ensures efficient food release and has an easy to clean effect.
The lids are made of tempered glass with a tight fit. The riveted handles have a soft grip with a stay cool feature. They also have an ergonomic design for a more comfortable and secure grip. Pouring out food and liquid is also mess-free with the tapered rims.
The Cuisinart Pro-Classic is listed as dishwasher safe on the product info.
Should You Buy The Cuisinart Pro-Classic Cookware?
Pros
Food does not stick – The nano-ceramic coating really lives up to its reputation of being nonstick. So, food releases pretty easily from the cooking surface and cleaning is a breeze with warm soapy water and sponge.
Heats up quickly – With the aluminum construction, a lower heat setting is sufficient. With the efficient conductivity, the pots and pans heat up quickly.
Good for a starter set – The inclusion of the kitchen tools make this a nice starter set for those who are looking for a complete bundle of pots and pans. The sizes ranging from 1 to 5 quarts would make this a suitable set for a couple or small family.
Cons
Availability and price – At the time of writing this review, the Cuisinart Pro-Classic Ceramic Cookware is not widely available among online retailers. As a result, the price difference is wide among the various offers. I understand that it usually retails for around $180 but at this price, it is a little high compared to the WearEver Pure Living Ceramic Cookware set. Even the popular Orgreenic 16-Piece set sells for less.
Thin and light – Amazon has this listed with a shipping weight of about 17 pounds. This is considered lightweight for cookware but is typical for ceramic type pots and pans. The T Fal Initiatives Ceramic Cookware set, with the same number of pieces, also weighs about the same. Depending on your preference, it could feel a little flimsy for some due to the thin construction.
Due to the small number of reviews from buyers and limited availability overall, it is hard to gauge if the Pro-Classic is durable. Most ceramic cookware do have complaints about the nonstick coating not lasting long and as such, I would think that the same risk applies to this Cuisinart set. So, given the price that it is selling at, which is close to $200 at the time of review, I would be very hesitant to put down that kind of money for this cookware.
Unless you can get it for around $150 or less during the sale period,  then only it would be worth a serious look. I have used $150 a a benchmark because the highly popular WearEver Pure Living is selling at this price range for their 16-piece set. For ceramic cookware sets, there are a lot of choices if you are wiling to spend up to $150 that it is hard to justify spending anything more for something that you aren't sure of how long it would last.
Free Shipping For The Cuisinart Pro-Classic? Don't Miss Out!

Other Cookware You Might Like: