Duxtop is not a popular brand name for pots and pans but in this review of the Duxtop Professional Stainless Steel 17-Piece cookware set, we found that customer feedback for this product is not too bad and can certainly give the more established brands like Cuisinart a run for its money.
Duxtop Professional 17-Piece Review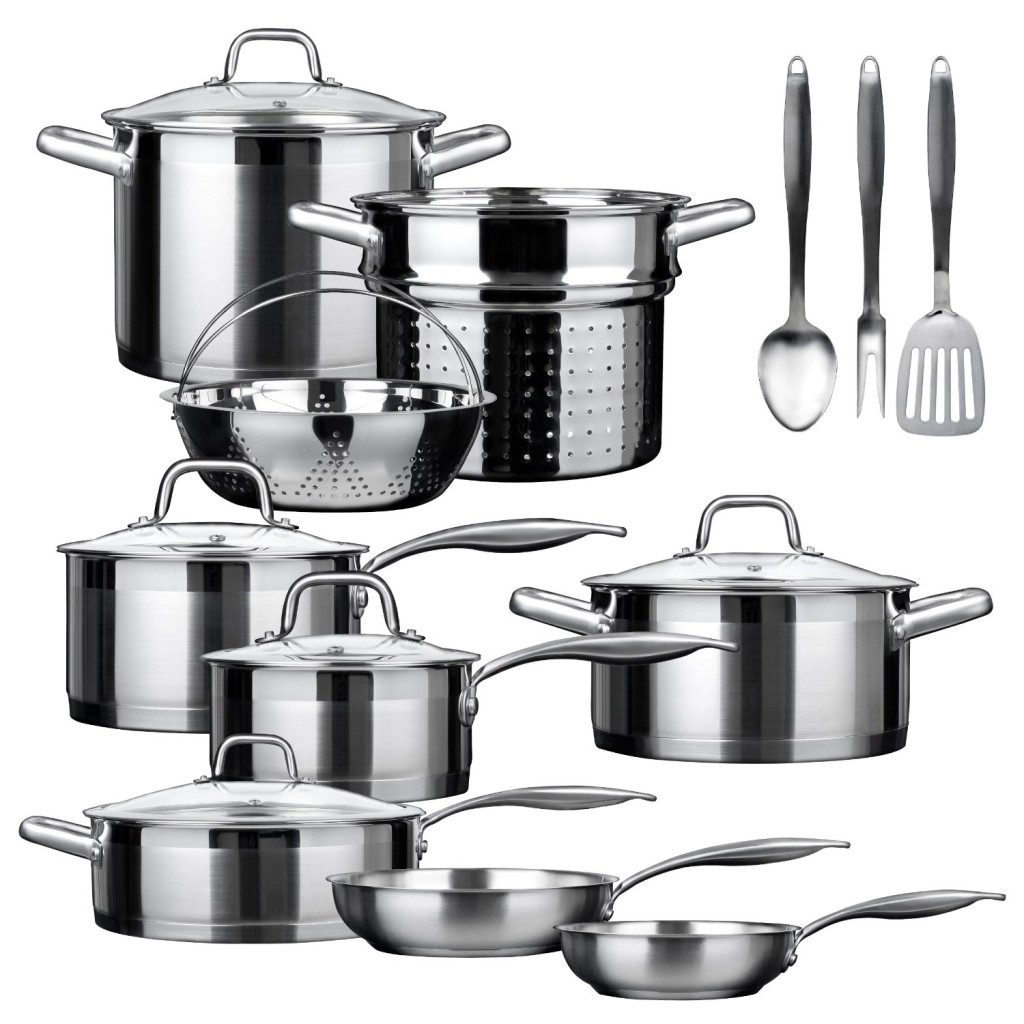 All the 17 pieces in the set are as follows:
4.2-quart covered casserole

8.6-quart covered stock pot

1.6-quart covered sauce pan


2.5-quart covered sauce pan

5.5-quart covered sauté pan with helper handle

8-inch fry pan
10-inch fry pan

Boiler basket

Steamer basket

3 pieces of kitchen tools: spoon, slotted turner and 2-prong fork
=> Check Price
The pieces are constructed using 18/10 stainless steel. For heat conductivity, the pieces have a heavy gauge aluminum encapsulated bottom made with impact bonding technology. The purpose of having tri ply and impact bonded cookware is the same, which is to transfer heat through an efficient conductor such as aluminum and copper. The difference lies in the manufacturing technique. Impact bonding is a heat pressure technology whereby heat is applied to the aluminum plate to liquify and spread it across the bottom and then bonded to the piece by applying high pressure.
The ergonomic handles of the pots and pans are riveted to the body and have a anti-slip satin finish. The lids are made of glass with a stainless steel rim. This set is dishwasher safe and oven safe to 550°F.
Suitable for all cooking surfaces, including induction, it also carries a lifetime limited warranty.
Should You Buy The Duxtop Professional Stainless Steel 17-Piece Set?
Pros
Solid pieces – With commercial grade 18/10 stainless steel construction, the pieces are solid and well-made. The shipping weight of this set is about 35 pounds, far from being thin and flimsy.
Measuring marks – Not many cookware have this feature unlike this Duxtop Professional set which has measuring marks inside the pots for convenience. It works  great for the times when you need more exact volume measurements for your dishes.
Deep fry pans – The fry pans have sides that are higher than usual. This makes it less likely for food to spill when you are tossing and turning your food when you are cooking.
Looks good and functional – The pieces have a shiny exterior that make them look attractive in your kitchen. While stylish, they are also functional as they heat up quickly and evenly with a heavy gauge aluminum encapsulated bottom.
Cons
Price – While not a famous brandname, this stainless steel cookware set does not come cheap either. Its price is comparable to the Emeril Pro-Clad Tri-Ply and Cooks Standard Multi-Ply Clad cookware. You will need to fork out over $200 for this 17-piece set.
China made – This stainless steel pots and pans are made in China which to some people could mean poorer quality. However, most cookware now are made in that country including the Cuisinart Multiclad Pro and Emeril Pro-Clad Tri-Ply. Unfortunately, if you want American made cookware such as All Clad, you will need to pay much more than what you are getting the Duxtop Professional for.
If you are wondering about the Duxtop Professional vs Duxtop Whole-Clad Tri-Ply Stainless Steel cookware, the Professional is slightly heavier than the latter. For example, the Professional 10-inch fry pan has a shipping weight of about 6 pounds but the same diameter Whole Clad fry pan ships at just over 4 pounds. This is because the aluminum core of the encapsulated bottom of the Professional is thicker. The technology is also different as the Professional uses impact bonding while the Whole Clad is a tri-ply cookware.
So, if you are looking for a lighter weight stainless steel pots and pans set, the Duxtop Professional cookware may not be ideal. The Whole-Clad Tri-Ply or Cuisinart Multiclad Pro would be a better bet. But if you like a nice weight to your cookware with a good grip of the handles, then the Duxtop Professional will be a better choice.
Free Shipping For The Duxtop Professional? Find Out Now:

Other Cookware You Might Like: