It can get pretty confusing when it comes to choosing a set of cookware. For example, what is the difference between the Emeril Chef's Stainless cookware set and the Emeril Pro-Clad? It can be hard to sift through the features and determine which is a better buy. In this review, let us look a little closer at the Chef's Stainless Steel cookware.
Emeril by All Clad Chef's Stainless Steel 12-Piece Cookware Set Review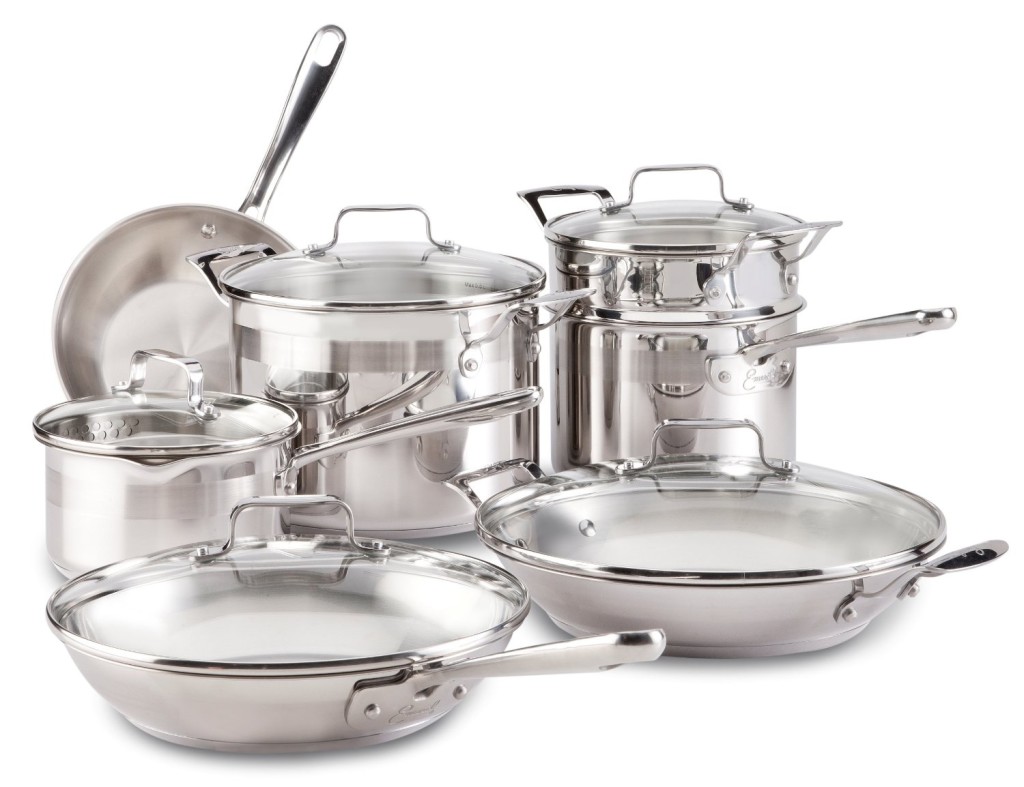 In this Emeril by All Clad Chef's Stainless Steel set E884SC74, there are 12 pieces altogether in the package:
1.5-quart pour and strain sauce pan with lid
3-quart sauce pan with lid
3-quart steamer insert
8-inch frying pan
10-inch frying pan with lid
11-inch everyday pan with lid
6-quart stockpot with lid
=> Check Price
The Chef's Stainless set has a 18/10 stainless steel construction. It features an aluminum encapsulated base bonded to give an even heat distribution. It has a brushed band finish in terms of visual appearance.
The riveted handles are from the Pro-Clad design, which gives a comfortable and secure grip while cooking and carrying. The lids are made of glass and oven-safe up to 350°F although the stainless steel pots come can withstand a higher temperature of 550°F.
The Emeril Chef's Stainless can be used on induction cooktops and the pieces are also dishwasher-safe.
Shoud You Buy The Emeril Chef's Stainless 12-Piece Set?
Pros
Measuring marks – You won't find this convenience in most pots. But for the Emeril Chef's Stainless Steel set, there are volume measurement marks inside the sauce pans and stockpot.
Pour and strain – The 1.5-quart sauce pan has a strainer feature which is also uncommon in most cookware sets.
Economical – The price is reasonable for a 12-piece set for those who prefer mid-range pots and pans. It is definitely a step up from the likes of Farberware and yet, not too expensive like the Calphalon Tri-Ply.
Quality – The quality is acceptable for the price it is selling at. The thickness of the pieces will not be comparable to the higher end All Clad but they still heat up quickly and cooks evenly for the majority of buyers which makes this a reasonable investment for a home kitchen.
Cons
Potholders required – The stainless handles can get hot, especially the shorts ones on the pots. Many do prefer insulated handles but the drawback is they may not be able to withstand the high temperature in the oven.
Thin walls – A few buyers have noted that the pieces feel a little thin. However, weight-wise, this is not a flimsy set at around 24 pounds. Most stainless steel cookware sets would be in that range including the Cuisinart MultiClad Pro. Of course, if you want perfect heat control and better heat retention capabilities, a thicker set would be a better choice.
While the price is reasonable, the question still remains if this is the best option for the money. After all, for $150 to $200 which is what the Emeril by All Clad Chef's Stainless 12-Piece set is selling at at the time of this review, you do have a lot of other choices. Personally, I would also look at the Cooks Standard Multi-Ply Clad because this set has a bigger 8-quart stockpot. It does not have the everyday pan though but with 2 less pieces, the price is also lower. It does have a 12-piece set as well but that would require you to pay about $60 more. But this set does enjoy a very good rating on its performance from buyers.
Compared to the Chef's Stainless encapsulated base, the Cooks Standard Multi-Ply Clad multi-element alloy aluminum core also extends up to the sides of the pieces. So, it should give better heat conduction and retention capabilities. The effect on your cooking results may not be apparent but with the lower price for the 10-piece set and 8-quart stockpot, I would think the Cooks Standard is a better buy.
However, the Chef's Stainless comes with a covered frying pan and everyday pan, which is rare for a cookware set. So, depending on what you need for your kitchen, this Emeril set does have its own unique advantage too.
Free Shipping For The Emeril Chef's Stainless Cookware? Don't Miss Out:

Other Cookware You Might Like: