Both the Gotham Steel and Red Copper pan look very similar in appearance with their copper color surface. Both are nonstick cookware and their selling point is their ability to slide all types of food right out from the pan after cooking. But are they exactly the same? Do they have their own unique features to set them apart from the competition? Let's find out in this Gotham Steel vs Red Copper pan review.
Gotham Steel Pan Review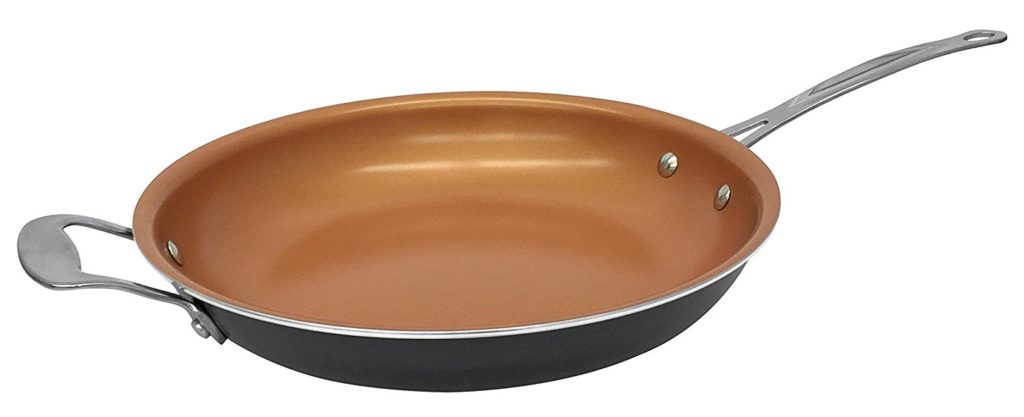 Let's start with the Gotham Steel pan review. They do come in various sizes from 9.5-inch to 12.5-inch. Apart from round frying pans, there are also other pieces in their product line such as square pans, sauce pans and pots. If you want to save money, you can also buy them in a set which typically works out to be cheaper than getting them individually.
==> Check Price
For the 12.5-inch pan, the depth is 2.2 inches. It has a flat and long steel handle on one side and another short handle on the other for easier lifting. However, bear in mind that the smaller pans only have one handle instead of two. The handles are riveted to the pan.
Gotham Steel has marketed its cookware as being new and different from what is available in the market with its titanium and ceramic surface finishing. Titanium is supposed to be a strong element that can withstand rough use. That means it should be abrasion-resistant and has a longer durability. This metal is also extremely light which is why titanium cookware is one of the popular choices for camping trips.
To make it nonstick, a titanium-infused ceramic coating is added to the pan. So, you will end up with a supposedly wear-resistant cookware that is also nonstick. We believe the core is aluminium for fast and even heat distribution which is very common for cookware. Since it doesn't have a Teflon coating, it is deemed as toxic-free without those harmful substances like PFOA. PTFE and PFOS. It is also oven-safe up to 500°F.
The Good And Bad Of Gotham Steel Pan
Good
Lightweight – The weight of Gotham Steel pans are similar to other ceramic cookware. In fact, an 11-inch Gotham Steel pan weighs about 1.6 lbs which is a tad lighter than a 10.5-inch WearEver Pure Living frying pan.
Nonstick coating works – Out of the box, the nonstick coating will ensure the food slides out with ease. This is especially so if you have seasoned it as per instructions. However, the durability is another issue altogether.
Bad
Doesn't last – This is where a lot of complaints come about. If you check the Gotham Steel pan reviews on various websites, you can't help but notice the number of complaints of how the cooking surface sticks after a short time. Short here can mean from a few uses to a year or so. However, to be fair, there are also buyers who have used it for about a year with no problems.
Not for induction cook top – You will have to be careful when buying because many of their pieces are not induction ready.
Isn't revolutionary – If you are taken in by the new titanium-infused ceramic coating, don't be. It isn't something totally new and you can get other brands that offer more or less the same thing. For instance, the Cuisinart Chef's Classic also has a titanium-reinforced nonstick layer.
Red Copper Pan Review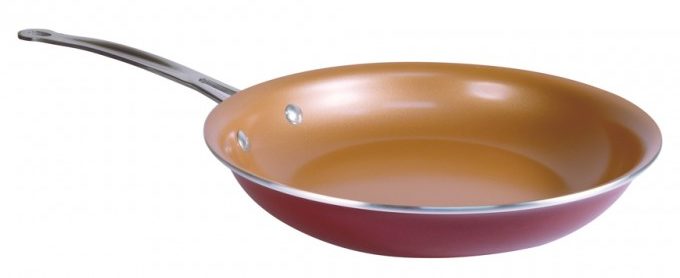 We have done the Red Copper cookware review separately and you can click on the link for a more detailed article. On a summarised note, the main difference of Gotham Steel vs Red Copper lies in the nonstick coating. Red Copper uses a copper-infused ceramic coating instead of titanium-infused. Copper is used for its heat sensitivity as it can change temperature very quickly as you increase or lower your stove heat settings. If you want to cook with more precise heat, copper cookware is the one to buy. Copper is also well-known for its heat conductivity.
==> Check Price
Like the Gotham Steel pan, the Red Copper is nonstick and will work well when new. But the durability is also suspect which is not at all surprising for nonstick cookware.
Gotham Steel vs Red Copper
| | Gotham Steel | Red Copper |
| --- | --- | --- |
| Nonstick | Yes | Yes |
| Coating | Titanium-infused ceramic coating | Copper-infused ceramic coating |
| Handle | Steel | Steel |
| Temperature | 500°F | 500°F |
| Oven-safe | Yes | Yes |
| Dishwasher-safe | Yes | Yes |
| Scratch-resistant | Yes | Yes |
| Weight | About the same | About the same |
| Price | $ | $$ |
Based on the features, there is really very little to separate the Gotham Steel vs Red Copper pan. The only notable difference is the nonstick coating whereby different element infusion is used. Going by the metal properties, the titanium one should give you better durability while the copper pan should give you more precise heat. However, how much of these elements are incorporated into these pans to make a real difference is the big question mark. The edge that they are supposed to have over other nonstick cookware is certainly unclear to us.
On top of that, both the pans are marketed as dishwasher-safe and scratch-resistant. But as what most people will tell you, handwashing and using silicone utensils is best to prolong the longevity of the pans. In fact, the Red Copper pan's instructions recommended it to be handwashed. In their advertisements, the manufacturers have also shown how a mixer can be used in the pan. But there are also buyers who have complained that their pans are scratched even without using any metal utensils. So, if you want to keep your pan looking good, it is best to to stick to silicone and wooden utensils.
Which One Should You Buy?
Well, our view is that buyers should not be taken in too easily by the marketing gimmick of both Gotham Steel and Red Copper. For the price they are selling it, there are plenty of options for nonstick cookware. If you want healthier choices and want to avoid Teflon, there are still many ceramic cookware in the market to choose from. For example, the price of Orgreenic and GreenLife is not much different from Gotham Steel and Red Copper.
In other words, buy whichever brand that is on sale. This is because nonstick pans don't last. Unlike stainless steel, nonstick pans are replaceable items in your kitchen. If you are lucky, you can get one that lasts you 2 or 3 years. If not, be prepared to buy a new one every 6 months.
Furthermore, if we compare Gotham Steel vs Red Copper buyer reviews for their fry pans, neither inspires confidence in their nonstick durability. There are plenty of negative reviews for both brands across the web on this issue. That is why we think you should cast your net wider and get cheaper ceramic pans to give you better value for your money.
Any Great Deals For Gotham Steel Pans? Find Out Now:

Other Cookware You Might Like: