Ceramic cookware is strongly gaining its place as the preferred nonstick cookware among consumers. Because it is widely marketed as a healthier option to Teflon-coated pans, it is indeed worth a try if the price is right. After all, conventional nonstick cookware can be obtained at very reasonable prices, even for branded names like T Fal and Rachael Ray. So, if you can find a ceramic cookware like GreenLife that is competitively priced, it is definitely worth a review.
GreenLife 14-Piece Ceramic Cookware Set Review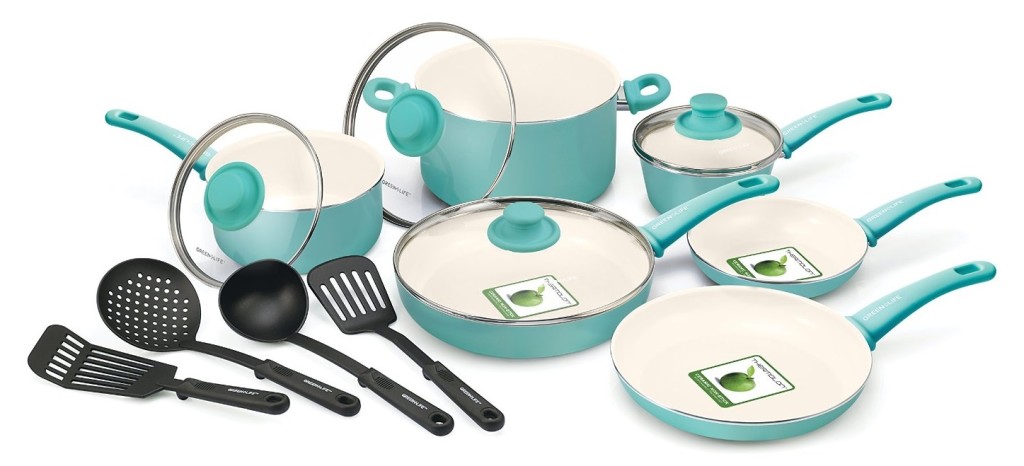 For this 14-piece set, you have the following:
7-inch open frypan
9.5-inch open frypan
1-quart covered saucepan
2-quart covered saucepan
5-quart covered casserole
2.5-quart covered saute pan
4 nylon utensils
==> Check Price
The GreenLife ceramic cookware pots and pans are lightweight cookware with an aluminum body and Thermolon nonstick coating. Thermolon is an inorganic or mineral-based coating comprising predominantly of silicon and oxygen with high thermal conductivity. It is also environmentally-friendly and free of PFOA and PTFE which is why it is considered safe for contact with food.
The aluminum body ensures fast and even heat distribution while keeping it lightweight. The exterior comes in a few different shades to match different preferences while the interior is nonstick for easy cleaning. The pieces are also dishwasher-safe. So, you can use it to fry, saute and roast with little problems with the clean-up after the cooking is done.
The lids are made of glass while the handles are bakelite handles with a soft grip that stays cool. The cookware is oven-safe up to 350°F. However, its Classic and Gourmet collection would have a higher temperature threshold with its stainless steel handles and hard anodized body.
Should You Buy The GreenLife Ceramice Cookware With Soft Grip?
Pros
Cheap – At the time of writing, the turquoise model is selling for less than $70 on Amazon, which is even cheaper than the T Fal Initiatives 14-piece set, another popular ceramic cookware on the market. So, it is an affordable choice for those making the switch from Teflon cookware.
Easy to clean – One of the reasons people buy nonstick cookware is because they are easy to clean. The GreenLife pots and pans belong to this category. The pieces are smooth enough that a simple wipe will remove food particles stuck on the surface during cleaning.
Food don't get stuck – Most buyers who have left comments on this cookware on retailers websites are happy with its nonstick performance. Eggs, potatoes and even cheese slide out easily enough.
Cons
Easily scratched – There are complaints that the pans scratched easily although handled with care. The paint also chips away that the pieces look worn out after a short period of use.
Handles melt – Some users have discovered that the soft handles can get burnt on gas stoves which gives off a burning plastic smell. Even a cheaper set like the Cook N Home doesn't seem to have this problem.
Small pieces – The size of the frying pans may be on the small side if you are cooking for a larger family. If you want a bigger pan, you can look at the WearEver Pure Living 15-piece set which comes with a 12-inch covered frying pan. This one is a more complete set compared to the GreenLife.
Again, like all nonstick cookware, there are no guarantees when it comes to the durability of the GreenLife Nonstick Ceramic cookware set. The usual complaints of chipping and scratches are there but on top of that, the melting handles is an additional issue that disqualifies this set from being the best ceramic cookware out there.
That brings to mind the additional care needed for these pots and pans. You have to avoid high temperature and if you are using a gas range, you also have to be extra careful that the flame isn't too big that it starts to melt off the handles. Because it is easily scratched, you also have to exercise care when washing and storing the pieces. If this sounds like too much work, you are probably better off with a stainless steel cookware set which would last you much longer with rougher use.
Free Shipping For The GreenLife Ceramic Cookware? Don't Miss Out:

Other Cookware You Might Like: