GreenPan is a Belgian brand that specialises in ceramic cookware. It has a few product lines and each is slightly different in terms of features. It can be a bit confusing for prospective buyers but we will attempt to list out their differences in the GreenPan cookware reviews below.
GreenPan Cookware Reviews
The popular product lines include the GreenPan Lima, Paris and Rio. Apart from this 3, there are also other cookware lines that include Venice Pro, Chatham, Padova and Focus.
We will highlight the popular ones and compare them to see which one will suit your needs.
GreenPan Lima Review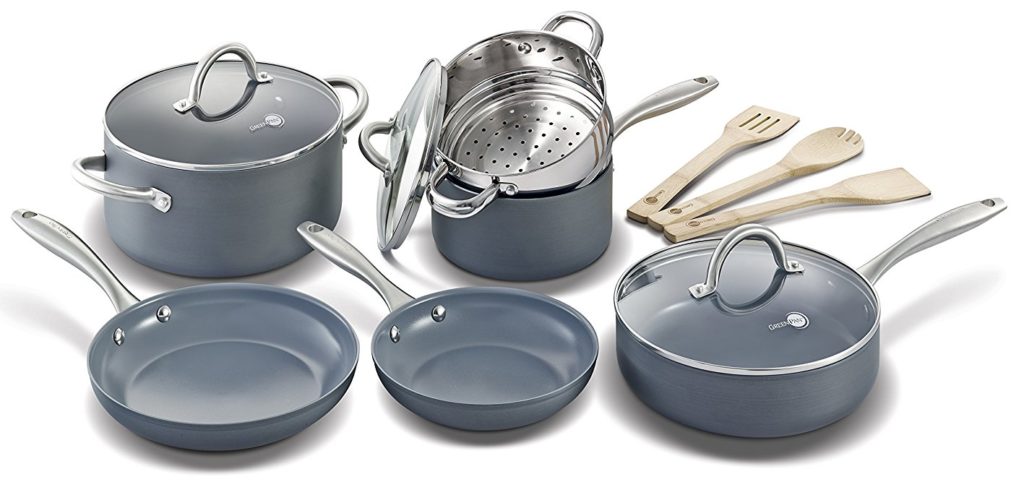 The GreenPan Lima is hard anodized aluminum cookware. It has maximum strength scratch resistant exterior with a gray color that typifies its hard anodized construction. The interior is a Thermolon coating which is a ceramic non stick layer that originates from sand. The sand is transformed into a solution which is sprayed onto the pan before being cured in an oven. Because the coating is made from natural minerals, the cookware is toxic-free.
The Lima pots and pans have riveted and contoured stainless steel handles and glass lids. These lids are oven safe up to 420°F. The cookware is suitable for ceramic, glass and gas cooktops. The pieces also need to be handwashed.
GreenPan Paris Review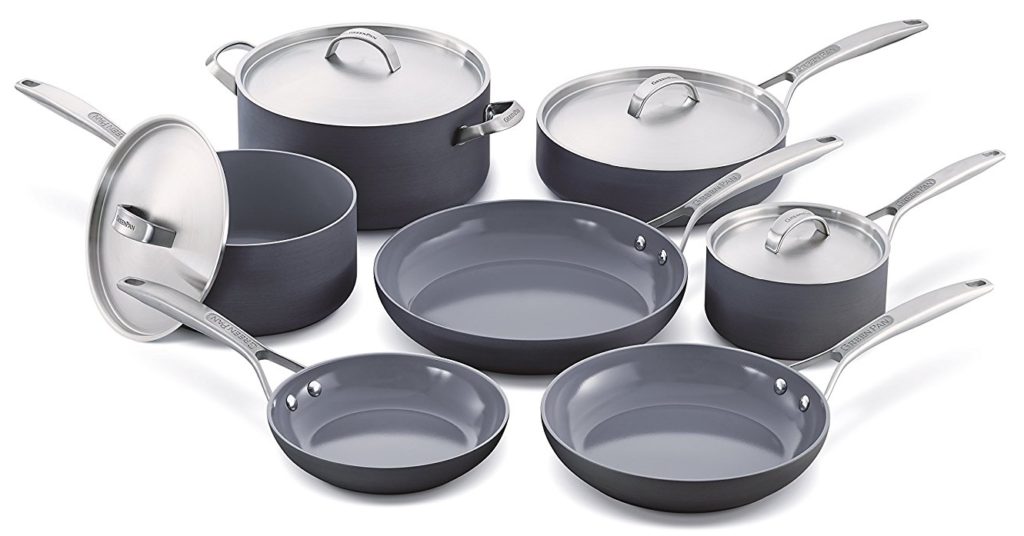 The GreenPan Paris is also a hard anodized aluminum cookware. The interior also has a Thermolon coating which is healthy and non stick. No PFAS, PFOA, lead and cadmium are found in its pots and pans.
Both the handles and lid for the Paris line are stainless steel. That means you can put the cookware into the oven at a higher temperature of 600°F. Handwashing is required and it is best used with ceramic, electric and gas cooktops.
GreenPan Rio Review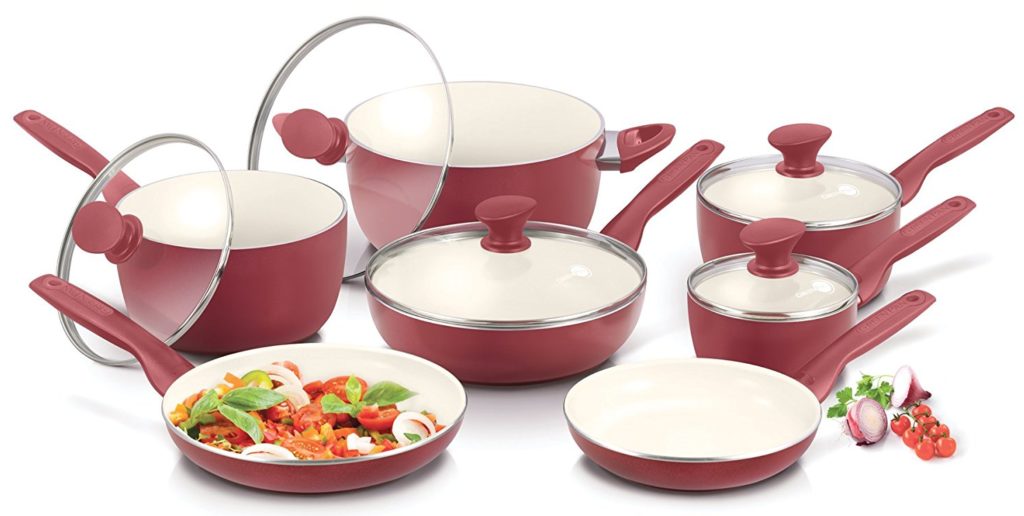 The GreenPan Rio is the more colorful option compared to the Lima and Paris. It is available in black, burgundy and turquoise. This is because the Rio isn't a hard anodized cookware which typically has a gray color. It is constructed of heavy gauge aluminum for quick and even heating.
The lids are glass and the handles are Bakelite. As a result, it doesn't have as high tolerance of heat as the Lima and Paris. It is oven safe up to only 350°F. However, it is dishwasher safe although handwashing is still recommended.
==> Check Price For All GreenPan Cookware
GreenPan Lima vs Paris vs Rio
The table below will summarise the features of the GreenPan Lima vs Paris vs Rio for easy reference.
| | Lima | Paris | Rio |
| --- | --- | --- | --- |
| Type | Hard Anodized | Hard Anodized | Heavy Gauge Aluminum |
| Interior Coating | Thermolon | Thermolon Marathon | Thermolon |
| External Color | Gray | Gray | Black, Burgundy, Turquoise |
| Handles | Stainless Steel | Stainless Steel | Bakelite |
| Lids | Glass | Stainless Steel | Glass |
| Oven-Safe | 420°F | 600°F | 350°F |
| Dishwasher-Safe | No | No | Yes (Handwash Recommended) |
| Induction Ready | No | No | No |
| Price | $$ | $$$ | $$ |
The most expensive of the 3 cookware models is the GreenPan Paris. This is because it has the more advanced Thermolon coating and is reinforced with minerals for better scratch resistance. It also has stainless steel lids to withstand higher temperatures in the oven. In fact, there are not many ceramic cookware with stainless steel lids available in the market. The Paris is a change from the usual for those who prefer stainless steel lids as opposed to glass.
One obvious drawback for all 3 models is that they don't belong to the non stick induction cookware category. If you want induction ready GreenPan cookware, you will need to get its Venice Pro line which has a stainless steel exterior. If you want a hard anodized set but not in the usual gray color, then you can look out for the GreenPan Padova. It has a light blue option which looks more cheery than the gray.
The Pros And Cons Of GreenPan Cookware
The pros are:
Healthy – Not only is the Thermolon surface has no Teflon coating which makes it free of harmful chemicals, you also can cut down on the use of oil and grease. This translates to healthier eating with a less oily diet.
Easy to clean – The slick surface ensures clean up is a breeze. You may need to handwash the GreenPan pots and pans but they are easy to do with the non stick coating.
Not too heavy – The pieces are not too heavy to hold. They are not flimsy but neither are they thick and heavy like an All Clad Tri-Ply. This makes it comfortable to use and feel just right in your hand.
Heats up quick – The aluminum construction will ensure the heat up is fast. The Thermolon coating is also a good heat conductor which helps to spread the heat more evenly.
The cons are:
Doesn't hold up – The non stick coating doesn't seem to be any better than other ceramic cookware like WearEver Pure Living and Green Earth. The complaints about the pans turning sticky after a few months of use is a common issue overall.
Chips easily – The GreenPan cookware certainly needs to be handled with care. It is on the fragile side compared to stainless steel cookware and the coating can chip on the edges and interior.
Not really cheap – If you compare GreenPan sets to other non stick cookware like T Fal Professional, they are on the higher end of the scale. In terms of GreenPan vs GreenLife which is another popular ceramic cookware, GreenPan still costs slightly more at the time of writing. So, they are not exactly cheap unless you are comparing them to branded cookwares like Cuisinart and Calphalon.
Should You Buy The GreenPan Cookware?
If you are really interested to buy the GreenPan, compare it to the GreenLife before you place your order. This is because both the GreenPan and GreenLife use the same Thermolon coating. The GreenPan Lima and Rio would come closest to the GreenLife Gourmet and Soft Grip in terms of price range.
There is really not much to separate the various ceramic cookware brands in the market. The durability is often suspect and this is prevalent across the board. The more expensive ones claim to have reinforced coating that is longer lasting but complaints can still be seen.
So, our view is all the popular ceramic cookware brands in the market are more or less the same. Thus, you don't need to confine yourself to the GreenPan but find one that is economical and has the pieces that suit your needs as well as features that match your preferences like type of handles and lids.
Any Great Deals For Ceramic Cookware? Don't Miss Out:

Other Cookware You Might Like: