When you think of enameled cast iron cookware, the one that often comes to mind is Le Creuset. But this is one expensive brand and unless you are willing to fork out at least $200 for a pot, you might as well give it a miss. However, you can still own an affordable porcelain enameled cookware with the Lodge Color cookware line. Under review here is the Lodge Color Enameled Cast Iron Dutch Oven.
Lodge Color Enameled Cast Iron Dutch Oven Review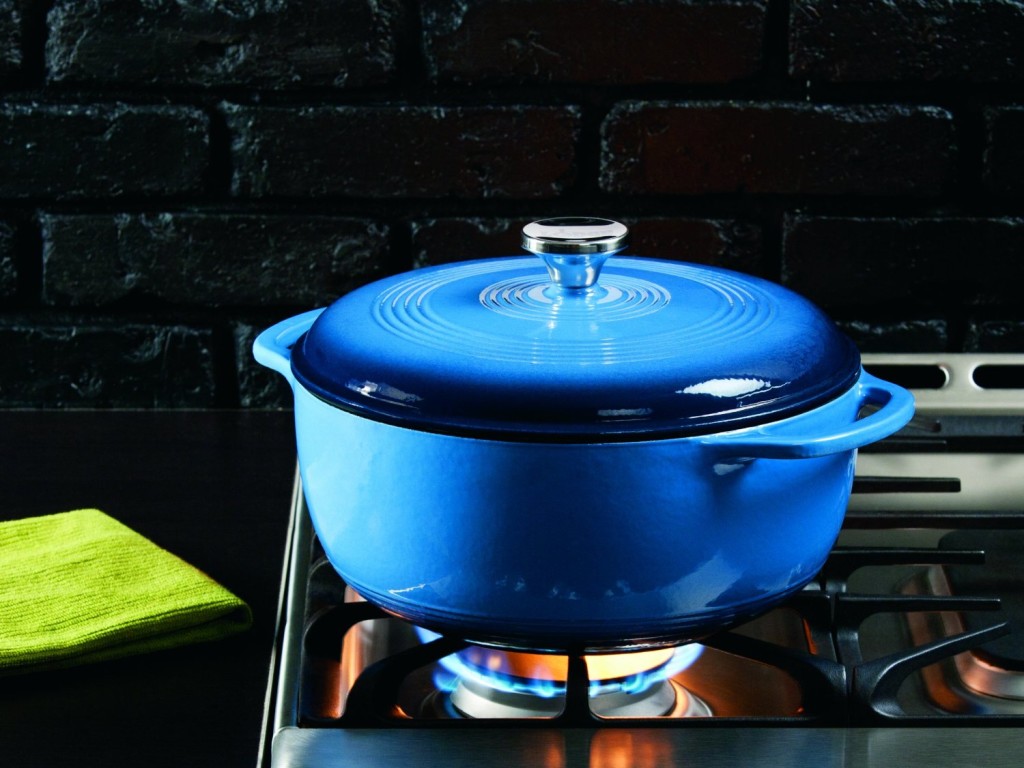 The Dutch Oven is available in 3 sizes:
3-quart (9.75-inches in diameter, 3-inhces deep)
6-quart (10.75-inches in diameter, 4.5-inches deep)
7.5-quart (12-inches in diameter, 4.75-inches deep)
==> Check Price
You can also get it in various colors with the island spice red (EC6D43) being one of the more popular ones. Shades of blue, purple, green, brown, burgundy and pumpkin are the other choices available for the cookware.
The Lodge Color Dutch Oven is a cast iron pot with a colorful exterior. The outer layer has a double coating of porcelain enamel that is chip resistant with a glossy look that is easy to clean. The interior has a cream finish to complement the colorful exterior which has a dark to light gradient for a more stylish look.
No seasoning is required for this cookware with its porcelain surface. The cast iron construction has a superior heat retention capability and heat is distributed evenly across the bottom and up the side walls. The pot is oven-safe up to 500°F.
The lid has circles on it as patterns with a black knob in the center. The cookware is dishwasher-safe but hand washing is recommended if you want to keep the glossy look. Suitable for gas, electric, ceramic and induction stoves, you can also use it for marinating, refrigerating and freezing since it would not absorb the food flavors and odors during the process.
Should You Buy The Lodge Color Enameled Cast Iron Dutch Oven?
Pros
Price is more affordable – You can get cheaper porcelain enamel cookware like those from the Paula Deen Savannah Collection but these are mainly nonstick cookware with an aluminum core. For those pieces with porcelain enameled exterior and cast iron construction, the Lodge Color is still one of the cheapest around.  At the time of writing, the Le Creuset Signature Enameled Cast Iron 5.5-quart Dutch Oven already sets you back around $180, much more than what you would be paying for the Lodge Color pot.
Solid piece – The quality is there although the price is much lower than the top brands. Most customers are happy with their purchase as the food turned out great with even heating and excellent heat retention. Some buyers have also found no difference between the Lodge Color and the much more expensive Le Creuset in terms of quality.
Cleaning is a breeze – The pot is easy to clean after use with little sticking.
Cons
Made in China – While the standard Lodge skillet is made in the USA, the enameled coated line is made in China. Unfortunately, not everyone is comfortable with Chinese-made products but it could also explain why the cost is much lower for the cookware compared to some of its competitors.
Lid does not fit well – A few buyers have mentioned that the lid does not seem to fit as snugly as they would have liked causing moisture to escape. Complaints of the coating chipping have also been raised although the majority of buyers do not seem to have these problems.
Heavy – The 6-quart pot weighs about 14 pounds. Not for the weak, this cast iron Dutch Oven will require strong arms to lift, especially when it is filled with food. Therefore, you may want to consider the weight before buying to make sure you are comfortable using it.
For the price, the Lodge Color Enameled Cast Iron Dutch Oven is worth a try. As long as you are comfortable with using heavy cast iron cookware, this is just another piece that you should have in your kitchen. The beautiful vibrant colors is an added advantage although we see the quality in relation to the price as the main selling point here.
After all, Lodge is an established cast iron cookware brand. Although the Lodge Color enamel cookware line is made in China, there should be a measure of comfort behind the brand name. So, for the much more economical price tag, this would get a buy from us.
Free Shipping For The Lodge Color Cookware? Find Out Now:

Other Cookware You Might Like: