With the increasing popularity of induction cooktops, there is also a bigger demand for induction cookware. While many stainless steel pots and pans are induction ready, the same cannot be said for their non stick counterparts. The NuWave cookware is one of the few that is non stick and also induction compatible but does it work well? Let's check it out in this NuWave cookware review.
NuWave Cookware Review : A Duralon Cookware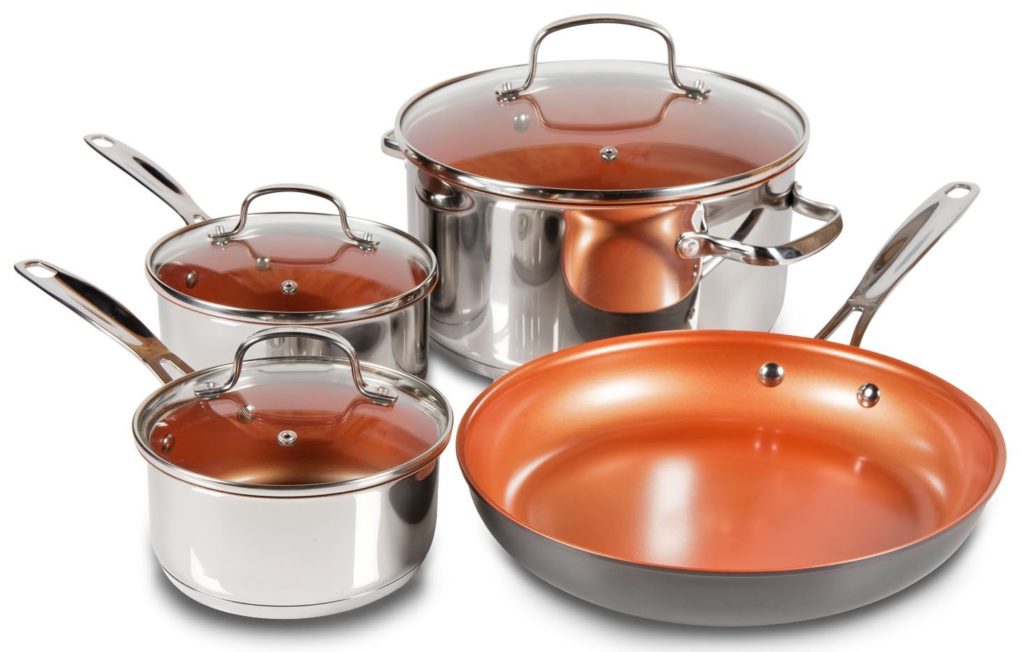 You can get the NuWave cookware as separate pieces or sets. These are a few sets available in the market but one of the most popular seems to be this 7-piece deluxe set that has the following pots and pans:
12-inch hard anodized fry pan
2-quart saucepan with cover
3-quart saucepan with cover
5.5-quart stock pot with cover
==> Check Price
These pieces use natural, ceramic materials in its non stick coating which is termed as Duralon. It is a diamond infused nano ceramic coating. There is absolutely no leaching of toxins and chemicals and it can supposedly tolerate direct and high heat. Hence, the NuWave is marketed as a healthy alternative to other non stick cookware.
In this set, the fry pan is hard anodized which makes it highly durable. The saucepans and stock pot have a stainless steel exterior. They have an aluminum core for heat conduction and a magnetic base to make it induction compatible. The pots and pans are oven safe up to 475°F.
The lids are made of premium tempered glass while the handles are of stay cool stainless steel design. These are dual riveted to the pans.
Should You Buy The NuWave Cookware?
Pros
Induction compatible – As mentioned, NuWave is one of the few non stick induction cookware that is available in the market. If you want a ceramic cookware, the choices are even narrower. So, if you have an induction cooktop, NuWave remains one of the top choices to consider.
Easy to cook with – Because of the slick Duralon coating, it is easy to cook with these pots and pans. Since nothing sticks, the clean up also becomes a breeze.
Affordable – NuWave is not exactly a cheap set but neither is the cost too far off from other quality ceramic cookware like WearEver Pure Living and Cuisinart Pro Classic.
Cons
Non stick doesn't last – There are numerous complaints on the non stick coating of the fry pan failing in a matter of months. Some even complained that the pan becomes sticky after a few uses. Furthermore, the warranty doesn't cover the coating.
Handles not too comfortable – A few users are not too happy wth the handles which seem to get hot on the stove.
No lid for the pan – The fry pan does not come with a lid for the 7-piece set.
The bottomline is if you want a ceramic induction cookware, you don't have much of a choice. The well-known ones like WearEver Pure Living and GreenLife are not induction ready. So, you are stuck with NuWave for now although to be fair, it isn't too bad as a cookware.
No doubt some people love it while others hate it. The problem with ceramic cookware is always the coating which tends to lose its slickness fast. Different people have different cooking styles and stove settings which is why some can get the pan to last while others can't. A medium heat setting for one stove could already be on the high side for another and hence, 2 users can end up with different experiences. That is why many non stick cookware often have conflicting reviews from buyers.
So, as this NuWave cookware review shows, expect degradation of the non stick coating. But you can help to prolong its lifespan by using lower heat settings, nylon or wooden tools and hand-washing. If you have an induction cooktop, NuWave is probably the best ceramic cookware that you can get. However, if you don't need induction cookware, there are certainly other cheaper alternatives available in the market.
Any Great Deals For NuWave Cookware? Find Out Now:

Other Cookware You Might Like: