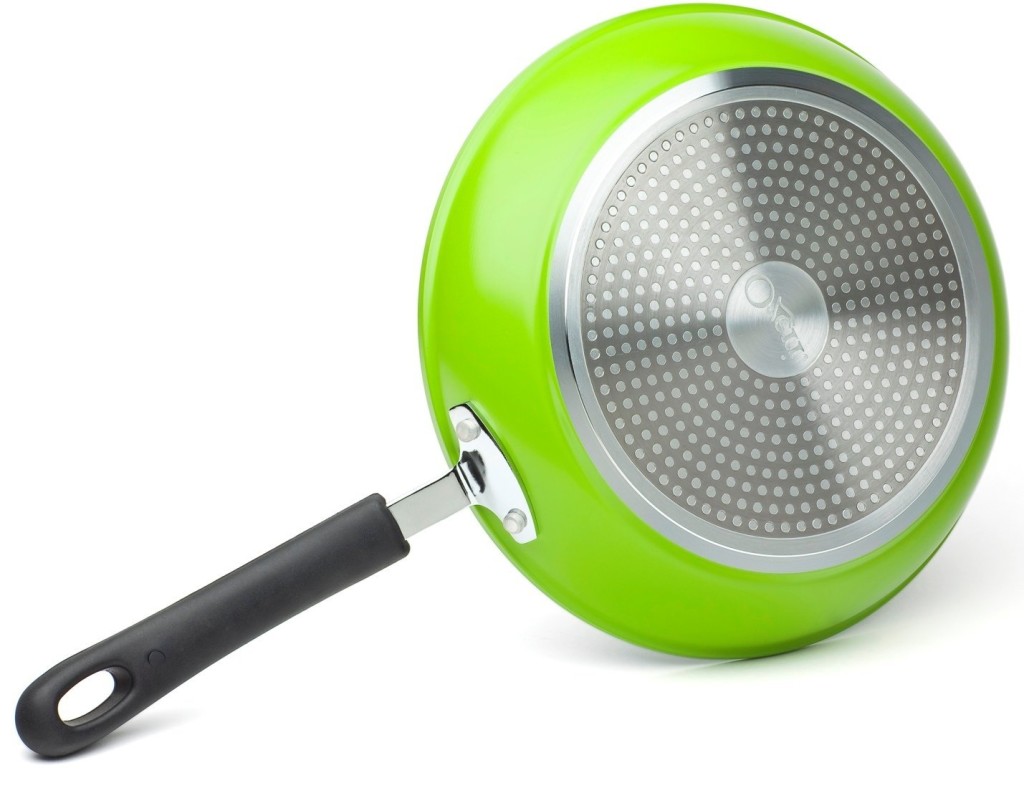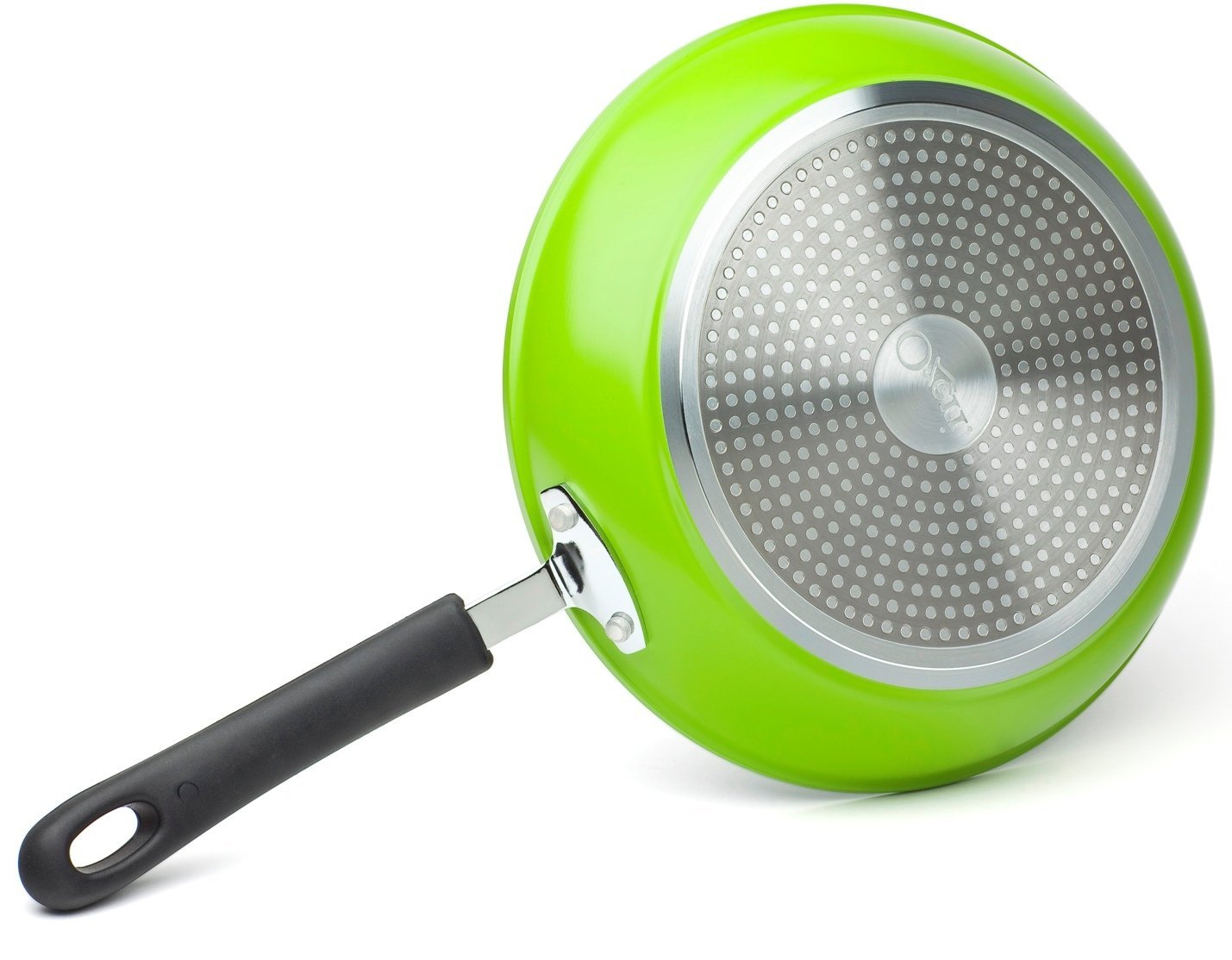 When we do the Ozeri Green Earth Frying Pan review, we will need to talk a little about GREBLON® because it uses this German technology in its interior coating. GREBLON® is a nonstick coating and is available in different levels of quality from the basic single layer to triple layer and may be reinforced with ceramics for extra durability. It can contain PTFE for optimum nonstick effect although not all of its coatings will have this substance. Of course, the different coatings and materials used will have an effect on how good are the nonstick properties as well as the level of scratch resistance.
GREBLON® coatings are hard and tough, scratch resistant, nonstick and should hold up well under normal use. But apart from practicality, the ceramic GREBLON® coating is also more attractive with the ability to have color and glossy effects compared to the usual black color nonstick cookware. It is also easy to clean, resistant to high temperature and heats up fast. This coating and its cookware application have also been tested by various entities with good results.
Green Earth Fry Pan Review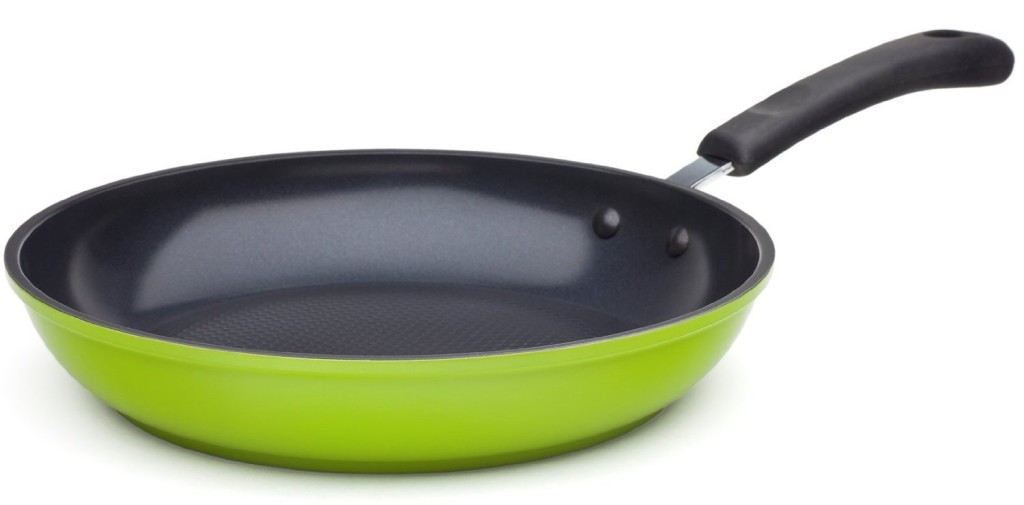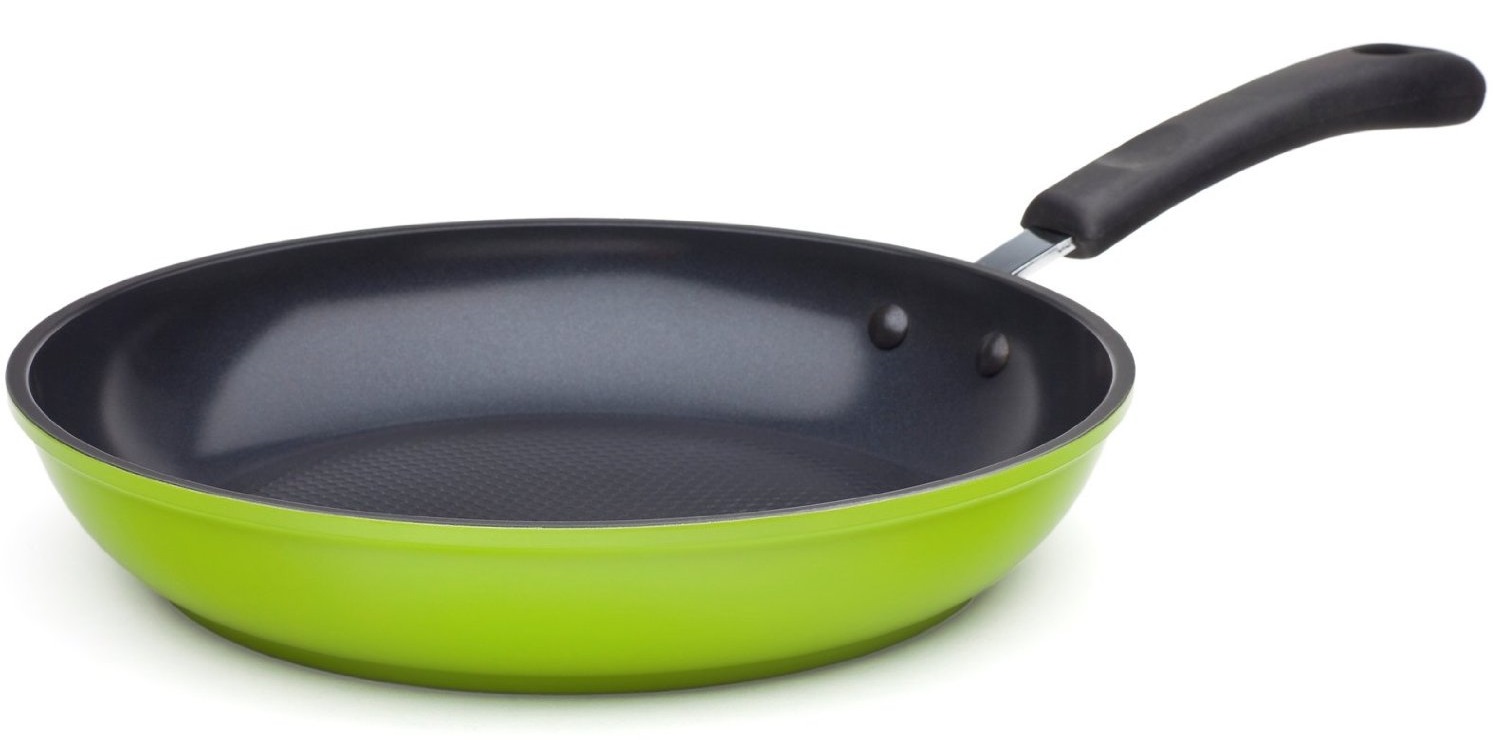 It is available in 3 different sizes – 8, 10 and 12 inches. As mentioned, it is coated with GREBLON® ceramic coating on the inside which is said to be completely free of PTFE and PFOA. That means if you heat it up using high temperature, you would not have to worry about it releasing harmful substances into the environment.
The cooking surface is textured which is supposedly better for heat distribution and combined with the heavy gauge die-case aluminum construction, there should be no hot spots to let you get the best effect for your food. It is nonstick and resistant to scratches.
It also has a magnetized bottom so that you could use this on an induction stove top. The handle is coated with silicone for heat resistance.
Should You Buy The Ozeri Ceramic Frying Pan?
Pros
Safe – This is the main selling point of this green ceramic pan. It is being sold as a hygienic and safe cookware with a nonstick surface that doesn't harm the environment and our health. For those who are conscious of the effects of Teflon-coated cookware, this is a good alternative.
Nonstick – Buyers like it for its nonstick surface and the majority are happy that it performs as advertised without food sticking to the pan. This would mean easy clean-up after the cooking is done.
Solid – This pan is well-made and will feel solid in your hands. It is sturdy and compared to other similar pans in the market, it is on the heavy side. The 12-inch pan weighs 2.8 pounds while a same sized pan by WearEver Pure Living, which is also a ceramic cookware, weighs only 2 pounds.
Cons
Price – For a frying pan, it costs more than other similar pieces in the market. You can easily get a ceramic frying pan for less than $30 but the Green Earth is selling for more than that at the time of review.
Durability – While it is great to use while it is still new, many reviewers have complained that the pan turns sticky after repeated use. That means food will stick to the pan even when oil is used and makes it difficult to clean.
It is hard to make a call when it comes to the Ozeri Green Earth frying pan. The reason is while many people are happy with the product, there is also a very regular pattern of complaints about its nonstick properties wearing off after a few months of use. Although this is typical of almost all nonstick cookware, the higher price of the pan with its German GREBLON® coating may not justify the risk of ending up with a sticky cooking surface. So, you may be better off getting a cheaper ceramic pan instead of this one here.
Having said that though, it doesn't mean you definitely will end up with a sticky pan on your hands. Many people who have used it for months have only good things to say about the product. Use only wooden or plastic utensils, hand-wash it after it has cooled down and don't crank up the heat are typical advices from those who like it. Also, avoid nonstick spray and wash thoroughly after use. You need to prevent residues from building up on the cooking surface because that would cause it to become sticky. If you find the interior turning sticky, wash it with a baking soda solution. That should get rid of the residue build-ups and would be less sticky.
Could You Get It With Free Shipping? Find Out:

Other Cookware You Might Like: