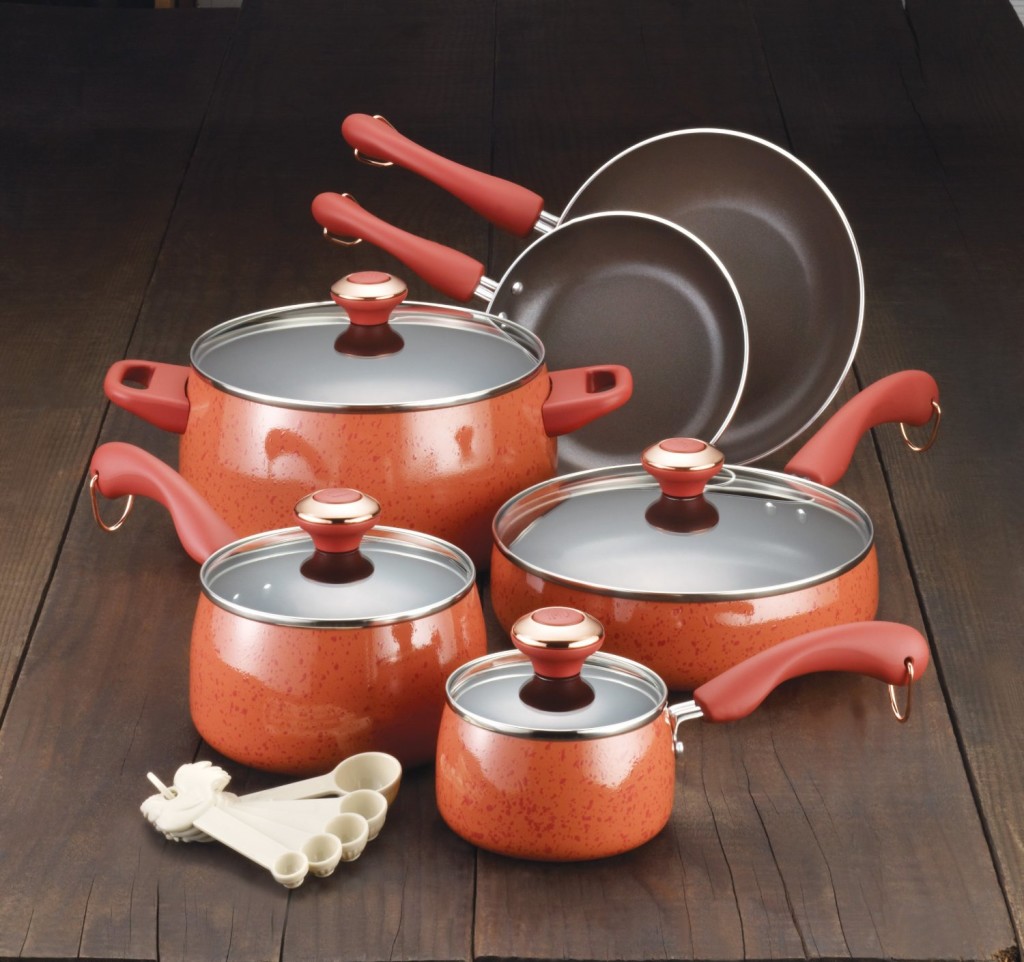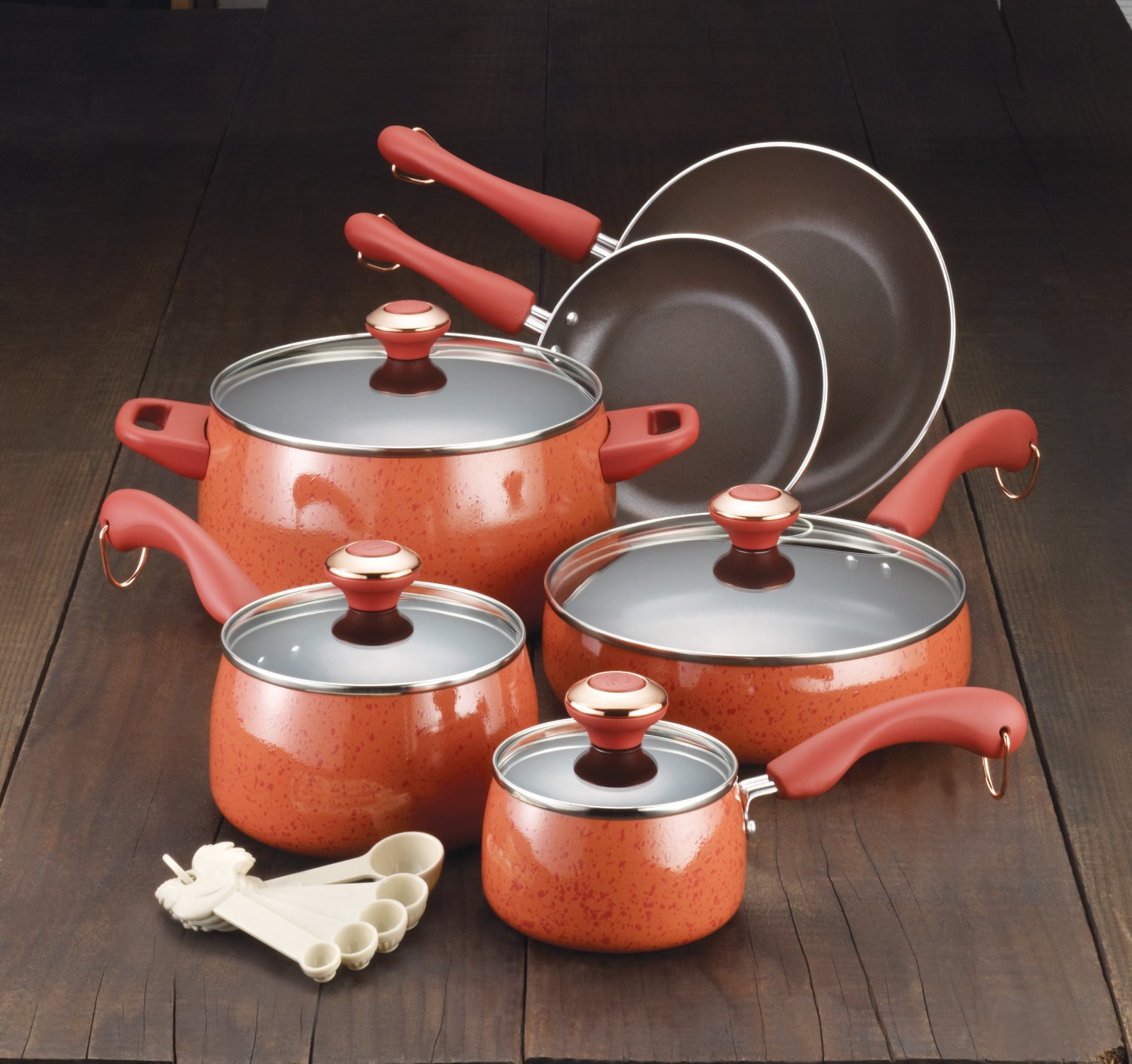 The Paula Deen Porcelain Cookware Set (12512) is a pretty popular item among buyers with great reviews too. It is attractive with its various colors and compared to more traditional pots and pans which often come in black, gray or silver, it is a change for the modern kitchen. The porcelain exterior allows for colored pieces and yet, it is light and functional.
=> Check Price
This is because it is a type of material that is easy to clean and resistant to scratches. It will also not rust or peel which makes it durable and suitable to be used as cookware. It covers up the core of the pieces, which typically are made of aluminum, to give them a colorful look.  Porcelain is a tough material which is obtained through a heating process consisting of other materials like clay under extreme high temperature.
Paula Deen 15-Piece Porcelain Cookware Review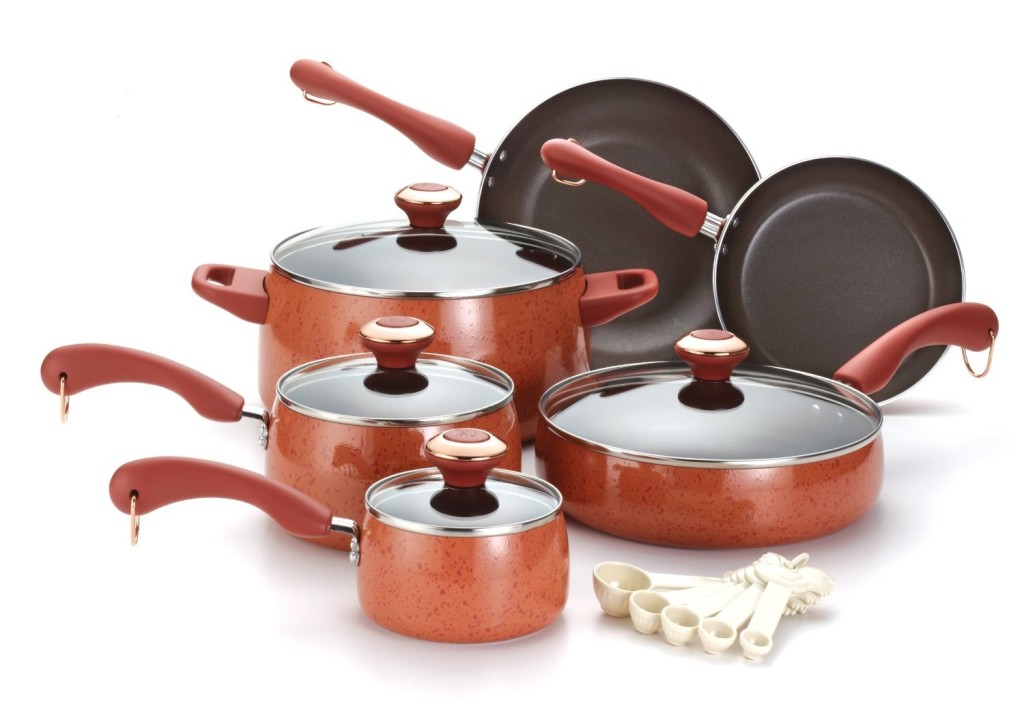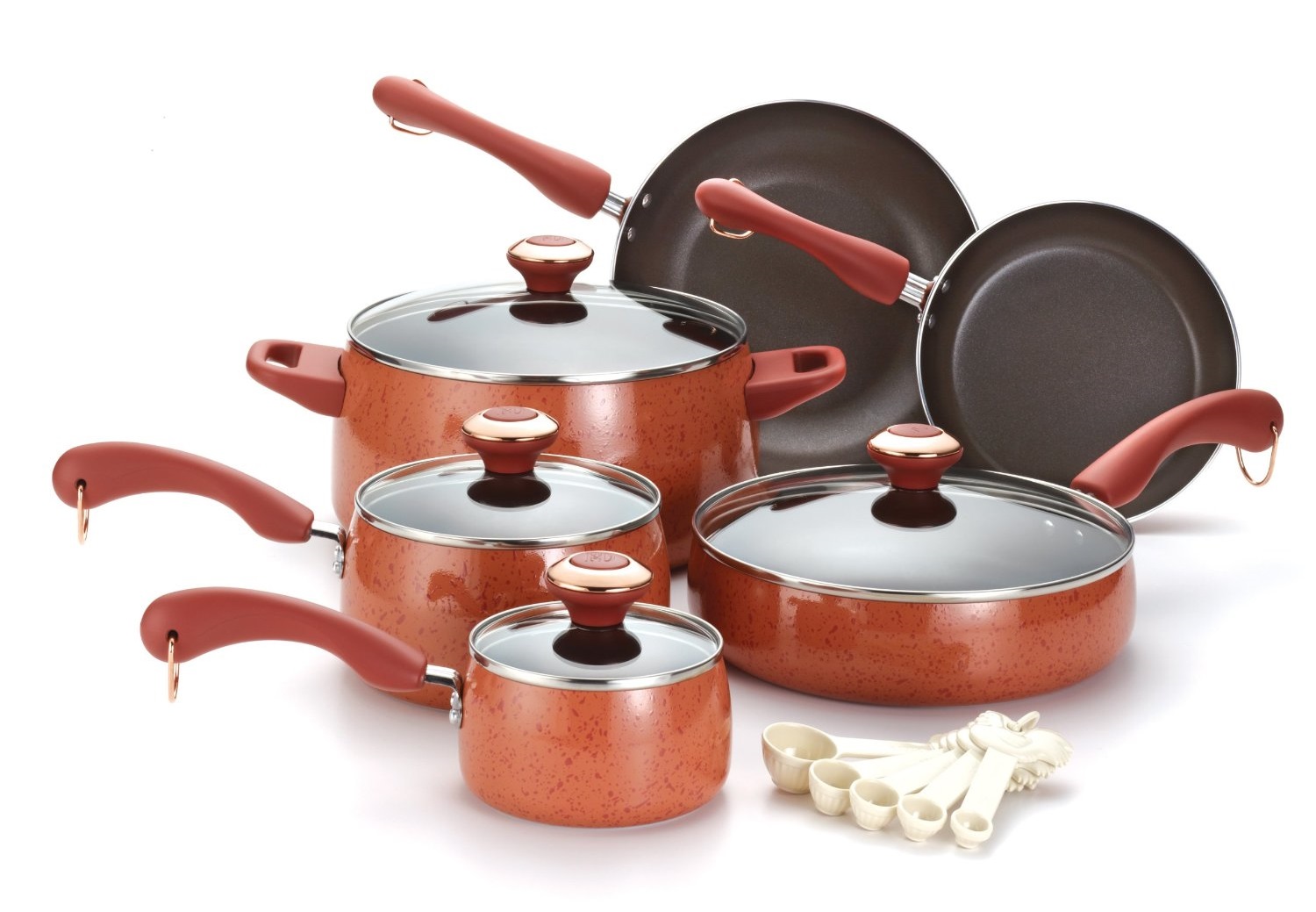 This Paula Deen Signature 15-Piece Porcelain Nonstick Cookware is available in 5 different colors on Amazon – blue, red, orange, beige and pear. They are fun colors with speckles on each of the pieces to brighten up your kitchen. Another Paula Deen cookware that is similar to this one is the Traditional set while for a different brand that is equally colorful is the Rachael Ray Porcelain Enamel 10-Piece Cookware.
For the package shown above, it comes with the following items:
1 quart saucepan with lid

2 quart saucepan with lid

6 quart sauce pot with lid

2.75 quart saute pan with lid

8 inch skillet

10 inch skillets

5 measuring spoons in a set

The porcelain exterior makes cleaning easy and it is also stain resistant. It's heavy gauge construction using aluminum as its core means the pieces are quick to heat up with smooth heat conduction to prevent hot spots on the cooking surface. The interior is coated with Teflon to give it a nonstick surface and it is oven-safe up to 350°F.
The lids are made of glass so that you can view your food at a glance. The knobs on the lids have matching colors as the pieces to give it a nice look. The handles are soft-touch and riveted securely to the cookware pieces. At the end of the handles, you will also find copper-plated rings for hanging convenience.
Should You Buy This Paula Deen Nonstick Cookware?
Pros
Attractive – With various colors to choose from and speckles on the pieces, they will look pretty indeed in your kitchen. It will also be easy to find a set that will match your kitchen colors and spice up your decor. If you want a rustic feel, you can also take a look at the Rachael Ray Cucina cookware.
Easy to clean – The pots and pans are easy to clean with its nonstick surface and porcelain exterior.
Not too expensive – At the time of review, the price is reasonable for a 15-piece set. It is not the cheapest but for such an attractive-looking set, it is worth a serious look. It is also cheaper than the Paula Deen Savannah Collection cookware although there is little difference in terms of quality between the two sets.
Great reviews – Generally, the majority of buyers are happy with their purchase which lowers the risk of quality issues.
Cons
Pieces include spoon set – What is included in the package is a 5-piece spoon set which counts as 5 individual pieces. This means the essential pieces are only 10 with 4 lids in the bundle.
Teflon-coated – The pots and pans have a Teflon coating which may be an issue for some due to potential health risks. If this is a problem for you, ceramic cookware like the WearEver Pure Living set would be a good alternative since it is also nonstick.
Tendency to tilt – The handles are heavy which creates a tendency for the smaller pieces to tilt when they are empty. This could potentially be a hassle for those who do not have a flat stove top.
Durability – There have been complaints of the coating in the interior coming off after repeated use, which is a typical issue with nonstick pots and pans.
If you are choosing porcelain pots and pans for your kitchen and don't mind Teflon cookware, then this Paula Deen set could be the right one for you. For some people, the mere mention of Teflon would have them running away looking for something else. So, it really depends on your own comfort level of what cooking surfaces would be best. It is also advisable not to use it on high heat so, your cooking habits should also be a consideration.
The price of the set is at an affordable range and while durability could be an issue, you would expect it to be the case for all nonstick surfaces. You would have to be prepared to trade durability for convenience and as long as the set is reasonably priced with good ratings, it should be a worthwhile investment. The colorful exterior is also a bonus.
Check Out The Best Price Right Now:

Other Cookware You Might Like: