Sometimes, the name of the cookware can be misleading. You might think Red Copper is solid copper cookware but it is not. So, do not be quick to jump to conclusion that this is good value for money. Rather take a look at this Red Copper cookware review below to see if this is exactly what you want in your kitchen.
Red Copper Pots and Pans Review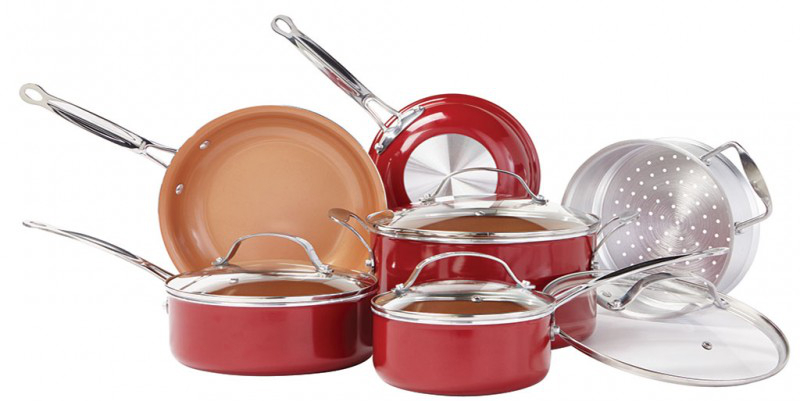 Red Copper is available in a set or individual pieces. For the set, a 5 and 10-piece is available on Amazon. Shown above is the 10-piece set and the pieces that are included are:
8-inch fry pan
10-inch fry pan with lid
1.5-quart sauce pan with lid
2.5-quart sauce pan with lid
6-quart sauce pan with lid
Aluminum steamer insert
==> Check Price
The main selling point of the Red Copper cookware set is its nonstick properties. This is why the manufacturer claims you can have healthy meals without adding butter, fats or greasy oils when you use this cookware.
The nonstick comes from the ceramic coating. Without Teflon in the mix, the nonstick coating is therefore PFOA and PTFE free. It is also marketed as scratch-resistant and hence, durable.
Apart from the nonstick properties, the cookware also has some elements of copper in its construction. Copper conducts heat very well which is why it is one of the more common elements used to make pots and pans. You can get very precise heat with copper cookware and they are very sensitive to changing temperatures. What this means is that if you raise or lower your stove top temperature, the copper cookware's temperature will also adjust very quickly to give you perfect results.
So, with the Red Copper, what you are getting is copper-infused aluminium with bonded ceramic pieces. It won't have the same high quality as solid copper cookware but the copper and aluminium do help to conduct heat and eliminate hot spots.
The Red Copper pan is easy to clean after cooking is done as it is dishwasher-safe. The pieces are also oven-safe up to 500°F.
Is The Red Copper Cookware Worth It?
Pros
Alternative to full copper – A solid copper cookware is very expensive. You can probably get only one single copper pot for the price of this 10-piece Red Copper cookware set. As mentioned above, they are not in the same league. But a copper-infused cookware is a much cheaper alternative to reap the benefits of the superior conductivity of this element.
Lid for the fry pan – Not many sets offer a 10-inch fry pan with a lid. Normally, a lid is reserved for a bigger size pan. So, for this set, all the pots and pans come with a lid except for the 8-inch fry pan.
Doesn't stick – Food does not stick to the surface which means easy clean-up afterwards. So, the nonstick coating is there and functions well out of the box. The test is in its durability and this is where differing opinions can be found.
Goes in the oven – The recommended maximum temperature is 500°F and the cookware is oven-safe. Some nonstick cookware can only withstand temperature up to 350°F like the Cook N Home and T Fal Metallics.
Cons
Stainless steel handles – The handles get hot with the stainless steel material. The handles for the lid and big pot are the worst as they are much closer to the heat source compared to the longer pan handles.
Price – The 10-piece set at the time of writing is retailing for about $100 (price subject to change). But you can plenty of nonstick ceramic cookware for less such as WearEver Pure Living and T Fal Initiatives. The individual pieces may differ but the price differential can be as big as $40 at times.
Red Copper vs Copper Chef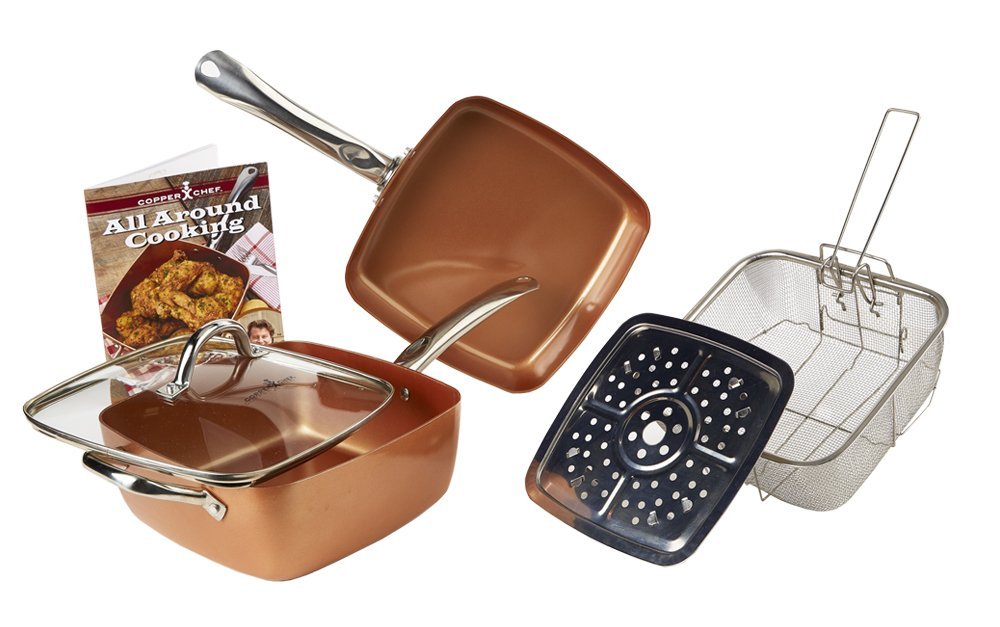 Ceramic cookware used to be the one to get when the Teflon scare begins to gain momentum and people become more aware of healthy cooking. From ceramic, copper seems to have become the new in-thing. So, now we have a few brands of copper-infused cookware that are being promoted to entice buyers to its nonstick properties.
==> Check Price
One of these brands is Copper Chef. While Red Copper is promoted by Cathy Mitchell, Copper Chef has got Eric Theiss onboard. But to us, there is little to separate these two cookware brands.
Construction – As mentioned Red Copper has copper-infused aluminium with bonded ceramic construction. Copper Chef boasts of a 5-layer construction but it also has aluminium in its make-up. It isn't even clear whether there is any element of copper in Copper Chef's pots and pans construction because we can't find any detailed information on their website. What we think is that aluminium is likely the main content in these cookware. Many nonstick cookware has an aluminium construction because it is lightweight and conducts heat well. These cookware are also highly affordable.
Interior Coating – Both Red Copper and Copper Chef are nonstick. Red Copper has a ceramic nonstick coating while the Copper Chef has their trademarked Cerami Tech coating.
Exterior – The exterior for the Red Copper is red in color. The Copper Chef uses a copper-colored exterior.
Handles – Both use steel handles and they do get hot when heated up.
Oven-safe – Both are oven-safe but the Copper Chef has a higher temperature limit of 800°F compared to Red Copper's 500°F.
Induction – The Copper Chef is induction-ready but not all of Red Copper pieces can be used with an induction stove.
Price – Both are selling in the same price range. There isn't a huge difference in the retail price as far as we can see.
Where You Can Buy Red Copper Cookware And Should You Buy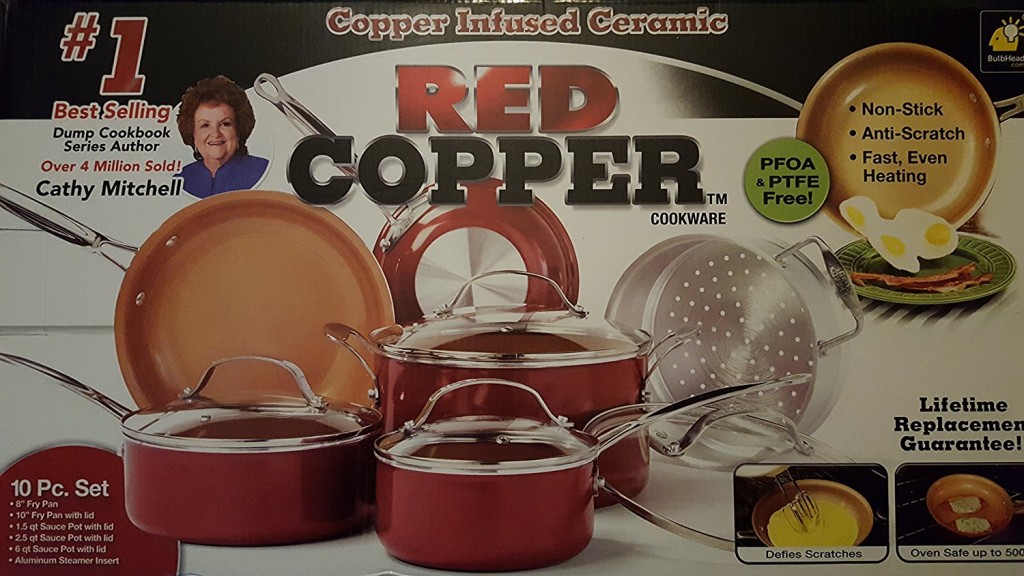 Red Copper cookware is available on Amazon at the time of writing. As mentioned, at the price it is selling at, you have plenty of choices to choose from. That is why we are not too gung-ho to push this as a buy for our readers. The other thing that concerns us is the durability of this cookware. We have always maintained that you should not spend too much on nonstick pots and pans because they are generally not build to last.
The Red Copper cookware will work perfectly when brand new. But we have also seen complaints that they will become sticky pretty fast, especially the fry pans. You can find numerous complaints on this on various websites.
Of course, there are also others who have found that the cookware works beautifully. Well, if you follow the instructions to season it, lay off the high heat and use it with utmost care, you might be able to make it last longer to get your money's worth.
The bottomline is the Red Copper is no different than other nonstick cookware in terms of durability. We don't see it as having a clear edge over the others judging from the hundreds of online buyer reviews on multiple websites. But if all you want is a nonstick option and you are prepared to try something new, then this is indeed a newer line of cookware in the market.
Any Great Deals For The Red Copper? Don't Miss Out:

Other Cookware You Might Like: