Calphalon is certainly a well-know brand when it comes to cookware. It is an upper range cookware and in this Simply Calphalon Nonstick 10 Piece Set review, we will try to see if the price is worth paying compared to other similar sets in the market. For an initial introduction, you can check out this video below:
Simply Calphalon Nonstick 10 Piece Set Review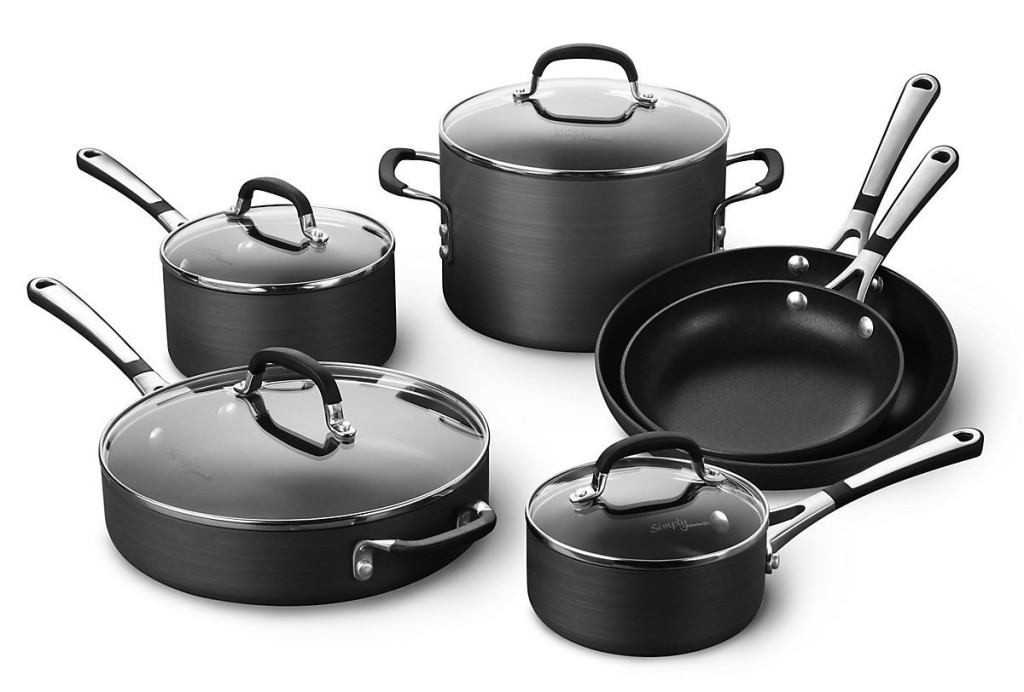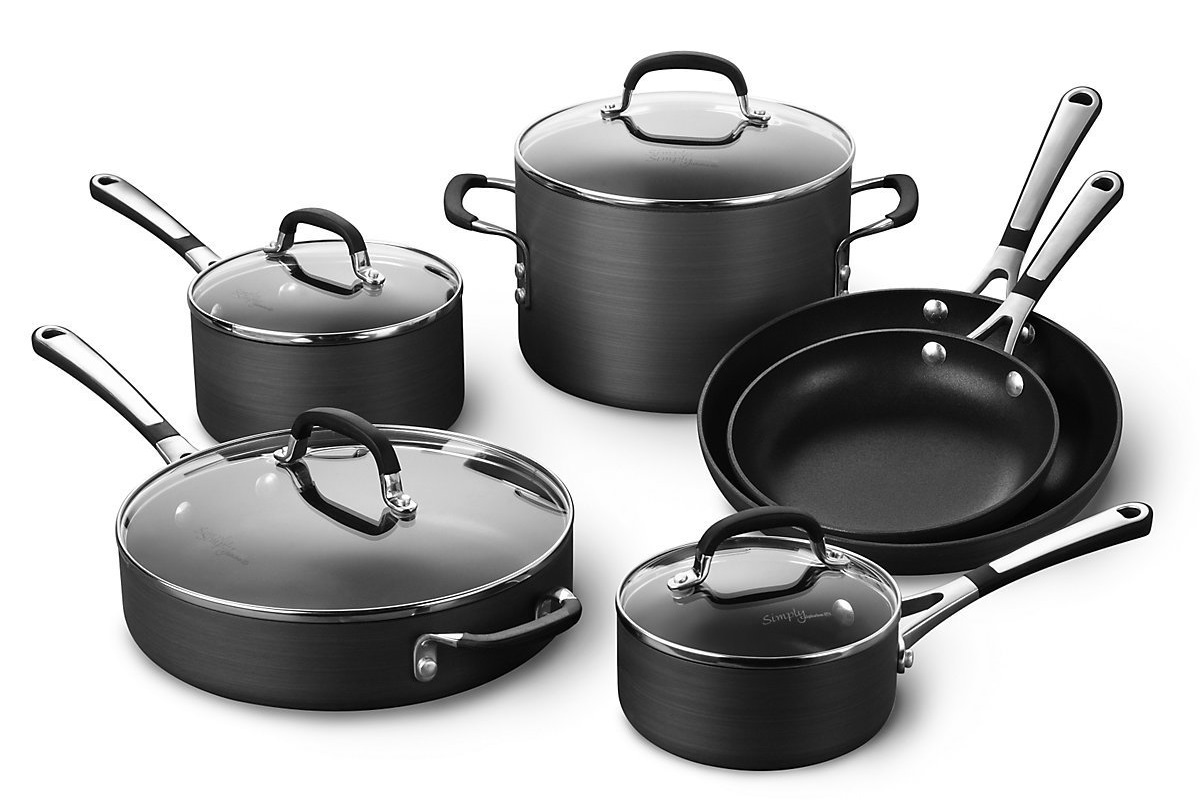 The items that come with this Calphalon package (model no. SA10H) include the following:
1-quart covered saucepan
2-quart covered saucepan
3-quart covered saute pan
6-quart covered stockpot
8-inch omelette pan
10-inch omelette pan
=> Check Price
The set has a hard anodized aluminum construction for better conductivity and even heating. The interior has a double coated nonstick coating. It can be used on electric, halogen, gas and ceramic cooktops.
The pieces are oven-safe up to 400°F but they are not dishwasher-safe. The lids are made of tempered glass and those for the pots would fit the two omelette pans. The contoured silicone and stainless steel handles are double riveted to the body of the pieces and have a hole towards the end for hanging.
The Simply Calphalon Nonstick coowkare is also available in 8-piece and 14-piece sets apart from the 10-piece shown above. For their stainless steel product line, you can also check out the Calphalon Tri-Ply.
Should You Buy The Simply Calphalon Nonstick Cookware Set?
Pros
Food don't stick – The nonstick coating works well and food don't stick onto the surface. It is easy to clean with just some dishwashing liquid and a sponge.
Insulated handles – The handles stay cool to the touch while cooking. They get too hot to touch only when the pots are put in the oven or you have left them simmering on the stovetop for quite some time.
Right weight – The weight of this set is around 20 pounds, which should be what most people would be comfortable with. Too light and the pieces would feel flimsy while too heavy will make them difficult to manage when cooking and washing up.
Cons
Coating doesn't last – Various complaints about the nonstick coating peeling off within a year or two have been prevalent among buyers. No metal utensils should be used and high heat should be avoided to lengthen durability of the pans.
Not dishwasher-safe – The pieces should not be put into the dishwasher. But washing by hand is easy to do with the nonstick surface.
Price – It is expensive for a 10-piece set compared to other similar hard anodized cookware by Cuisinart and Emeril.
With the common complaints about its durability, it is questionable whether the Simply Calphalon Nonstick cookware is worth a buy. In fact, the Emeril and Cuisinart Hard Anodized sets are more economical than this Calphalon bundle at the time of this review. The shipping weight of the Simply Calphalon set is slightly heavier but in terms of customer ratings, there are not much difference among the three sets.
If you are willing to go for something even cheaper, the T Fal Ultimate is another option that is worth looking into. Given that durability is an issue, it makes no sense to spend too much on a cookware set only to have to replace it within 2 to 3 years. Even a cheaper set could last just as long and as such, why pay more?
Latest Deal For Simply Calphalon Cookware – Don't Miss Out:

Other Cookware You Might Like: