The Elegance is one of the few stainless steel cookware sets by T Fal. Comparatively, it has more pots and pans in the nonstick category with many of them enjoying positive buyer reviews. So, is the T Fal Elegance cookware just as good from a buyer's perspective given that it belongs to a different category? Let's take a look in this review.
T Fal Elegance Stainless Steel Cookware Review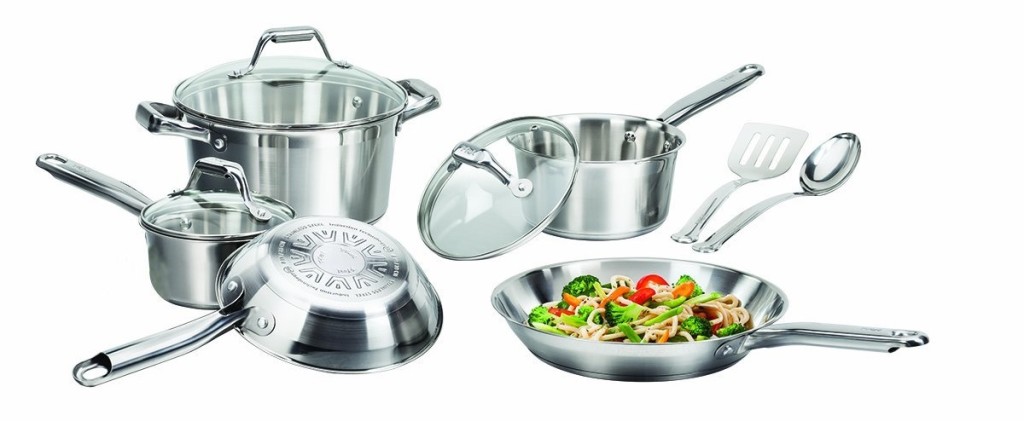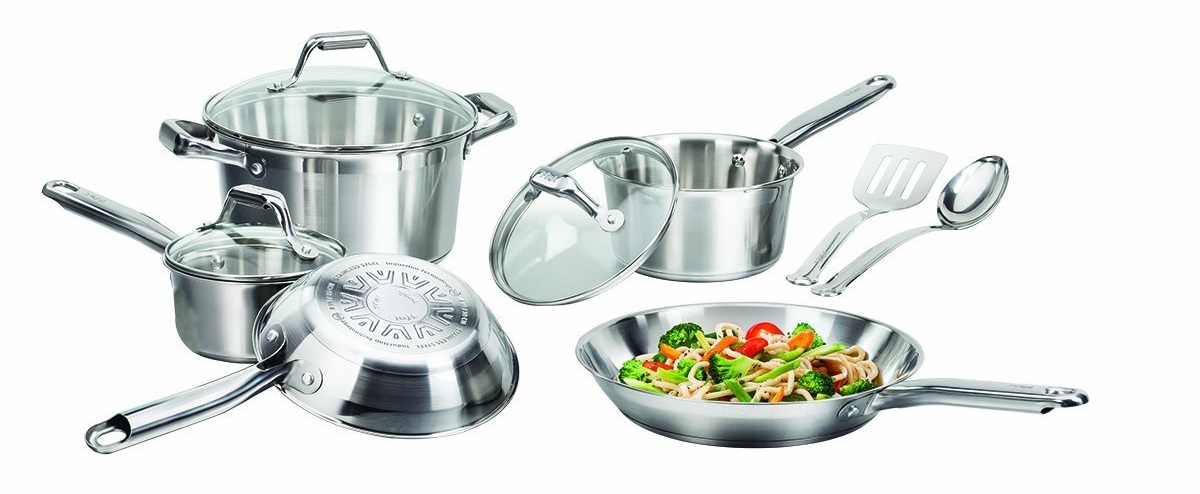 For the 10-piece set (C811SA64), the items are:
1-quart saucepan with lid
2-quart saucepan with lid
5-quart Dutch oven with lid

8-inch saute pan

10.25-inch saute pan

2 kitchen tools, i.e. spoon and slotted turner
=> Check Price
Apart from the 10-piece set, there is also a 15 and 18-piece package. The 15 pieces do not offer the kitchen tools but will give you an additional 3-quart covered saucepan, 11.5-inch covered fry pan, 3.5-quart deep saute pan and steamer. The additional 3 items for the 18 pieces would be another steamer and a 4.2-quart covered shallow pan.
Just like many other popular stainless steel cookware, the T Fal Elegance is constructed using 18/10 stainless steel. Its bottom has the encapsulated design – stainless steel outer layer with a thick gauge aluminum core for even heat distribution.
The curved handles are also made of stainless steel but are heat resistant. They are double riveted to the body of the pieces for extra strength. The lids are glass with stainless steel handles as well.
This set is dishwasher safe and oven safe up to 500°F. It can be used on induction stoves as well.
Should You Buy The T Fal Elegance 10-Piece Cookware Set?
Pros
Quality is there – This is not a superior quality cookware set but it is still of acceptable standard. For less than $100, they are not real solid pieces but neither do they feel fragile in your hands. At 16 pounds for 10 pieces, there is a nice weight to them which makes them feel sturdy in your hands.
Gets the job done – The pots and pans heat up quickly enough and with the right cooking experience using stainless steel, stickiness would not be an issue. Many buyers do not even have problems with cleaning up although many people tend to think that food will stick horribly to a stainless steel pan.
Measuring marks – The pots have measuring marks inside which is nice if you like to have precise volumes when doing your cooking.
Cons
Lids don't fit – Some buyers have voiced out that the lids for the pots do not fit the pans. While many cookware sets would have this convenience, the 10-Piece T Fal Elegance falls short in terms of having interchangeable lids.
Stains and discoloration – There have been complaints of stains and discoloration for this cookware. Bear in mind that cooking on too high a heat and burnt food could cause this problem to appear, not only for this particular cookware but other stainless steel pots and pans as well. You could try cleaning with lemon juice or Barkeeper's Friend to get rid of the stains.
Price – While the price seems reasonable at first for the 10-piece set, two of the items are merely kitchen tools. So, if you take that into account, the price may not be that attractive after all, although it does depends on the discounts offered at time of purchase.
While the T Fal Elegance Stainless Steel 10-Piece cookware set is less expensive than the T Fal Ultimate (as it should be as the Ultimate has copper element in its base), surprisingly, its price is not much different from the Cuisinart Chef's Classic Stainless 7-Piece cookware set (model no. 77-7) at the time of review. In fact, the Cuisinart is cheaper by a few dollars. It has 3 pieces less but 2 of them are mere kitchen tools. It doesn't have the 8-inch saute pan offered by T Fal Elegance but it has bigger saucepans and stockpot.
Going by brand name, the Cuisinart 77-7 is not a bad choice at all with high ratings from buyers as well. With a 8-quart stockpot compared to the Elegance's 5-quart, this would be a better option too if you need a pot with a larger capacity. For this, the Cuisinart gets my pick over the T Fal Elegance. Furthermore, I could live without a 8-inch saute pan when I have a 10-inch skillet in the set.
But going by number of pieces, the T Fal Elegance is, of course, a more worthwhile buy. It very much depends on your needs in the kitchen when choosing a cookware set and therefore, bear in mind that the sizes in the 10-piece Elegance set is on the small side.
Free Shipping For The T Fal Elegance? Don't Miss Out:

Other Cookware You Might Like: