Best known for its affordable conventional nonstick cookware, T Fal has also jumped on the ceramic cookware bandwagon with the Initiatives line. Retailing at a very competitive price compared to other best-selling ceramic pots and pans, the T Fal Initiatives Ceramic Nonstick cookware set is definitely worth a close inspection based on its brand name alone.
T Fal Initiatives Ceramic Nonstick Cookware Review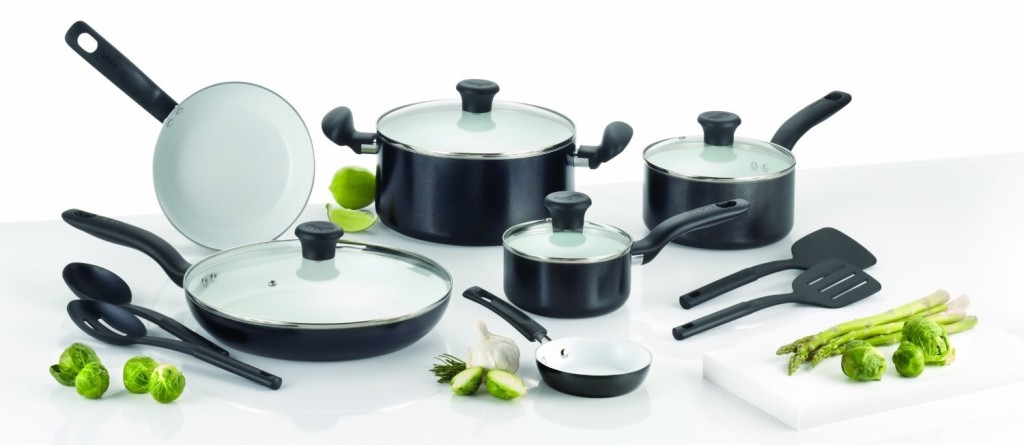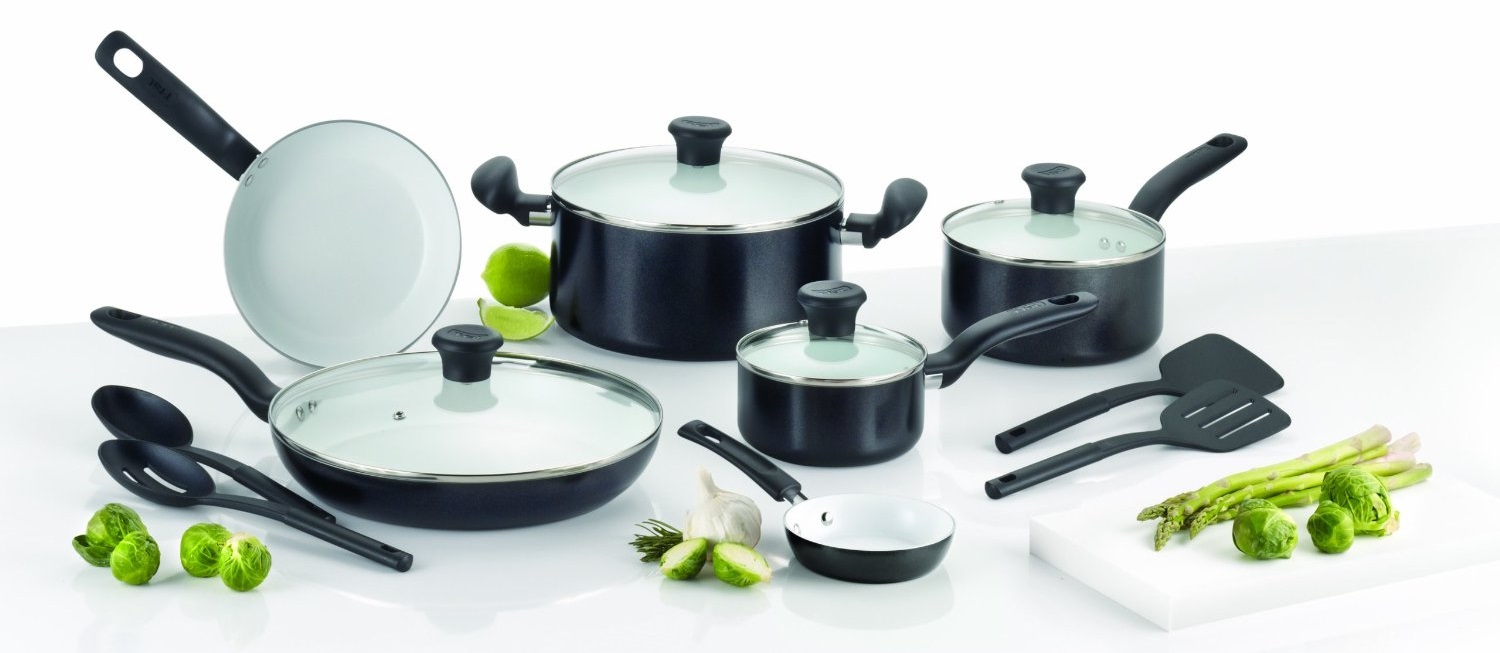 At Amazon, this set is available as a 14 (model no. C921SE64) or 16-piece (model no. C921SG74)  bundle. It should not be confused with the T Fal Initiatives Nonstick Inside and Out which has a different model number (A821SA94).
For the 16 pieces ceramic set, you will have the following:
1-quart covered sauce pan
2-quart covered sauce pan
5-quart covered stew pot
8-inch fry pan
11-inch covered fry pan
10-inch square griddle
6 nylon kitchen tools
==> Check Price
The only notable difference between the 14 and 16-piece set is the substitution of the 10-inch square griddle with a One Egg Wonder fry pan. You will also have 2 less nylon tools, bringing down the total number of items in the set to 14.
The T Fal Initiatives Ceramic Nonstick cookware has a ceramic coating in its interior which is scratch and stain resistant. The cooking surface is also nonstick making cleaning easy to do. The video below will show you how simple it is to cook using the fry pan. Cooking can also be done with less oil for a healthier lifestyle consistent with its PTFE-free and PFOA-free selling features.
With heavy gauge aluminum construction, it is suitable for all cook tops except for induction. It is also advertised as oven safe up to 350°F and dishwasher safe. The lids are made of glass with vent holes. The handles are a matching black and riveted to the pots and pans.
Should You Buy The T Fal Initiatives Ceramic Cookware?
Pro
Trusted brand name – T Fal has sold thousands of nonstick cookware and it is well-known for its highly affordable products. For example, the T Fal Signature and Metallics are popular sets on Amazon. Most of their cookware do enjoy high customer ratings and are commended for their quality and price.
Competitive pricing – At the time of writing this review, you can get the 14-piece set for less than $80. It won't be able to beat the price of the Cook N Home Nonstick Ceramic package but it is still lower than the best ceramic cookware sets out there. It would make a nice starter set for those wanting a switch to ceramic  pots and pans that come from a reputable manufacturer.
Heats up fast – Because of the aluminum construction and thinness of the pieces, be warned that the pans will heat up very quickly. You don't have to wait long before the surface is ready for cooking. Avoid high heat to prevent burning, especially when you are still trying it out in the early stages.
Cleans nicely – The nonstick interior cleans up nicely with sponge and soapy water. A simple wipe is all that is needed to get rid of food residues.
 Cons
Durability unproven – Since the T Fal Initiatives Ceramic set is fairly new in the market, there is still a lack of reviews about its durability. There is no doubt these pieces work fine when new but ceramic cookware are also known to chip and peel over time. It is a risk to take and the common expectation for nonstick pieces is for them to be replaced after a few years.
One Egg Wonder too small – Some buyers have complained that the One Egg Wonder pan is kind of useless due to its extremely small size. It is so small that a normal-sized spatula would not fit in it for you to turn the egg. If you are just cooking for a young kid, you might have a need for such a small pan. But otherwise, it is one item in the pack that will be left unused.
Number of tools – There are 4 and 6 kitchen tools in the 14 and 16-piece sets respectively. Take those away, you are basically left with a 10-piece set. It is great for those with a bare kitchen but if you already have those tools, you are being made to pay for what you do not need.
Do note that this T Fal Ceramic cookware set is very light. It only weighs around 10 to 11 lbs, which could seem flimsy for some but is in line with most of the other ceramic sets in the market. Also bear in mind that a light colored interior will commonly get stained after repeated uses, so do be prepared for this eventuality if you decide to buy this pots and pans set.
At less than $80 at the time of writing, we feel that it is worth the risk of getting the T Fal Initiatives Ceramic Nonstick 14-Piece cookware set. The brand name certainly gives a measure of comfort for the price it is selling at.
Free Shipping For The T Fal Initiatives Ceramic Set? Find Out Now:

Other Cookware You Might Like: