T Fal is known for their inexpensive cookware and the T Fal Metallics Nonstick set is no exception. It has garnered many positive reviews just like their other cookware sets. Although they seem to be worth the price at first glance, are there any drawbacks or minor flaws in the cookware that might make you look elsewhere? Let's take a deeper look with this review.
T Fal Metallics Review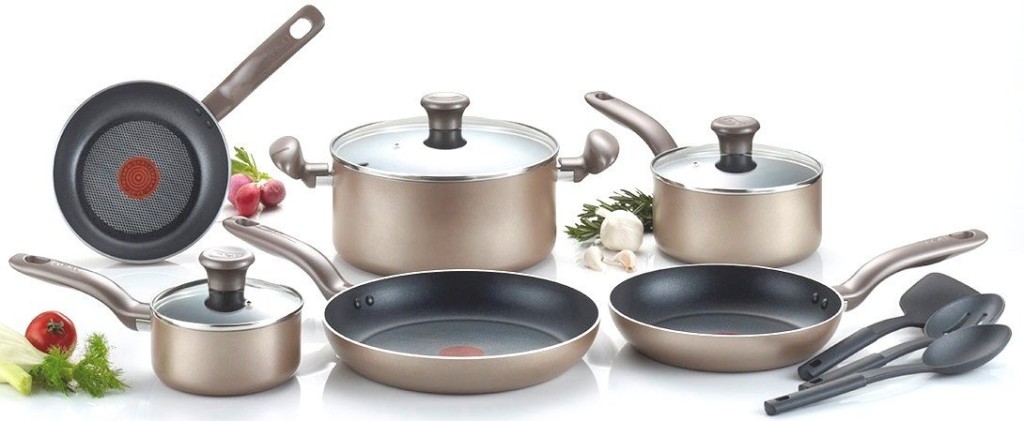 The T Fal Metallics is available in a set of 12 items which are made up as follows:
1-quart covered saucepan
2-quart covered saucepan
5-quart Dutch oven
7.5-inch fry pan
9-inch fry pan
11-inch fry pan
3 kitchen tools
==> Check Price
The pieces have durable aluminum construction for optimal heating performance. The base provides even heat distribution to prevent hot spots. The exterior has a nonstick bronze metallic finish for a sleek look.
The interior has a Expert™ nonstick coating which is scratch resistant which also means it is metal utensil safe. This coating is claimed to be durable and allows for easy clean up. Included in the cooking surface is a Thermo Spot indicator which is a red spot in the middle of a fry pan that will turn solid red when adequately heated and ready for cooking. This is a patented technology unique to T Fal pans to help you avoid over heating an empty cookware which could ruin its surface. The T Fal Signature and T Fal Ultimate Hard Anodized cookware are another two of their product lines that have this same practical feature.
The handles on the Metallics are riveted for strength and they also have a glossy lacquered finish with matching knobs on the lids. You can put the pots and pans into the dishwasher and oven with a maximum heat capability of 350°F.
Should You Buy The T Fal Metallics Cookware?
Pros
Nice looking finish – The bronze metallic is a rare one in the cookware market. The looks should not be the main purchase consideration when buying cookware but it sure doesn't hurt to have an attractive set in your kitchen to wow the guests.
Expert™ coating – Most users are happy with the nonstick coating and have commended on how easy it is to remove food residue from the surface. Cleaning would hardly be a problem with this set.
Easy to cook with – The cooking surface heats up quickly and evenly and food slides out when you are done. The handles are large and smooth for a secure and comfortable grip while cooking.
Cons
Not the cheapest – This set is not the cheapest T Fal nonstick cookware set in the market. You have a cheaper one in the T Fal Initiatives at the time of review and even the Signature model could be a better value deal at times.
Light – The set has a listed shipping weight of 15 pounds. For 12 pieces, that is on the light side and you would have to expect thin pieces. If you have been cooking using cast iron pans, this would be less than half the weight of those. They are not flimsy but do not expect real solid hard anodized or stainless steel quality either.
There is really not much difference to separate T Fal Metallics from T Fal Signature except for the appearance. Since the interior coating is the same and both has an aluminum construction, the cooking performance shouldn't be far off between the two. But the Signature offers a griddle in place of a fry pan and that could be a better choice for some.
So, unless you specifically want a bronze metallic cookware set, there is really no reason why you shouldn't also take a look at the Signature for more options and for price comparison purposes.
Free Shipping For The T Fal Metallics? Why Not Check It Out Now?

Other Cookware You Might Like: