There are quite a few T Fal cookware sets around and they are usually sold in the lower to middle price range. This makes them very popular because of their affordability. The T Fal Professional Nonstick Cookware set is no different. It is not a very expensive set but compare to their other models, it does cost slightly more. So, what are the features of the Professional line?
T Fal Professional Total Nonstick Cookware Review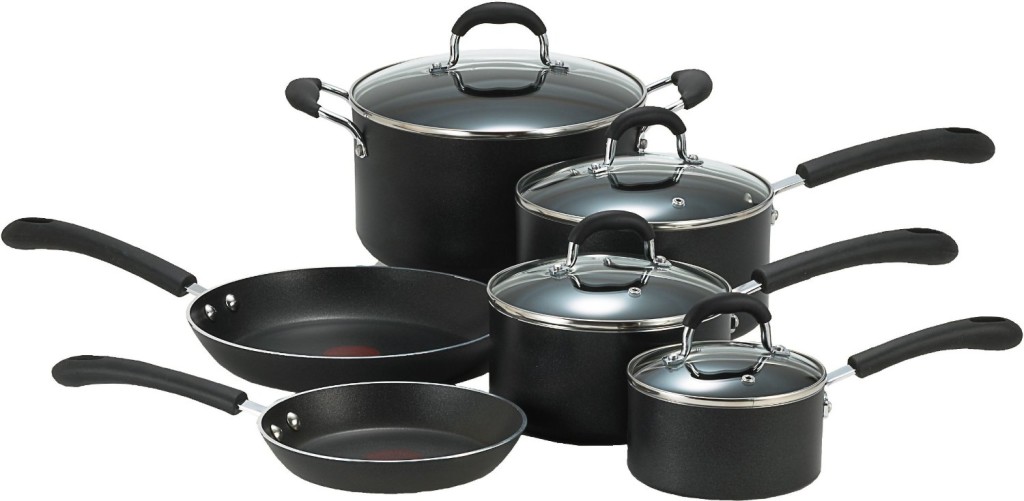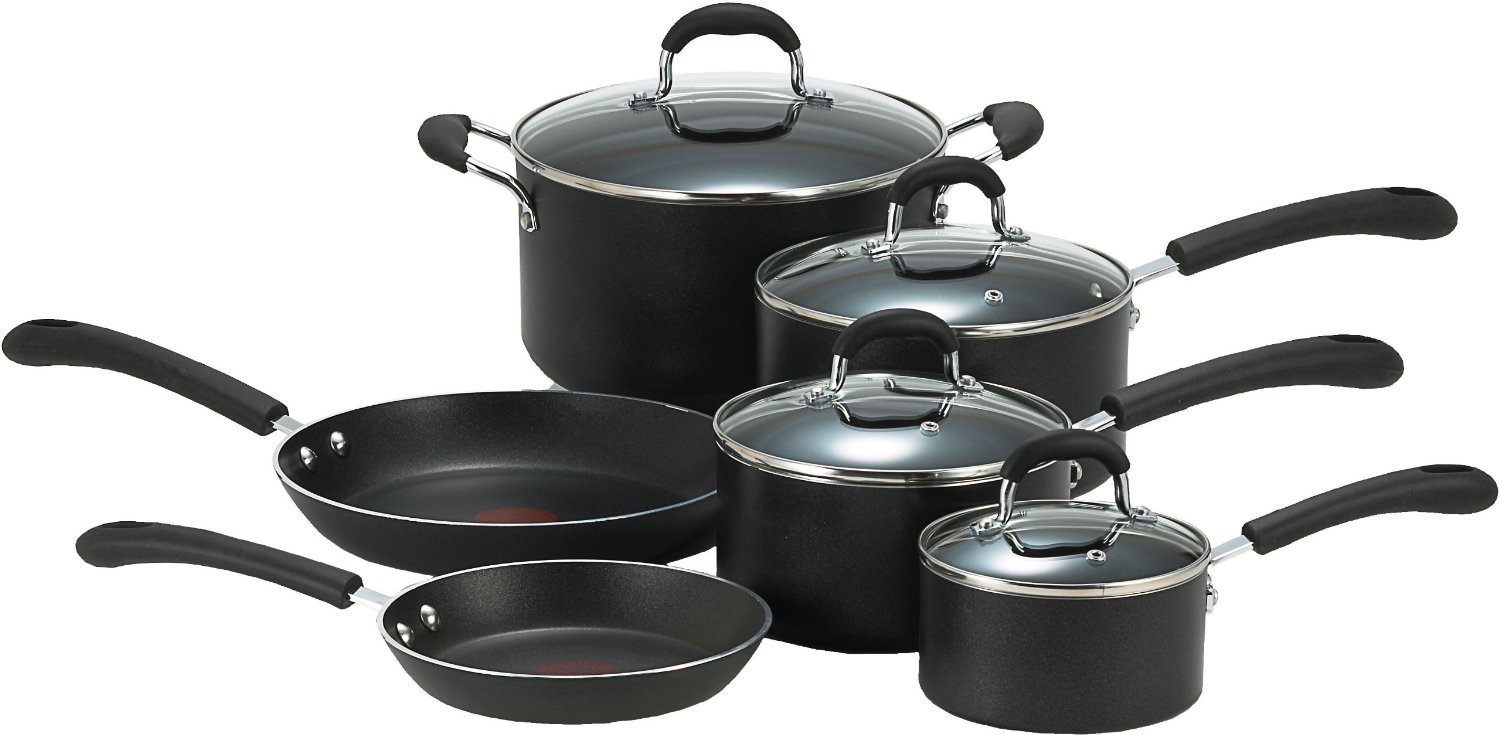 The T Fal Professional Total Nonstick cookware set has 10 pieces in the box and they are:
1 -quart saucepan with lid

2-quart saucepan with lid

3-quart saucepan with lid

5-quart Dutch oven with lid

8-inch frying pan

10.25-inch frying pan

=> Check Price
The pieces have a thick anti-warp stainless steel base with a heavy gauge aluminum body. Both the exterior and interior have nonstick properties. The interior is coated with ProMetal Pro coating which is highly durable and metal utensil-friendly. The frying pans also have a Thermo-Spot™ indicator for better cooking results as it will be able to warn you when the cooking surface is sufficiently pre-heated.
The handles are silicone and riveted to the pieces. They are oven-safe up to 350°F as well as dishwasher-safe. The lids are glass and have a steam vent.
The T Fal Professional is a little different from the T Fal Signature Nonstick. The Professional can be used on an induction cooktop due to its stainless steel base while the Signature cannot with its aluminum construction. The same is true with the T Fal Ultimate model. This one is a hard anodized cookware set with a TechoResist base which is not suitable for induction stoves. Being hard anodized, it is also a little more expensive than the Professional set.
Should You Buy The T Fal Professional Nonstick Cookware Set?
Pros
Works on induction cooktops – There are not many nonstick cookware sets that are induction compatible and if they are, it is also hard to find one that retails for less than $100. The Woll Diamond Plus has a induction line but it also costs about 5 to 6 times more. So, if you have an induction stovetop and want affordable nonstick pieces, the T Fal Professional is one of the few that works.
Wipe clean – The nonstick coating is easy to clean. It is also dishwasher-safe which is a plus although many customers simply hand-wash the pieces since it is so easy to do.
Quality – This cookware is of medium weight and weighs around 18 pounds for shipping. So, the pieces aren't flimsy and they won't warp easily with their thick stainless steel base.
Cons
Price – While affordable, the T Fal Professional is still more expensive than its other product lines such as the T Fal Initiatives and T Fal Signature Nonstick. If you don't need pots and pans that are induction compatible, there are definitely a few other cheaper options as mentioned.
Lids not interchangeable – There are no lids for the frying pans. While many other sets would allow you to use the pot covers for the skillets, this one falls a little short. The lids are a tad too small for the pans. Although the lids can rest on the pans, they are hardly a perfect fit.
If you are using an induction stovetop, then the T Fal Professional Total Nonstick would make a great choice. As mentioned, not many induction compatible nonstick cookware sets are available and hence, you have a pretty limited choice. But this one does have positive reviews from buyers generally and with a price of less than $100 at the time of review, it is definitely worth to pick it up.
However, if you do not have an induction stovetop, then you do not really need to get the more expensive T Fal Professional compared to, say, the T Fal Signature Nonstick. The price difference is about $30 at the time of writing and the Signature is a 12-piece set compared to the Professional's 10-piece. But to be fair, the Professional has very few complaints on its durability which could perhaps justify its higher price.
Free Shipping For The T Fal Professioanl? Don't Miss Out:

Other Cookware You Might Like: