When I did this T Fal Signature 12-piece set review, I found that it is pretty similar to the Cook N Home 15-Piece Nonstick Cookware bundle. The number of pieces are more or less the same with 6 main items excluding the lids. The price for the T Fal set is only about $10 more at the time of review. The major difference is that this T Fal Nonstick set has a griddle instead of the 3-quart casserole that is available with the Cook N Home set.
If you really need a 3-quart pan and prefer the T Fal brand, then you can also take a look at their 10-Piece Professional set. This one is more expensive with a stainless steel disc base but it could be used on induction stove tops. But the price is still within the affordable range for many.
T Fal Signature Nonstick 12-Piece Cookware Review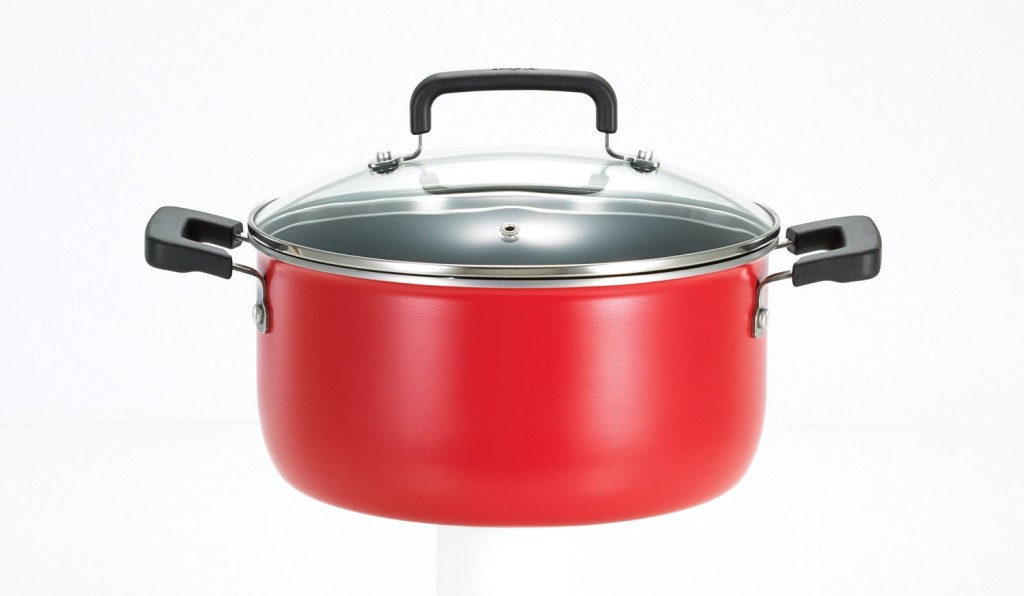 What you will get when you buy this set is the following:
8-inch saute pan

11-inch saute pan

10.25-inch griddle

1-quart saucepan with lid

2-quart saucepan with lid

5-quart dutch oven lid

3 nylon utensils

There are 3 lids included in the set an they are for the saucepans and dutch oven. The interior is coated with Expert™ nonstick metal-safe coating which is durable for heavy use. There is also a Thermo-Spot™ indicator to let you know when the pan is heated up and ready to go. The exterior is also nonstick to facilitate easy clean up.
You will get even heat distribution with its aluminum construction and the glass lids with vent steams will make it more convenient to check on your food. The handles are ergonomic and heat-resistant. The pieces are both dishwasher-safe and oven-safe up to 350°F.
Apart from the usual black, the set is also available in blue and red, which is a nice change for traditional nonstick cookware.
Should You Buy The T Fal Signature Total Nonstick Set?
Pros
Not too expensive – It is not as cheap as the Cook N Home set, but it is still a highly affordable cookware bundle with a popular brand name attached to it. For another of their cheaper sets, you can also take a look at T Fal Initiatives for more options.
Heat indicator on pan – This is also an extra feature not found on the Cook N Home set. For those who are new to cooking or nonstick cookware, this is a practical add-on to let you know when the pan is heated up and ready.
Easy to clean – The nonstick properties is great and no complaints from buyers of food sticking to the pan. This means cleaning is a breeze and you can also dump the pieces into the dishwasher.
Cons
Small – Some of the items are small and not too suitable if you are cooking for a medium or large-sized family. The set would work best if you are cooking for only one to three people.
Don't last – The pieces could show signs of chipping after repeated use over a few months. Complaints about their durability is there from some buyers, so do not buy with the expectation that the set would last you a long time.
If you have a preference towards the T Fal brand or you just need a griddle, then this set could be a good choice for you. Otherwise, the cheaper Cook N Home set would work just the same. The thing with nonstick cookware is that almost all of them (or should we just say all?) don't last. They are not like your cast iron or even stainless steel pieces. The interior will peel or chip over time. So, unless you have very specific needs like weight or color (which you can look at porcelain cookware), you would not find a major difference among the cheaper nonstick sets.
Just check out those with good ratings and generally good reviews, and you should receive a set with acceptable quality given the price that you pay. It is just a matter of how long the pieces would last and that is a risk for whichever brand that you buy when it comes to cheap nonstick cookware sets. So, it all boils down to your needs in terms of pieces and sizes that you need in relation to the price that you are willing to pay.
Free Shipping For The T Fal Signature Cookware? Find Out Here:

Other Cookware You Might Like: