If you want a cheap hard anodized cookware set, then the T Fal Signature Hard Anodized 12-piece set may be what you are looking for. It has a hard anodized exterior for that extra durability. Similar to the T Fal Ultimate, it is slightly cheaper and yet has an equally good rating from buyers.
T Fal Signature Hard Anodized Cookware Set Review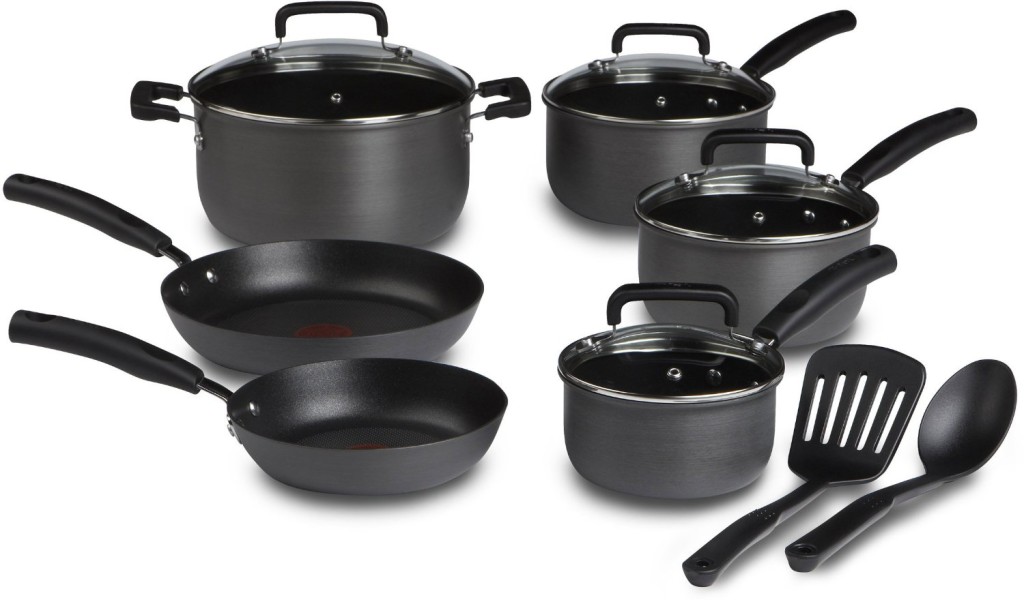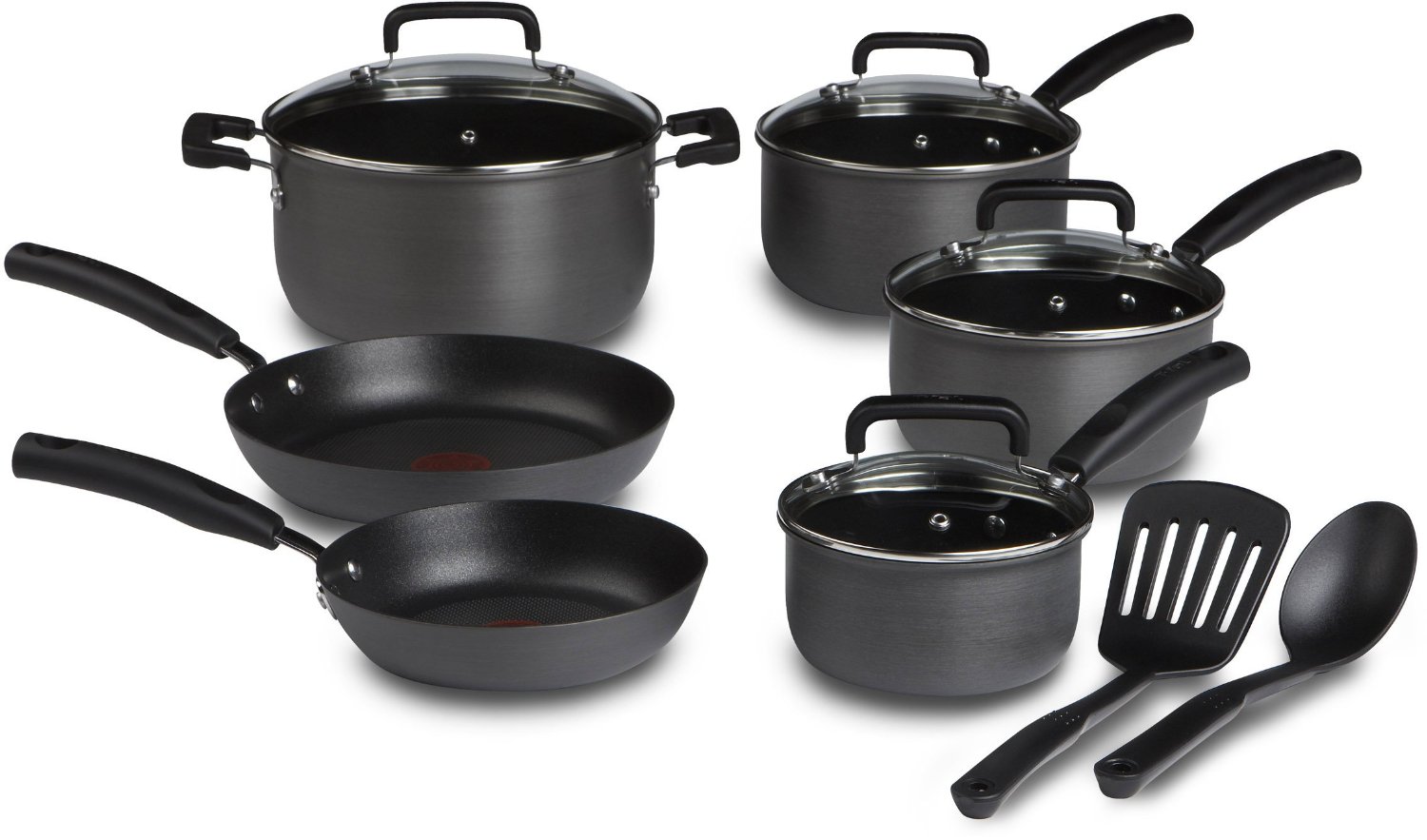 For the 12-piece set, the items that are included are:
8-inch fry pan
10.25-inch fry pan
1-quart covered saucepan
2-quart covered saucepan
3-quart covered saucepan
5-quart covered Dutch oven
2 kitchen tools
The interior is coated with a nonstick coating while it has a hard anodized exterior with an aluminum construction for a more efficient heat distribution. It is also oven-safe up to 350°F.
The lids are made of tempered glass and have a steam vent. The lids from the Dutch oven and the biggest saucepan would be able to fit the fry pans. There is also a thermo spot heat indicator on the fry pans to warn you when the cooking surface is sufficiently heated up.
The T Fal Signature Hard Anodized Cookware also comes in a 15 and 18-piece bundle. For the 15 pieces, you will get an additional 11.5-inch covered fry pan, 4.5-quart deep saute pan with lid and steamer insert. For the 18 pieces, another 10.25-inch deep fry pan with lid and steamer are included as well.
Should You Buy The T Fal Signature Hard Anodized Cookware Set?
Pros
Price – The 12-piece set is the most economical of the lot at the time of writing. As mentioned, it is cheaper than the T Fal Ultimate which is also a hard anodized set. Compared to other branded nonstick cookware like the Rachael Ray Hard Anodized II set, the price is certainly competitive, and in fact, is on the lower end of the spectrum.
Easy to cook with – The pieces heat up well and food does not stick to the cooking surface.
Better than average quality – These are not top of the line cookware but for the price that you pay, it has better than average quality to make it suitable for everyday use.
Cons
Hand-wash – While the set is dishwasher-safe, hand-wash is still recommended for these nonstick pots and pans. It is a hassle but the upside is it is easy to clean with its slick surface.
Light – The pieces could feel a little light for some. As a result, the smallest fry pan could be unstable and tip over when empty due to the heavier handle.
The T Fal Signature Hard Anodized 12-Piece Cookware set is not the best pots and pans and don't expect it to be so. It will be on the lighter side as the whole set only weighs around 15 pounds.
However, because the price is attractive and most buyers are satisfied with its quality, it is worth that serious consideration. For nonstick cookware, I would certainly avoid spending a huge sum of money on it because most don't last beyond 2 years. A reasonably priced set from a reputable manufacturer is sufficient and that is why I would rather choose the Signature over the Ultimate which is more expensive. The latter has an anti-warp feature though but that alone may not justify the additional price that you need to pay.
A Good Price For The T Fal Signature? Check It Out Now:

Other Cookware You Might Like: