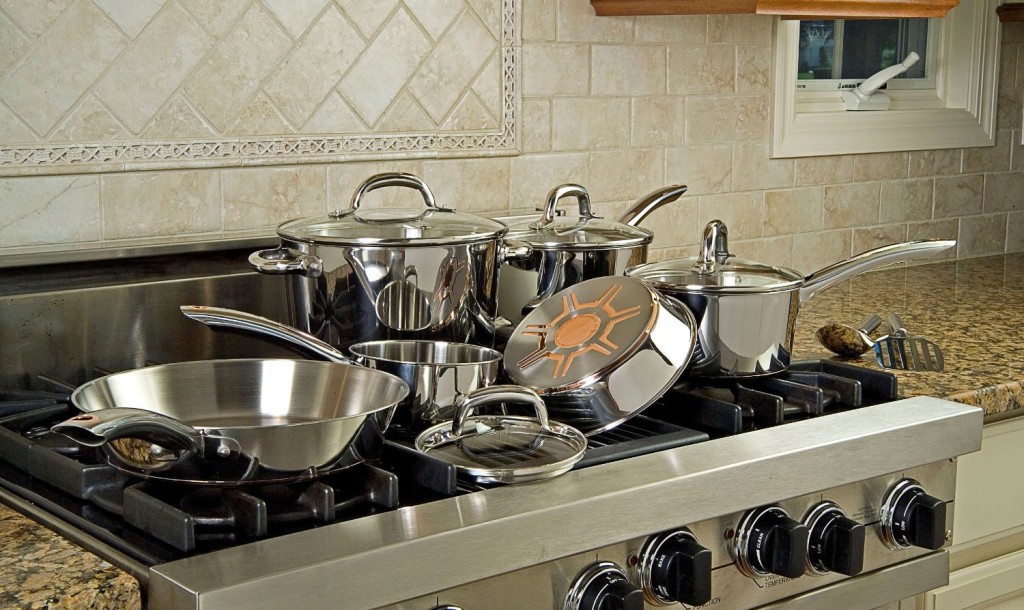 The T Fal Ultimate Stainless Steel cookware set is a very affordable one compared to other similar sets out there. You have aluminum and copper lined with stainless steel layers for better heat conductivity. Copper is an excellent heat conductor and if you want to cook with very precise heat, copper pots and pans are the ones to get. Copper cookware would not give you hot spots and they react to heat changes very quickly which makes it easier for you to get the perfect result for your food.
However, copper cookware requires maintenance and is very expensive. That is why alternatives like the T Fal Ultimate take advantage of the superior conductivity of copper by lining it with other materials to give you a more affordable and less maintenance option.
T Fal Ultimate Stainless Steel Cookware Review


Below are the following pieces that come with the set:
8-inch skillet

10.5-inch skillet

1-quart covered saucepan

2-quart covered saucepan

3-quart covered saucepan

5.5-quart covered Dutch oven

Spoon

Turner
T Fal also has a similar set which is the Performance. If you are wondering about the T Fal Ultimate vs Performance, they are both made of  similar material but the latter is a 10-piece set compared to the former which has 12 pieces. The Performance's biggest skillet and Dutch oven are also half an inch smaller than the Ultimate pieces. What is missing in the Performance bundle is the 3-quart covered saucepan. The handle design for the two models is also slightly different.
For the Ultimate set here, it has a thick gauge aluminum core with copper disc lined with a stainless steel base for more even heating. You can also use the cookware on induction stoves. The ergonomic handles for the pan are also made of stainless steel and riveted to the pieces. They are oven-safe up to 500°F.
For the lids, they are made of glass with stainless steel loop handles as well. The set is also dishwasher-safe.
Should You Buy The T Fal Ultimate Cookware?
Pros
Price – While not the cheapest in the market, it is still cheap for a stainless steel cookware set. When writing up the T Fal Ultimate Stainless Steel review, we have also come across many other similar sets, but in terms of price and rating, this item is certainly one of the top value sets out there.
Excellent heat distribution – High heat is not required to make the pan burning hot. It heats up quickly with its great conductivity.
Quality – All of the pieces seem to be well-made and solid with a nice weight to them
Cons
Hot handles – Some buyers have complained that the handles become hot to touch while cooking. Use the right size burner to avoid this problem. If the heating element is a little close to the handles, they will turn hot.
Stickiness – Food being stuck to the pan is a common problem with stainless steel cookware. You need to cook differently and it also takes some time to get used to the cooking surface if you have been using nonstick pieces all this while. Make sure the heat is right before you add in the oil and food. Also, the food need to be at room temperature. Putting in cold food will cause them to stick. Given the different cooking habits and styles, that is why some people will find stickiness to be a problem while others would not use anything else but stainless steel pieces.
The T Fal Ultimate Stainless Steel Cookware is not a top notch set and it probably won't last you a lifetime. But it will definitely last a lot longer than your typical nonstick cookware. Basically, it is a value for money buy. It is solid but would not be as heavy as your Cuisinart Multiclad Pro 18/10 Stainless Steel pieces. You get what you pay for when it comes to the construction of your cookware.
Still, it is suitable for those who are looking for a budget stainless steel pots and pans set for the home. Perhaps, it also works best for those who are making a change from nonstick pieces and want to give something else a try. If that is the case, then the T Fal Ultimate would be an economical, but good quality one to start out with.
A Good Price For The T Fal Ultimate? Check It Out Now:

Other Cookware You Might Like: