Tramontina is actually an old brand name that was founded over a century ago in Brazil while Tramontina USA has been around since 1986 and it is based in Texas. They have a factory in the USA to produce some of their cookware with various finishes using imported components. Below are a few of Tramontina nonstick cookware reviews that are popular with consumers.
Tramontina Nonstick Cookware Reviews
Tramontina Ceramica Review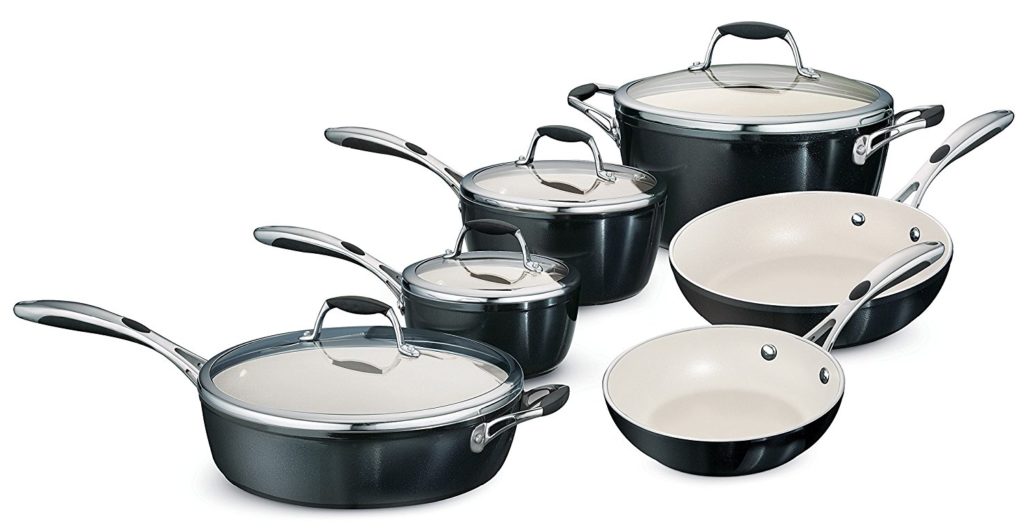 As the name implies, this is Tramontina's ceramic cookware line. You can get this in a beautiful 10-piece set which comprise of the following:
8-inch fry pan
10-inch fry pan
11-inch covered deep skillet
1.5-quart covered sauce pan
3-quart covered sauce pan
5-quart covered Dutch oven
==> Check Price
The Tramontina Ceramica is made of heavy gauge aluminum with a porcelain enamel exterior and non-stick ceramic interior. This means it is PFOA, PTFE, lead and cadmium-free to ensure healthy and toxic-free cooking.
The glass lids are heat and shatter resistant. The lids are made of cast stainless steel but with silicone accents on the underside for comfort and a soft-grip feel. It is advertised as dishwasher safe and oven safe up to 350°F. You can use this if you have gas, electric and ceramic glass cooktops. It is not suitable for induction cooktops.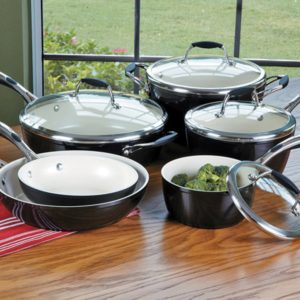 For this Tramontina Ceramica review, we have looked at the pros and cons. The pros are:
Made in Italy – If it is of any comfort to you, this Tramontina ceramic cookware is made in Italy and assembled and packaged in the USA. This is a change from many other ceramic cookware which are usually manufactured in China such as the popular Pioneer Woman cookware.
Nonstick – The pans are nonstick and food slides out. However, care must be taken to protect the coating and lengthen longevity.
Attractive – The exterior is made of porcelain enamel which makes it look slick and modern. It is like a Rachael Ray cookware set but with a ceramic interior instead of Teflon.
The cons are:
Expensive – It is expensive for a ceramic cookware set. WearEver Pure Living will sell for at least $50 less and with a higher number of pieces in a set.
Chips easily – It is pretty fragile cookware compared to stainless steel. The coating can chip easily which means utmost care must be taken to maintain its appearance.
Interior stains – Because the ceramic coating is light-colored, it will have stains after a while. The coating will also wear off quickly if used on high heat and put in the dishwasher often. So, although advertised as dishwasher safe, hand washing is still recommended to extend the life of the cookware.
Because of the high price in relation to the fragility of the cookware (which is common for ceramic pans), we don't recommend getting the Tramontina Ceramica. Unless you are adamant to avoid China-made cookware, there are plenty more choices in the market at a much lower price.
Tramontina Hard Anodized Cookware Review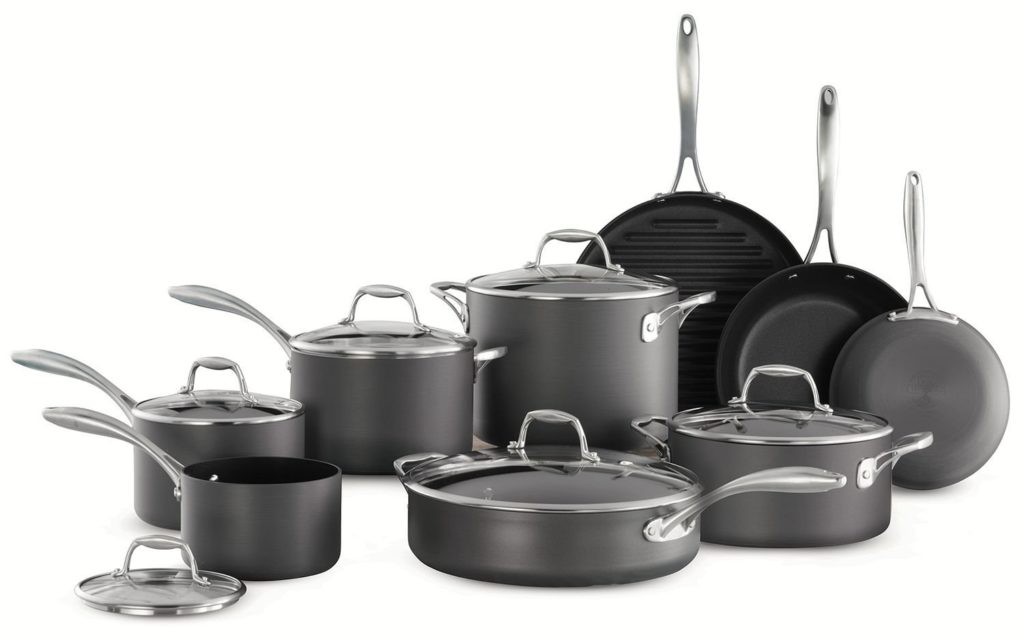 At the time of writing, the Tramontina Hard Anodized Cookware is even cheaper than the Ceramica above. The hard anodized set is also nonstick and is available as a 15-piece set which include the following items:
8-inch saute pan

10-inch saute pan

12-inch round grill

5.5-quart covered deep saute pan

2-quart covered sauce pan

3-quart covered saucepan
4-quart covered saucepan
5-quart covered Dutch oven
8-quart covered stock pot
==> Check Price
Hard anodized cookware comes in a dark gray color because of its manufacturing process which treats the aluminum to make it harder. The result is a more durable cookware than conventional pots and pans. The exterior is also less likely to get scratches and hence, will be able to keep its appearance for a longer time than other types of cookware.
For the Tramontina Hard Anodized cookware, it uses Teflon Platinum as its interior coating. Teflon Platinum is DuPont's most scratch and abrasion resistant non-stick finish up to this point. It is supposedly able to withstand cooking with metal utensils and washing with abrasive scouring pads with its 3-layer coating system. However, Tramontina still recommends this cookware to be handwashed and used with nylon, silicone or wooden utensils to avoid damaging the cooking surface.
The lids are made of tempered glass with stainless steel rims. The handles are ergonomic and made with cast stainless steel with rivets. Oven safe up to 350°F, this hard anodized cookware is only compatible with gas, electric and ceramic glass cooktops and not induction.
So, should you buy the Tramontina Hard Anodized Cookware set? Well, the pros are:
Made in the USA – This is American made cookware using imported components. In fact, very few nonstick cookware is made in the USA and this is indeed an exception rather than the norm.
Durable – Complaints on the cooking surface turning sticky is far less than other types of nonstick cookware.
Competitive pricing – At the time of writing, the price for the 15-piece set is not too far off from the 14-piece T Fal Ultimate. It might work out to be costlier but the difference is not as big as you would expect for a cookware set made in USA.
Well, there are good things going for it, there are also cons for the Tramontina Hard Anodized Cookware:
Teflon-coated – You can't run away from the Teflon coating if you want a longer lasting nonstick cookware. But the trade-off is the health hazards that come with it.
Hand wash only – You won't have the convenience of putting the pots and pans into the dishwasher with this set.
The conclusion is if you don't mind Teflon as the interior coating, then the Tramontina Hard Anodized Cookware set is worth a buy. The fact that it is America-made is a bonus for buyers' greater peace of mind in terms of safety standards and quality control.
Tramontina Professional Nonstick Restaurant Fry Pan Review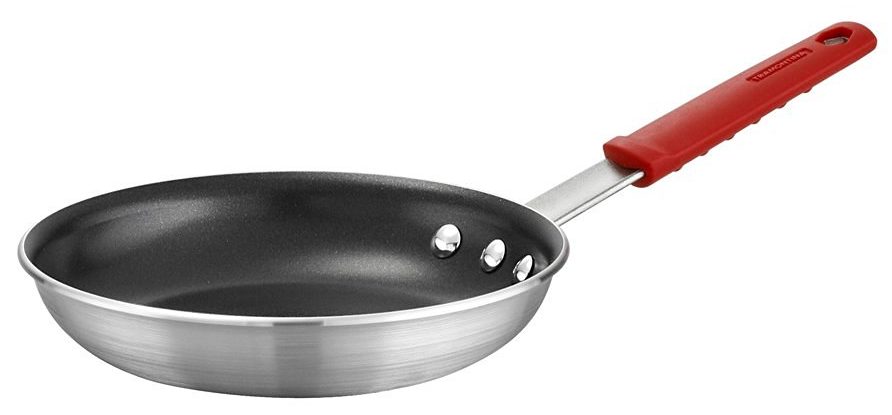 Looking at the name, this is obviously a pan that is designed to withstand the high degree of use in a commercial kitchen. You can use it to fry, scramble, saute and sear with its heavy gauge aluminum construction. The aluminum core will distribute heat quickly and evenly.
==> Check Price
The interior nonstick coating is reinforced and PFOA-free. It is a 3-coat system with a far higher percentage of special reinforcing materials in its base coat to ensure it can withstand the abrasion test. The exterior has a satin finish. The handle is made of cast stainless steel that is triple rather than double riveted. A removable silicone grip is included for the handle.
The fry pan is compatible with gas, electric and ceramic glass cooktops. It is also dishwasher and oven safe up to 400°F.
So, is the Tramontina Professional Nonstick Restaurant Fry Pan worth a buy? The advantages are:
Made in USA – Like the their hard anodized cookware, this pan is made in USA with imported components.
Slippery surface – The interior coating is slick and food doesn't stick while cooking. Clean up is also easy as a result.
Silicone handle – The removable silicone for the handle is a nice touch for the convenience.
Nice weight – The pan isn't too heavy like cast iron cookware but neither is it flimsy and light.  The 12-inch pan is about 2.8 lbs.
The disadvantages are:
Long handle – The handle is long and big. Some people find it difficult to store or put in the dishwasher.
Can't use high heat – It is a professional commercial-grade fry pan but you still can't use high heat with it to protect the nonstick coating and prevent warping.
The nonstick durability seems to be good with few complaints on the cooking surface turning sticky and flaky. The price is comparable to the Cuisinart Chef's Classic Hard Anodized cookware but you have the benefit of the Tramontina being American-made.
Any Great Deals For Tramontina Cookware? Don't Miss Out:

Other Cookware You Might Like: