Vremi is not exactly a well-known name for cookware but it still sells very well on Amazon because it is cheap. The whole set is also very colorful if you like a touch of color and modernity in your kitchen. But is cheap and colorful enough to make this a great buy? Let's check it out below in this Vremi cookware review.
Vremi Cookware Review : Multicolor Cookware Set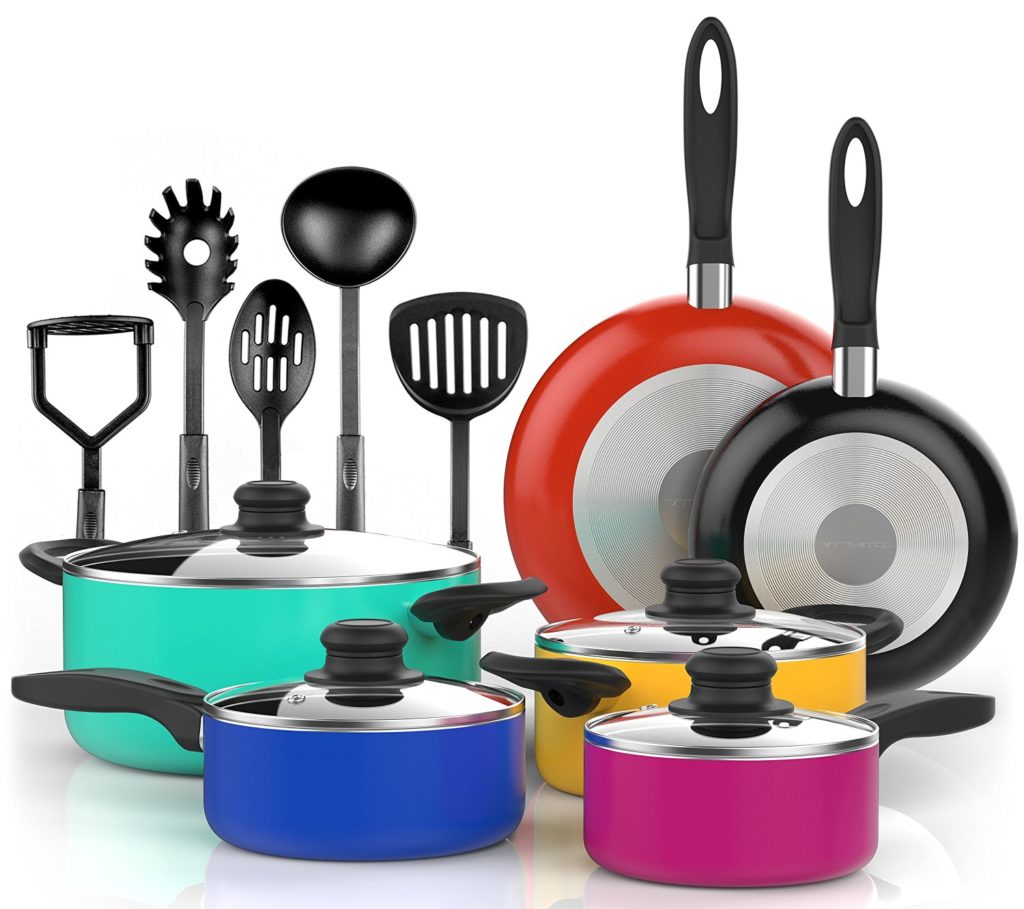 The Vremi cookware set has 15 pieces altogether, including the lids:
8-inch fry pan
10-inch fry pan
1.1-quart saucepan with lid
1.5-quart saucepan with lid
2.1-quart saucepan with lid
5.3-quart stock pot with lid
5 nylon tools
==> Check Price
Apart from multicolor, the whole set is also available in black color.
The pots and pans are of aluminum construction for even heating and the interior is nonstick. They are promoted as being made of non-toxic durable aluminum.
The handles are ergonomic and stay cool to the touch on the stove. The cookware is deemed oven safe and come with glass lids to go with all the saucepans and a stock pot. 5 BPA-free nylon tools are included and they are a slotted spoon and spatula, pasta server, ladle and potato masher. The Vremi cookware set is not dishwasher safe and not compatible with induction cooktops. Seasoning is also recommended prior to first use and periodically after that.
The Pros And Cons
Pros
Cheap – At times, you can get this 15-piece nonstick cookware set for less than $50. Of course, the price changes from time to time. But overall, it is still a very cheap cookware set that is even more affordable than the T Fal Signature.
Pretty – This multicolor set is just too pretty to miss. You don't need to pay a higher price to get a Pioneer Woman or Rachael Ray cookware set for more colorful pots and pans. You can get the Vremi for less than half the price.
Nonstick – Although cheap, the nonstick coating works and food does not stick to the pan. As a result, the clean up becomes a breeze. However, you do need to season the pan to maintain its slickness.
Cons
Not dishwasher safe – You will have to handwash to maintain the nonstick coating. The more expensive cookware like Tramontina can be put into the dishwasher but even then, handwashing is recommended to lengthen the longevity of the pieces.
Flimsy utensils – The nylon tools that come with the set are not of the best quality. They are flimsy and replaceable.
Handle wobbles – Some users complained that the handles are not very secure. They seem to wobble after a few months of use.
Should You Buy The Vremi Nonstick Cookware?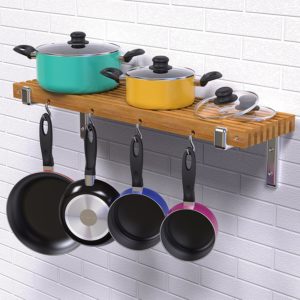 In terms of Vremi vs T Fal, the former is definitely the more economical cookware set at the time of writing. It is closer in range to the Farberware nonstick cookware product line but Vremi is obviously more popular because of its brightly colored pieces.
We see the 15-piece Vremi cookware set as an affordable starter kit. It is cheap but it wouldn't last you for very long. This is because the construction is on the thin side. Therefore, the warps and dents would be there eventually. The nonstick coating too would wear off after a while. On top of that, it does have minor flaws like water being trapped in the knobs of the lids during washing and wobbly handles.
So, the pretty and colorful looks help to sell the cookware but appearance aside, a realistic expectation of its durability and quality would be advisable. Not everyone likes to buy and replace their cookware every year or two but if you are searching for cheap pots and pans that also look colorful, then the Vremi cookware set would fit the bill.
Any Great Deals For The Vremi Cookware Set? Don't Miss Out:

Other Cookware You Might Like: