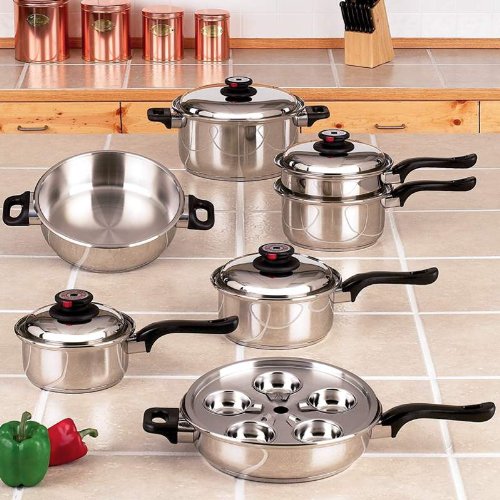 There has been much debate about waterless cookware and its advantages compared to traditional pots and pans. Basically, the difference is that it uses a steam control valve on its lid to do the cooking by steaming the food. So, instead of boiling your vegetables or frying your meat, you can cook your food using little to no water or oil for a healthier diet. The pieces for waterless cooking also need to have a multi-ply construction using surgical stainless steel whereby the heat can travel up the sides to the top so that you can stack another pot on top to cook on the same burner, thus reducing your energy bill.
So, the main benefit is that cooking without water and on low heat using the steam control valve preserves the nutrients for your food making it healthier and tastier too. As more and more people become more conscious of not only what they eat, but also the utensils that they are using, waterless cookware has gained a following.
Maxam KT17 17-Piece Waterless Cookware Set
If you want to try this alternative cooking method, then Maxam KT17 is a good starting point. For a 17-piece set, it is at least reasonably priced and has tons of good reviews. Is is less expensive than a All-Clad set and probably in the same price range as a Cuisinart bundle. Bear in mind that there are other waterless cookware in the market like Kitchen Craft which sells a single sauce pan for over $400. If you find it hard to justify spending that kind of money on pots and pans, Maxam is simply an alternative.
These are 5-ply pieces constructed using 304 stainless steel which is resistant to corrosion and oxidation. This material is also durable and easy to clean which is why it is often used in the manufacturing of kitchen wares. On top of that, it has a 9-element encapsulated base with a thick aluminum disc for heat conduction and distribution. The valves on the lids are removable for cleaning.
This bundles includes sauce pans of 3 sizes with lids, a skillet, Dutch oven with lid, and double boiler. The remaining items are 5 egg cups and a utility rack.
Should You Buy The Maxam KT17 Cookware?
Pros
The good thing about the set is that it does what it claims to do pretty well. That is food cooks on low heat using the steam valve lid and they turn out tasting better as many reviewers have attested.
It is easy to clean. Food that get stuck to the pan can easily be gotten rid of by adding water to the pan and boiling it before wiping off.
The price is far less than some other waterless cookware in the market for the same cooking concept.
 A large Dutch oven (7.5 quartz) and skillet (nearly 12 inches) are included in the set
Solid and sturdy; it appears well-made.
Cons
It is not made in USA, which is most probably why you could get it at a much cheaper price.
The sticker on the lid comes off easily with the heat.
You need to hand-wash the lids and clean the valves, which could be a hassle.
Some buyers have complained that the lid component (whistle) falls off after repeated use.
Maxam KT17 is one of the waterless cookware brands with high customer rating. If you are just trying out waterless cooking for the first time, it is a good buy for the price. You won't want to spend over a thousand dollars if you are new to this concept, not knowing if you will like it. An even cheaper set than Maxam at the time of writing is the Chef's Secret KTSS22. On the other hand, if you are really sold on the idea of this cooking technique, then of course, you should also explore the more costly alternatives since you will be using it daily for a long time to come.
The difference comes down to two main points. One, the more expensive cookware could be a 7 or 9-ply construction compared to the 5-ply here. Then, it could also be made with a different grade of stainless steel. SaladMaster, for example, uses the 316 stainless steel combined with titanium for its interior. 316 is definitely more expensive than 304 stainless steel, what more when titanium is added into the mix. Two, is the place of manufacture. American-made product will always be more costly although people will tend to associate it with better quality and safety.
So, the bottom line is if you think a 304 stainless steel is not good enough and you believe more in an American product, then check out the more expensive options. Otherwise, the Maxam KT17 is sufficient for your everyday cooking needs as it will give you nutritious and nicely cooked food the waterless way as it is designed for.
What's The Latest Deal For The Maxam KT17? Click To Find Out:

Other Cookware You Might Like: