Ceramic cookware, like the WearEver Pure Living, is the newer type of pots and pans to grace the market. It is getting increasingly popular because it is often associated as a replacement to the traditional nonstick Teflon pieces. Yes, it doesn't stick as much as it would with a stainless steel, but not all ceramic utensils are nonstick. Some are merely stick-resistant. It doesn't have the special coating that releases the food from the cooking surface, so it is bound to stick a little and would require a little work with the spatula to get it to turn over.
Just like with any nonstick cookware, the ceramic coating can get chipped and it loses its nonstick properties over time. How long would a piece last would really depends on the quality and the amount of care taken when using it. So, treat it like any Teflon-coated pans and it would have a longer life span, but without the harmful chemicals that go with the former.
WearEver Pure Living Cookware Review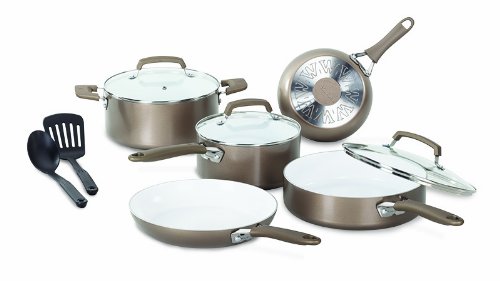 What we are looking here is the WearEver Pure Living 10-piece cookware set (C944SA64). The Pure Living product line also carries a 15-piece set with a red color as an alternative to the champagne one. The 10 pieces consist of:
a 5 quart Dutch oven with lid
3.5 quartz skillet with lid
3 quartz sauce pan with lid
10.5 inch saute pan
8 inch saute pan
2 nylon utensils
The 15-piece set (C943SF63) has an additional covered skillet and sauce pan as well as a steamer. It costs about $70 more at the time of writing, so if you are just starting out with using ceramic pots and pans, you would be better off trying the 10-piece set first with its much lower price.
The set is stain and scratch resistant and you could use metal utensils with the cookware as per the manufacturer's claims. The base is made of aluminum for heat conduction and the interior is a nonstick ceramic coating with is free of PTFE, PFOA, cadmium and lead.
Both the interior and exterior is easy to clean and you can put the pieces into the dishwasher. The handles are made of silicone and riveted to the pans. The lids are made of glass and the pieces can withstand high temperature of up to 350°F for cooking. The set is suitable for all stove tops except for induction.
Should You Buy The WearEver Ceramic Cookware?
Pros
Price – The price is reasonable for a nonstick set. It is not too expensive that it would burn a hole in your wallet and yet, it has an appearance of quality in each of the pieces.
Attractive – The color is attractive for any kitchen. You can get it in champagne or red and both have a light interior which makes it easy to see when it comes to cleaning.
Nonstick – The pans are truly nonstick as claimed and hence, clean-up is easy. It is also dishwasher-safe which is a plus compared to a lot of nonstick cookware which must be hand-washed.
Lids – While there are more pots and pans than lids, you will have the right size lid to fit every item. So, you can have covers for every pot and pan in the set.
Sturdy – Although not particularly heavy, the pieces seem well-made and of acceptable quality.
Cons
Durability – Complaints of the interior turning sticky and the coating being chipped are not unheard of. As with all cookware with this type of coating, durability will always be an issue. Using with care will prolong the life of the cookware but it is not a guarantee that it will still be in tip-top condition after repeated use over 6 months or more.
Stains and scratches – With the light colored interior, while it looks nice, will also mean that stains and scratches are very obvious to the eye. And you will get stains and scratches when your cookware has been put to great use over a period of time.
Whenever you check out reviews of a cookware set, it is not uncommon to see two different extremes as to the quality and durability of the pieces under review. So, for the WearEver Pure Living Ceramic Nonstick Cookware, it is no different. But the positive ratings far outweigh the negative ones, which is a good sign. As mentioned, there is no guarantee that your set will not get sticky and chipped over time but you can take comfort in the generally positive reviews overall.
In addition, the price is not too high that it is worth giving it a try if you want to replace your old nonstick pots and pans for safer and healthier ones like ceramic and waterless cookware. Alternatively, get a single piece to be on the safe side, and take it from there.
Find Out If You Can Get It With Free Shipping:

Other Cookware You Might Like: