There are not many 10-piece non stick cookware sets that sell way above $200. The Zwilling is one of the few. This is a premier brand name with a German origin and it is famous for its kitchen products, especially knives. The company also has cookware in its product lines and the Spirit series is the one with a ceramic coating. Below is the Zwilling ceramic cookware review for those who are interested in getting premium quality non stick pots and pans.
Zwilling Ceramic Cookware Review : Spirit 3-Ply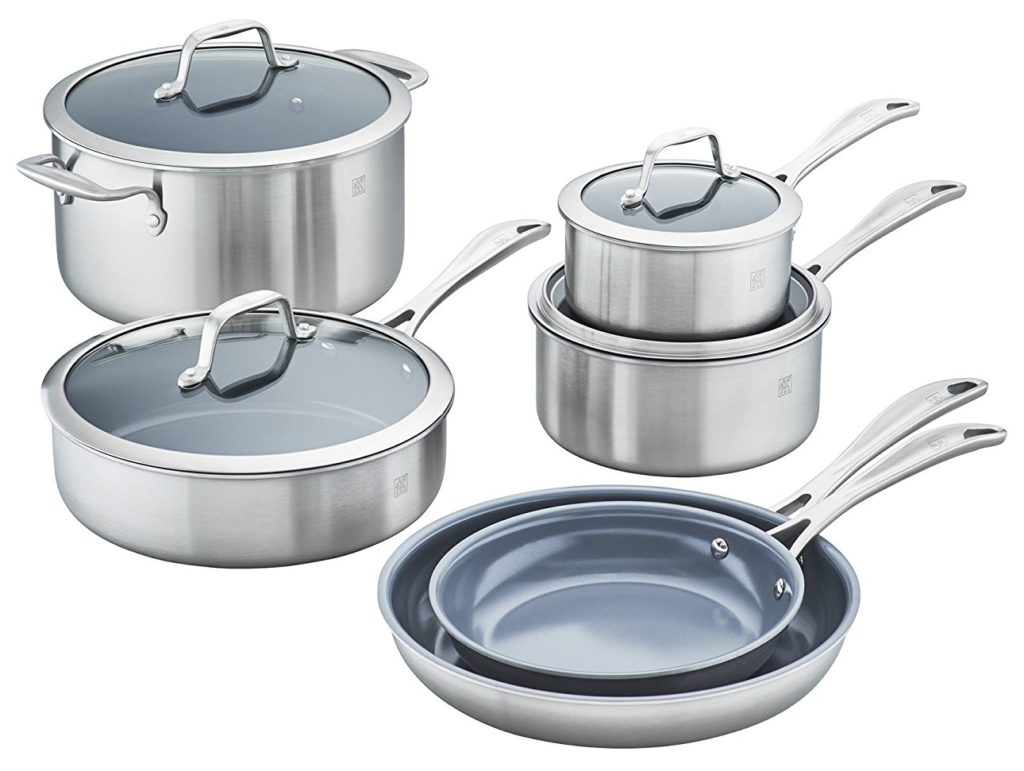 The Zwilling Spirit 3-Ply is available as individual pieces or sets. We have picked out the 10-piece set to be shown above and it comprises of the following items:
8-inch fry pan
10-inch fry pan
1-quart saucepan with lid
2-quart saucepan with lid
3-quart saute pan with lid
6-quart Dutch oven with lid
==> Check Price
As the name implies, this is a 3-ply cookware that has an aluminum core from rim to rim. The exterior is magnetic stainless steel which makes it a non stick induction cookware. The interior is also stainless steel coated with a non stick Thermolon ceramic coating. This coating is environmentally friendly as no toxic fumes are released with the pan is heated at high heat.
The lids are tight-fitting and made of tempered glass. The rims are designed for dripless pouring to keep mess to a minimum. The handles are also stainless steel with stay cool properties. The loops on the lids and pots are large for an easier grip when you are wearing oven mitts. The pieces are oven safe up to 400°F and also dishwasher safe.
Zwilling Vs GreenPan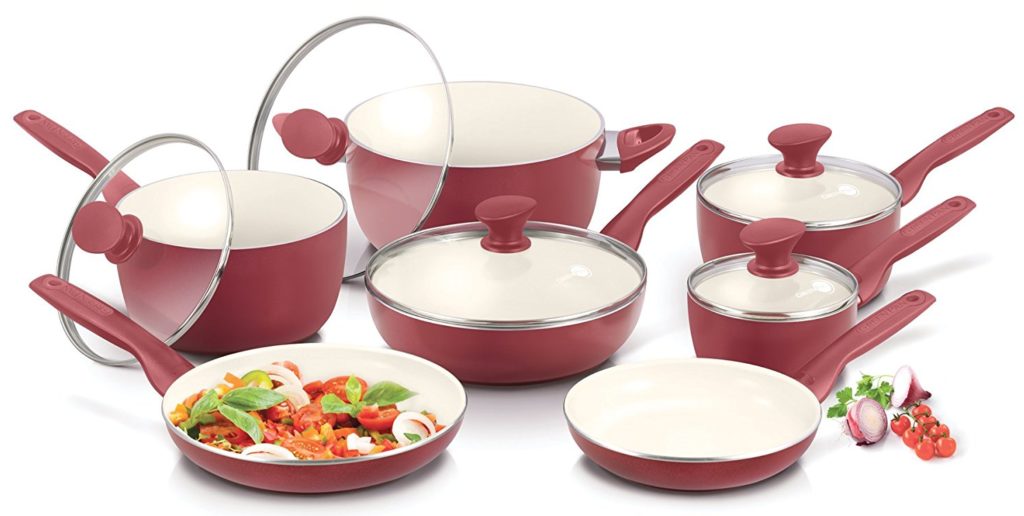 ==> Check Price
One similarity of the Zwilling vs GreenPan comparison is the interior coating used. GreenPan also uses the Thermolon coating for its ceramic cookware. It has a few models in its cookware line-up and each is slightly different in terms of features compared to Zwilling which only has one ceramic cookware model to date. So, if you don't like the stainless steel look for your Zwilling cookware and prefer something more colorful, you will not have any other options under this brand. On the other hand, the GreenPan can offer you more color choices like blue, red and purple under its different ceramic cookware models.
The Zwilling Spirit is induction ready but most of the GreenPan pots and pans are not. So, you will have to be careful when buying GreenPan if you have an induction cooktop. The GreenPan Venice Pro line is induction compatible and this series looks similar with the Zwilling Spirit. The retail price is also more or less the same as the Venice Pro is also a multi-layer cookware set.
Should You Buy The Zwilling Ceramic Cookware?
Pros
Tri-ply construction – There are very few ceramic cookware with a tri-ply construction for faster and more even heat conduction. Even those premium brand names like Tramontina do not have a tri-ply ceramic cookware line. Most will only have ceramic cookware with heavy gauge aluminum construction.
Sturdy – The thickness of the pans is 3 mm and the weight of a pan is over 2 lbs. So, it is definitely a more solid cookware than much cheaper alternatives like NuWave and GreenLife.
Induction ready – There are not many ceramic cookware that can be used with induction cooktops. The Zwilling Spirit is one of the few.
Healthy and green – Less oil is needed for cooking and the Thermolon coating is also toxic free for a healthier diet and greener environment. The coating is also non stick for easy clean up.
Cons
Expensive – A 10-piece set will cost you about $400. If you just get the 2-piece fry pan, it will already set you back about $100. This is much more expensive than the WearEver Pure Living which is a popular ceramic cookware that costs just about $150 for a full set.
High risk – For the price, it is a highly risky investment because complaints of the non stick coating wearing off is prevalent across many retailers' reviews section. There are buyers who find their pans turning sticky after 6 months of use despite taking good care of them.
Love it or hate it seems to be the pattern among buyers of the Zwilling Spirit ceramic cookware. It is obvious people buy it for its non stick feature but when the coating fails after a few months of use, the pan becomes no different from cheap cookware that you get from low cost stores.  But with cheap cookware, you know they are replaceable as you don't expect them to last long. The same cannot be said with a $400 set and this is where it disappoints many since the coating wears off just like the cheap sets.
However, there are also users who have no complaints about the cookware. They don't have the same sticky issue like some people do. So, obviously the coating works and the cookware is of solid quality to them.
Generally, the reviews on the Zwilling ceramic cookware fluctuates between this 2 extremes. Therefore, if you are lucky, you will definitely love the cookware. If you are not, you will end cooking with a sticky pan. Cooking on low heat, using wooden or silicone utensils and handwashing will prolong the lifespan but many buyers have also claimed they did all these to no avail. Hence, we can only conclude in this Zwilling ceramic cookware review that this will be a risky buy given the high retail price.
Any Great Deals For The Zwilling Ceramic Cookware? Don't Miss Out:

Other Cookware You Might Like: