If you want non stick cookware, you might have quite a number of choices in the market. But if you want the non stick cookware to be induction ready as well, then the options become much narrower. However, there are still some good sets available with high buyer ratings. The number of induction cookware is also slowly increasing as this kind of cooktop gains popularity. Below are a few of the best non stick induction cookware sets to get you started.
Best Non Stick Induction Cookware
T Fal Professional Total Non Stick Cookware Set : Low End
T Fal Professional is at the lower end of the scale for those looking for a budget induction compatible cookware set. It is available in 10 and 12-piece sets. 2 features that set it apart from its competitors are the ProMetal Pro interior coating and the Thermo Spot heat indicator.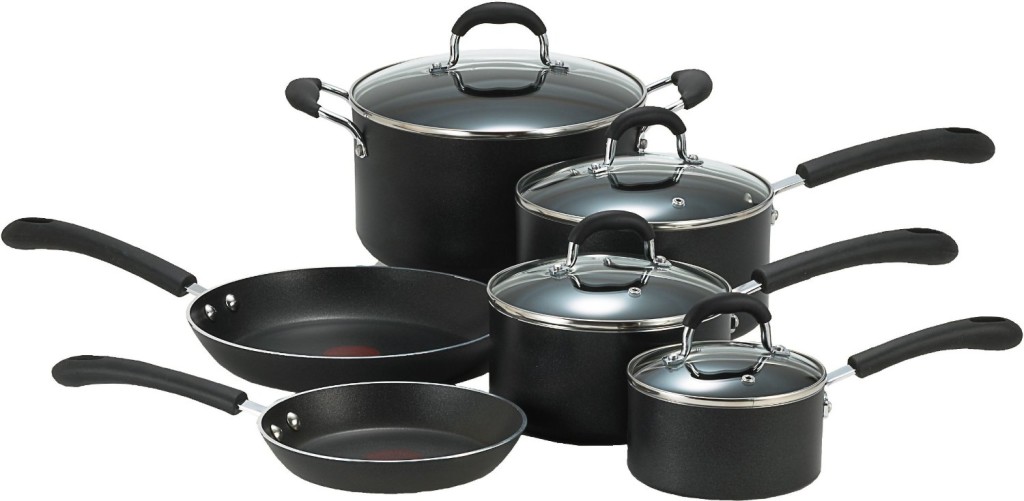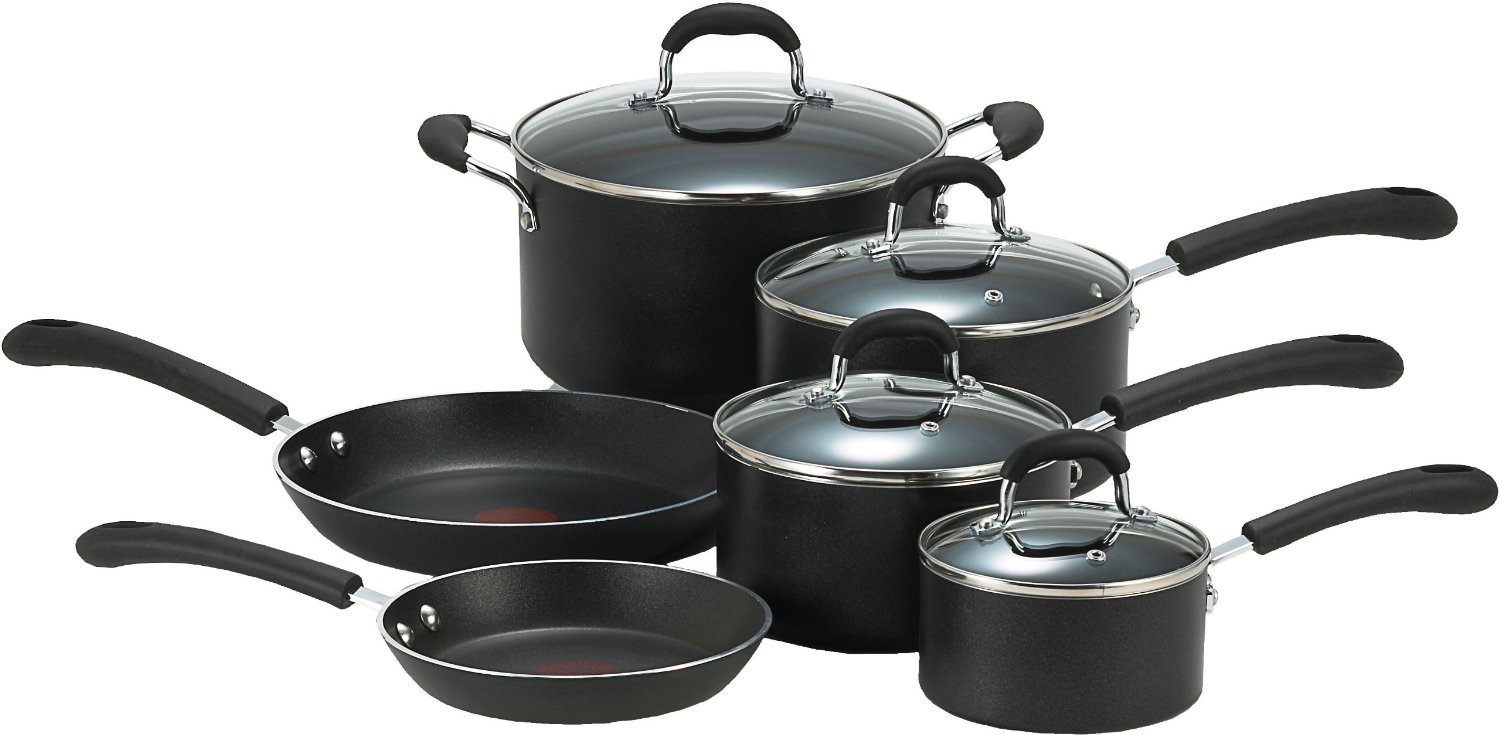 ==> Check Price
ProMetal Pro is a non stick coating that is supposedly much more durable and scratch resistant. This means it is safe for use with metal utensils. As for the Thermo Spot heat indicator, it is also found in a few other T Fal cookware sets such as their Ultimate and Signature models. It is a feature unique to T Fal cookware whereby it is an indicator to signal when the pan is perfectly preheated for cooking so that you will know exactly when to put in your food.
With the stronger non stick coating, the T Fal Professional is marketed as oven safe to 400°F and dishwasher safe. Riveted silicone handles ensures they are securely attached to the pan and stay cool during cooking. The glass lids are vented and allows you to check on the progress of your cooking.
The positive thing about the T Fal Professional is its affordability. It is probably one of the cheapest, if not the cheapest, induction cookware in the market. However, it does have its flaws due to its lower quality compared to the high end brands. Some users have found that it does not last beyond one year as the coating starts to flake. But to be fair, many non stick cookware have this problem, even the highly expensive ones like the Woll Diamond can lose its non stick capabilities after a short while.
The other concern is the small area of the base that is induction capable for these pieces. If your burner is large, the small area may not fit well as some buyers have found out. So, all in all, the T Fal Professional is the best non stick induction cookware at the low end of the scale but you will have to make do with the flaws and have a lower expectation as to its durability.
NuWave Duralon Cookware Set : Mid Range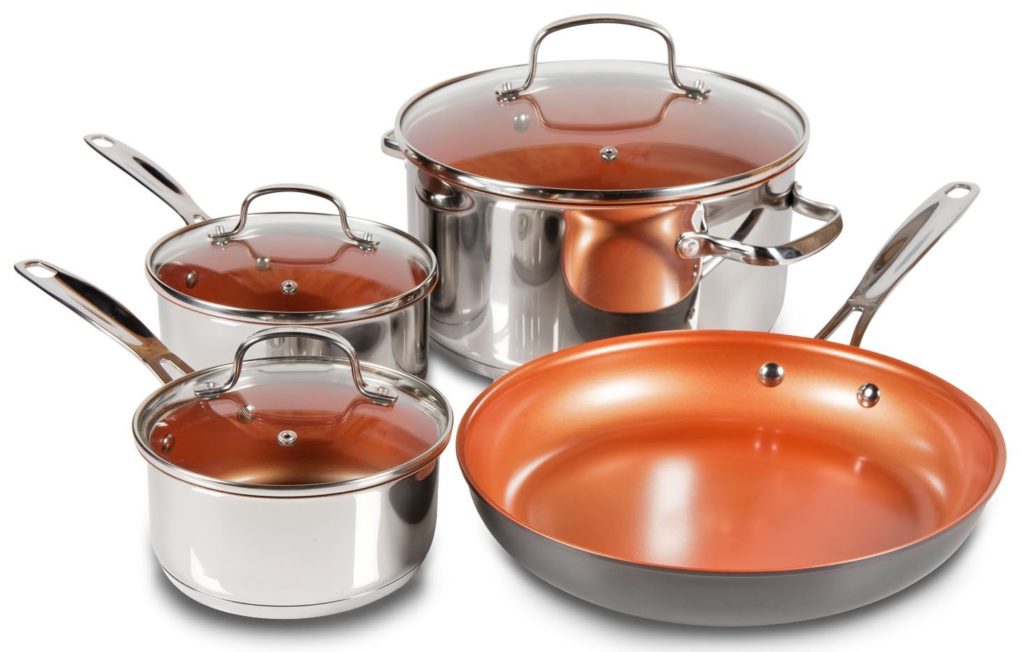 ==> Check Price
The NuWave Duralon is more expensive than the T Fal Professional but it is still affordable. It is in the low mid range price point for a cookware set.
Its selling point is its PTFE and PFOA-free ceramic coating. This gives many people the peace of mind of knowing they are not ingesting harmful chemicals unlike Teflon coated pans. The NuWave Duralon is listed as oven safe with riveted cool-to-the-touch stainless steel handles and tempered glass lids for the pots.
If you want ceramic coated cookware for induction cooktop, there is really a lack of choices at the time of writing. Popular ceramic cookware like WearEver Pure Living and Red Copper are not induction compatible. The NuWave Duralon is one of the very few ceramic induction cookware in the market that also enjoys a fairly good rating from consumers to make it worth a buy.
On the flip side, the complaints of the pan turning sticky are there. This is nothing new for ceramic cookware as the coating is very sensitive to high heat. If you are not careful and patient enough to cook on low heat, the non stick coating will degrade pretty fast to leave you with a sticky cooking surface. However, if you are looking at healthy eating and you have an induction cooktop, the NuWave Duralon is still the best non stick induction cookware in the ceramic category.
Circulon Infinite Hard Anodized Cookware Set : Mid Range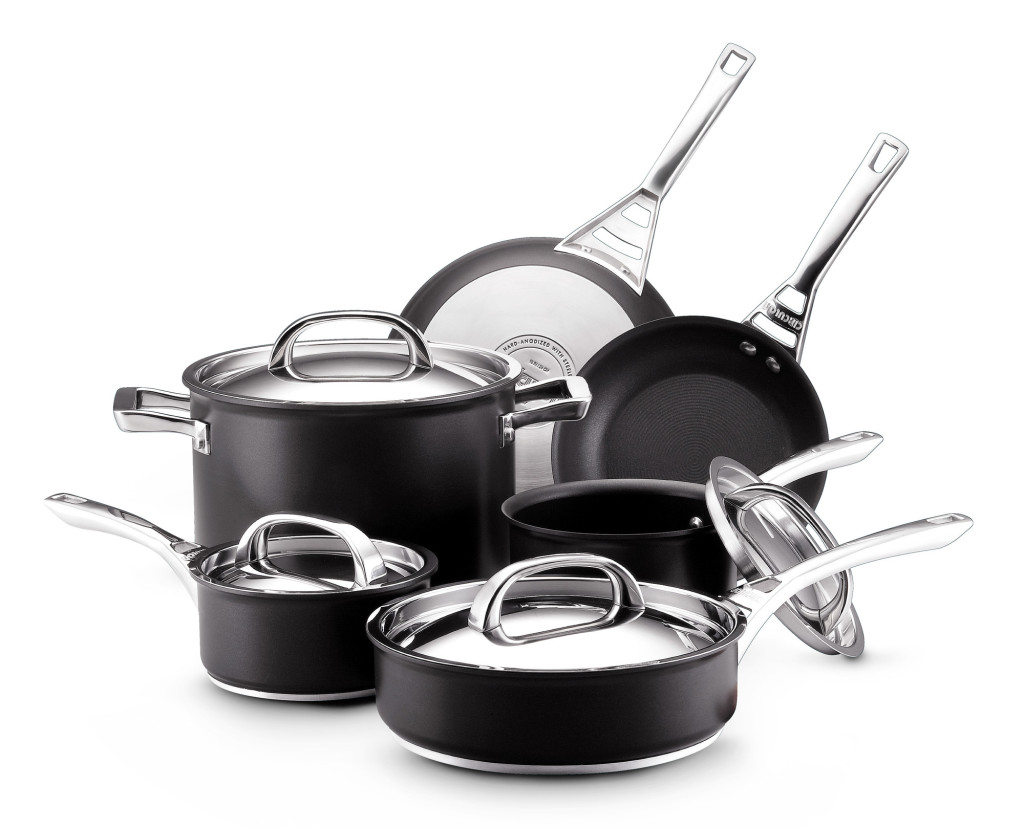 ==> Check Price
The Circulon Infinite is a mid range cookware set. In other words, it is not overly expensive but neither does it feel flimsy and cheap. You can get a 10-piece set for less than $200 at the time of writing. There are one or two other Circulon cookware sets that are cheaper such as the Circulon Elite but they are not induction compatible.
The Infinite is hard anodized cookware with stainless steel bases to make it induction ready. The core is aluminum for superior heat conduction. The exterior has a non stick finish for easy clean up while the interior has a TOTAL non stick system. This features raised circles and 3-layer premium non stick coating which reduces abrasion and resists scratching, staining and chipping. The Circulon Infinite is dishwasher safe and oven safe to 500°F with riveted stainless steel handles and lids. If you want a induction cookware with glass lids and silicone handles, you can take a look at the Circulon Symmetry.
There are very few complaints about this Circulon cookware flaking and losing its non stick coating. Most buyers are happy with the performance of the cookware on an induction stove. Food doesn't get stuck and pieces don't get damaged when put in the dishwasher. They are fairly heavy pots and pans which gives them a solid feel.
But the base is thick which means it takes a while for the pots and pans to heat up. The rims where the lids sit may also chip after a while as a few buyers have found out. However, there are also many buyers who have used the Circulon Infinite for 3 to 5 years with no issues. Compared to the T Fal Professional, the Circulon Infinite should last longer with its better quality.
All Clad Hard Anodized Cookware Set : High End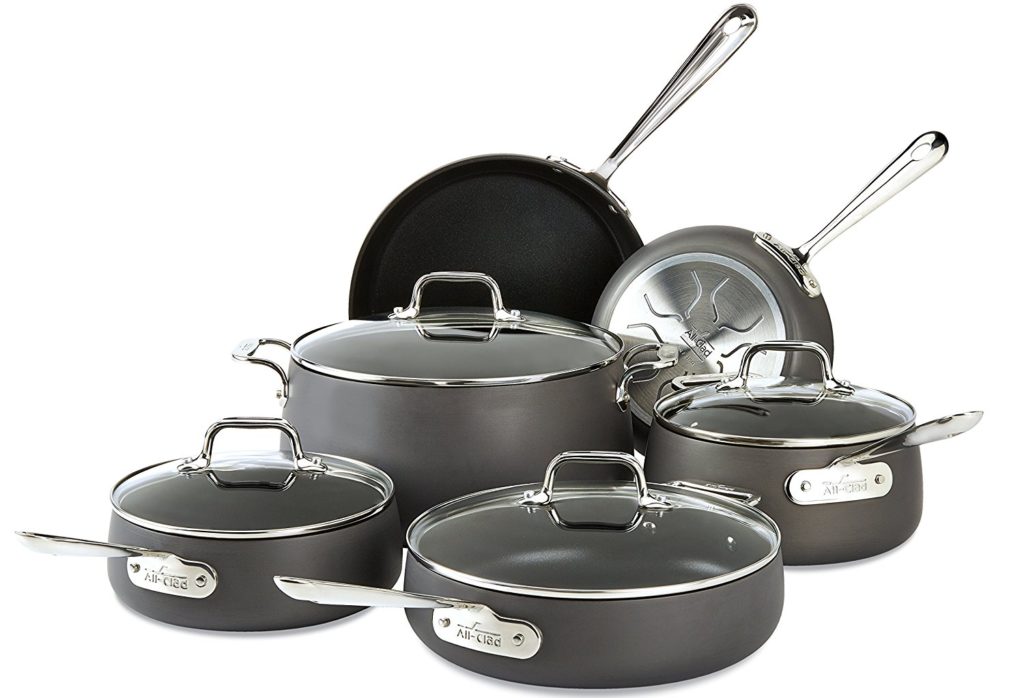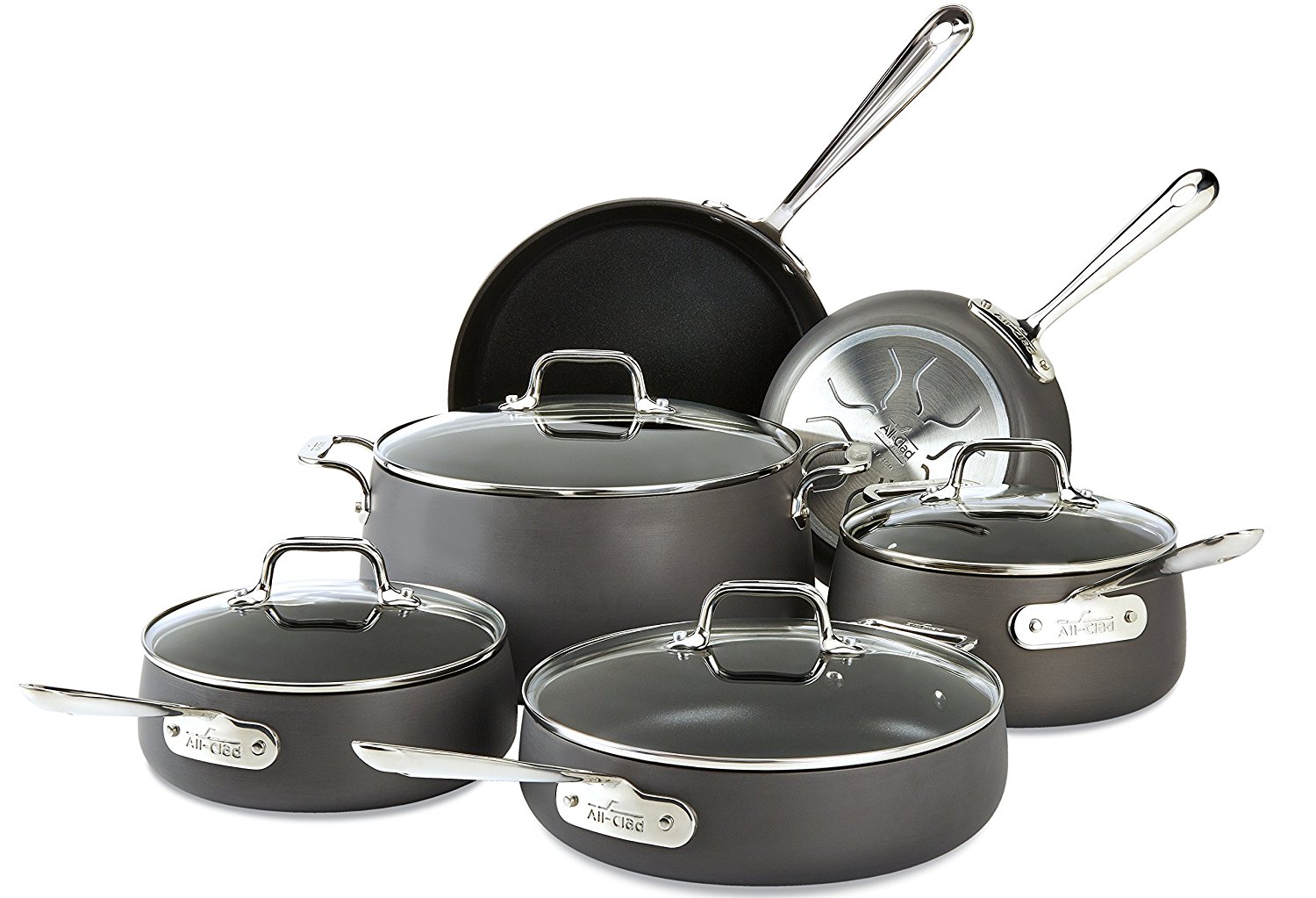 ==> Check Price
Of all the 4 best non stick induction cookware shown here, the All Clad Hard Anodized is, without doubt, the most expensive. The brand name commands a premium and to some people, it is worth the cost due to its quality. Their Stainless Steel Tri-Ply is also induction compatible and is available with both stainless steel and non stick interior.
This All Clad Hard Anodized induction compatible cookware has a aluminum construction with a stainless steel bonded base. This ensures fast heating and prevents warping over time. The cooking surface has a PFOA-free non stick coating which is scratch resistant with easy release.
The stainless steel handles are contoured and riveted to the pieces. The lids are glass and fit securely to trap heat and moisture. The All Clad Hard Anodized cookware is advertised as dishwasher safe and oven safe to 500°F.
The quality of this cookware is apparent with its weight, look and feel. In fact, the pieces could be a tad heavy for some, especially if you have got used to thin pieces. The pots and pans cook well and the heat distribution is superior to cheaper cookware as hot spots are not obvious.
However, not all All Clad product lines are American made cookware. Their hard anodized cookware is made in China like many other brands. This throws into question whether the high price is worth it after all. The higher price may get reflected in better quality control and higher grade materials such as a thicker aluminum plate. But if you want a made in USA cookware, then the All Clad Hard Anodized set is not one of them.
Any Great Deals For Induction Cookware? Don't Miss Out:

Other Cookware You Might Like: