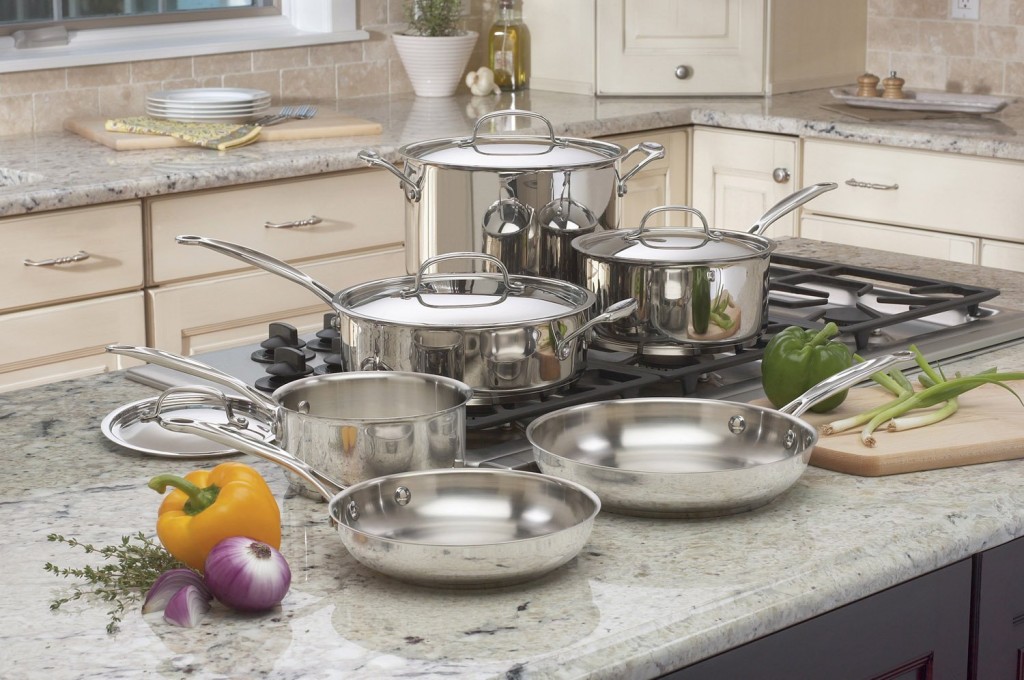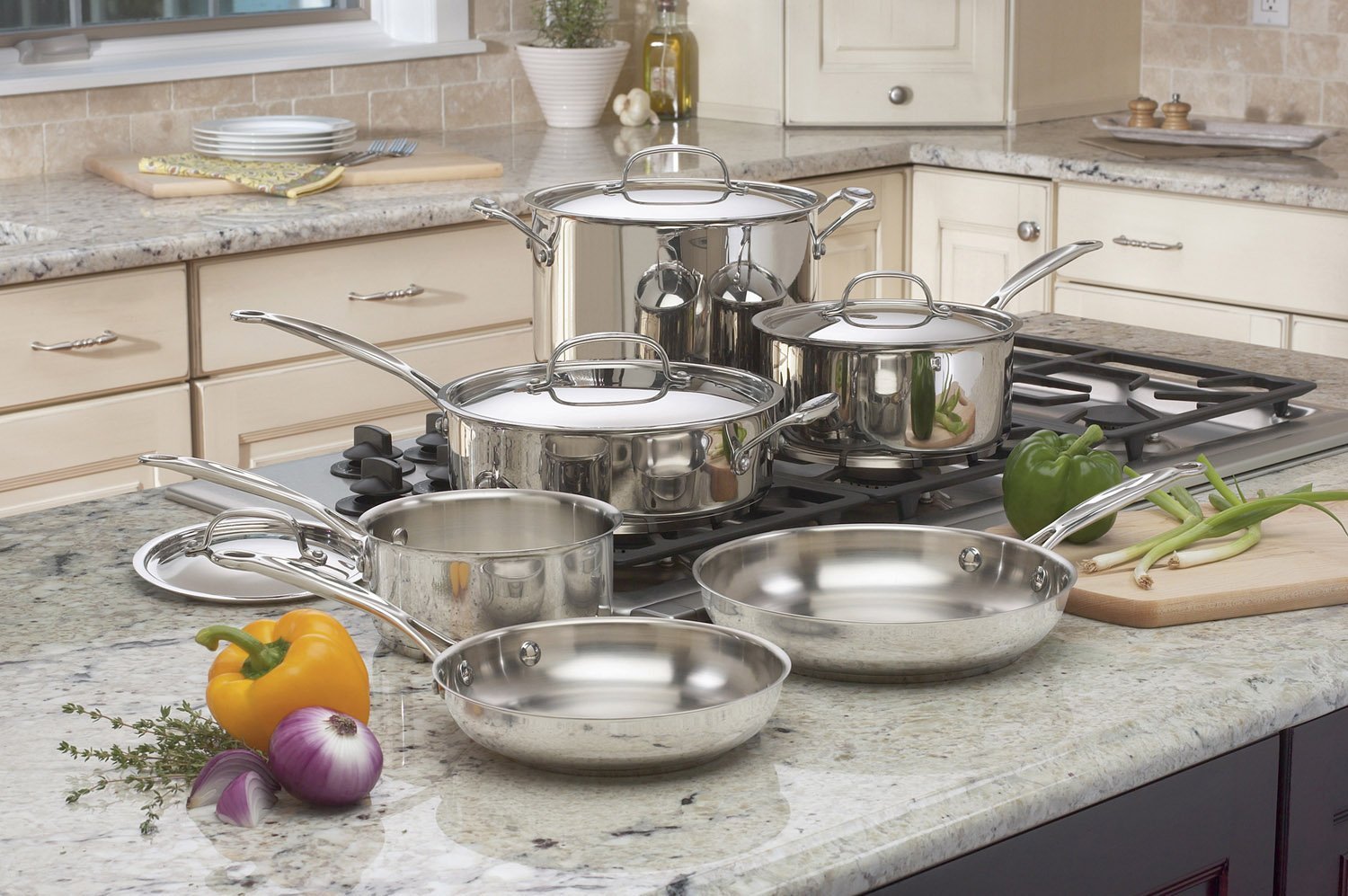 Choosing a set of pots and pans can be a confusing matter. With so many cookware brands around, which should you buy? In the first place, is there a best cookware set? What about the different materials of these cooking utensils? Can you even compare one with the other?
In actual fact, it really depends on what you are using the utensils for. If you are stewing, a thick bottomed pan with lid would be best. If you are frying steak to get a nice sear, then a stainless steel frying pan would be a better choice than a non-stick one for better result.
Apart from purpose, there is also your lifestyle to consider. If you are always busy and never have the time to wash up, you might be better off with something that is dishwasher-safe. Or if you have the habit of cooking with high heat, you might like to avoid Teflon-coated ones. So, keep in mind your own habits and preferences too when you are shopping for the best pots and pans to buy.
Below are 5 top rated cookware sets that have attracted hundreds of good reviews from buyers. They are listed based on their value for money, quality and/or customer reviews.
Cook N Home 15 Piece Nonstick Cookware Set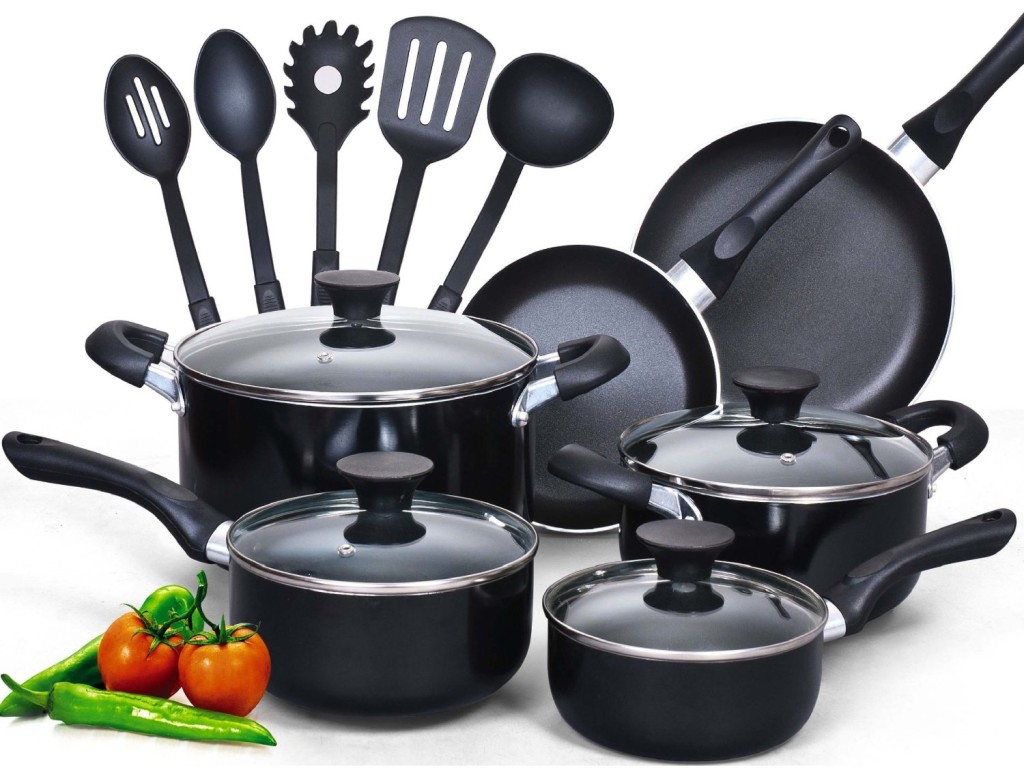 I would say this is a good starter set for someone who is single or who simply wants something affordable. At the point of writing, this Cook N Home pots and pans set is the cheapest of the 5 listed here, selling at about $50. While 15-pieces seems a lot for the price, bear in mind that 5 are cooking tools such as a spatula and ladle. Another 4 are the lids. So, the main pieces are a 6-quart dutch oven, 3-quart casserole, 1 and 2-quart sauce pans, and 8 and 10-inch frying pans.
Made of heavy gauge aluminum, it heats up pretty quickly and evenly. The interior has a non-stick coating which makes cleaning easy. The lids are made of tempered glass and the handles have silicone anti-slip material. Grooves are found on the bottom of the utensils to prevent sliding.
T-fal Signature Nonstick 12-Piece Cookware Set


The main difference between the T-fal Nonstick Cookware set and the Cook N Home one above is the availability of a griddle instead of casserole. You get a 10.25-inch griddle with this package together with 2 saucepans (1 and 2-quart), 2 saute pans (8 and 11-inch) and a dutch oven (5-quart). The 3 nylon tools and 3 lids make this a 12-piece bundle altogether.
This is another great starter kit with its price. Retailing at around $75 at the time of writing, it is a value-for-money buy for those who are looking for a dishwasher-safe and oven-safe cookware set.
Made of aluminum with a non-stick coating, it has a heat indicator which is perfect for a novice since it can be hard to gauge if the pan is hot enough to start your cooking. You get glass lids to make it easy to check on your food and stay cool handles for convenience.
Cuisinart 77-10 Chef's Classic Stainless 10-Piece Cookware Set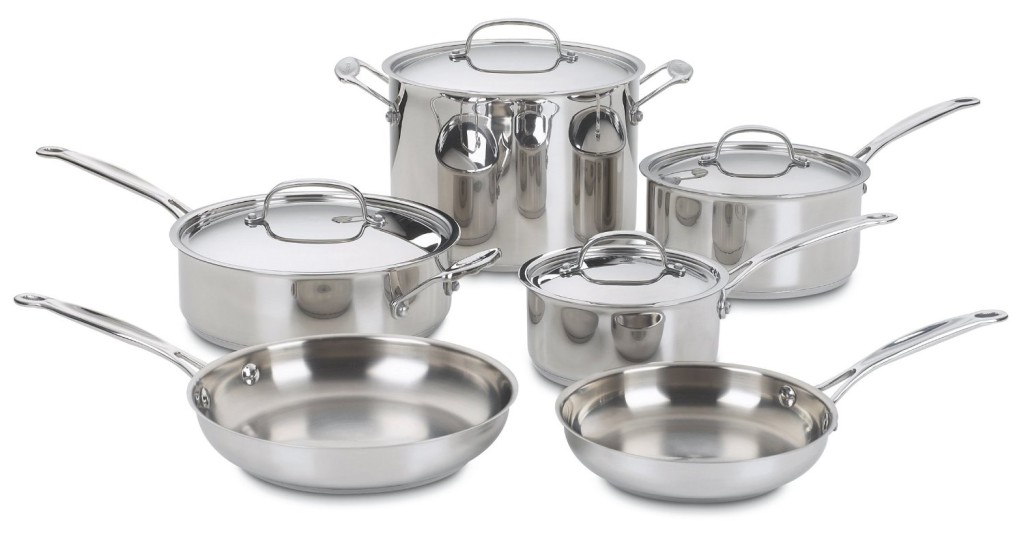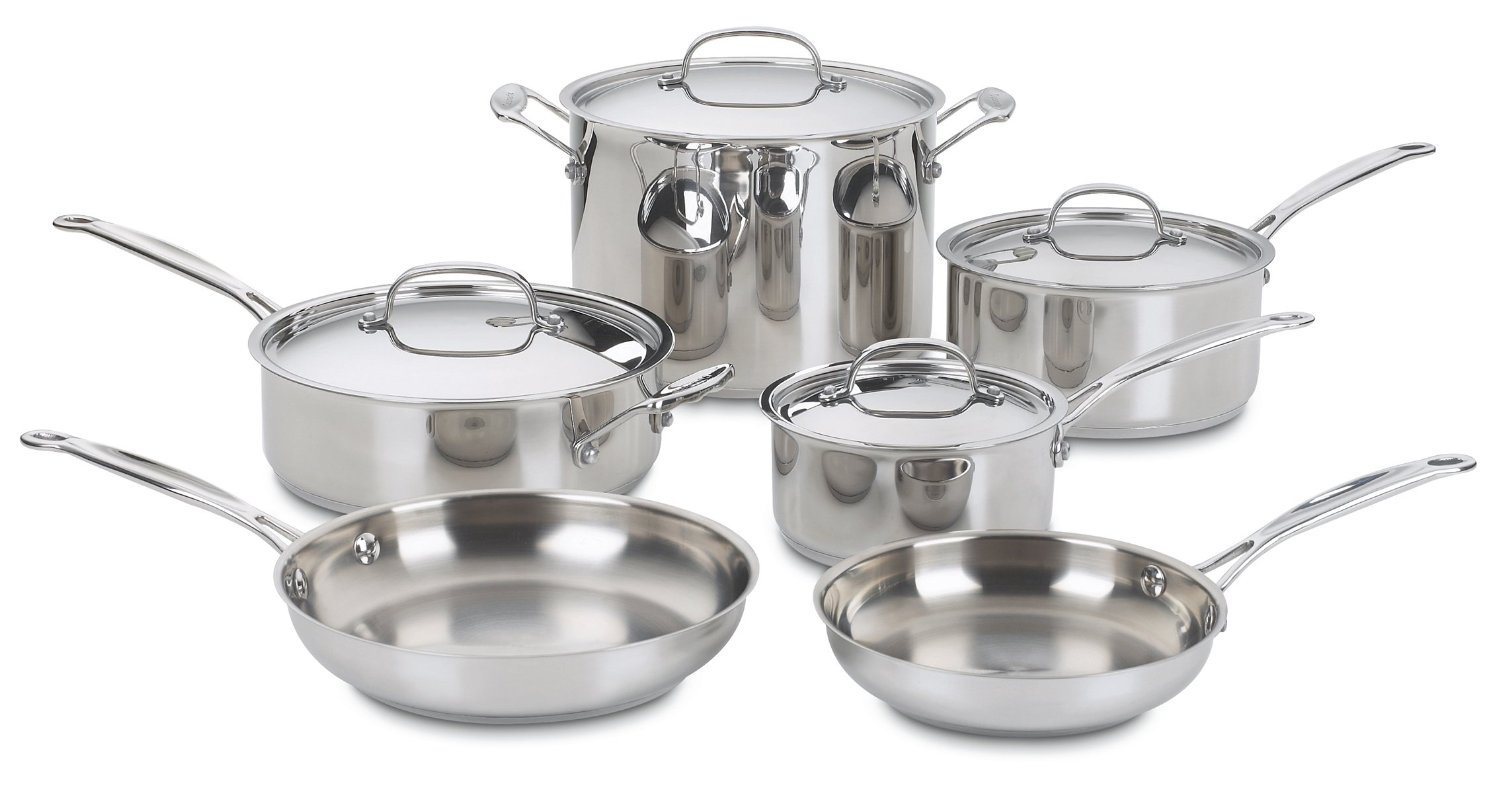 This is a mirror-finish stainless steel good quality cookware set. What is included is 2 saucepans (1.5 and 3-quart), 2 skillets (8 and 10-inch), a 3.5-quart sauté pan and 8-quart stockpot. The sauté pan has a helper handle to enable you to lift it up easily while all the lids are made of stainless steel too with a tight fit to lock in the flavor and nutrients. Except for the skillets, there are lids available for the rest of the items.
=> Check Price
You get an aluminum encapsulated base for the cookware for even heat distribution and stay cool handles that are also easy to grip. The handles are riveted for stability and sturdiness and tapered rims makes pouring easy after you are done with your cooking.
This is a not too expensive bundle and probably one of the best pans to cook with everyday that could last you for years. You can dump this in the dishwasher for convenience and it is also oven-safe up to 500°F.
WearEver C944SA64 Pure Living Cookware Set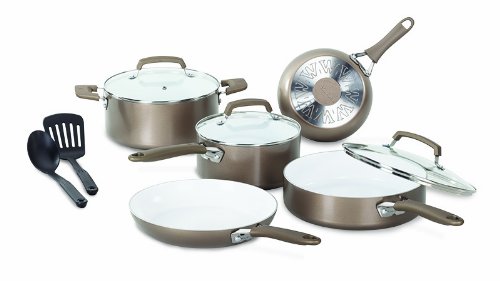 This has a ceramic coating in the interior which is also non-stick and scratch resistant. It has an aluminum base for heat retention and it sears meat better than traditional non-stick pans while having little of the stickiness that comes with stainless steel pieces.
=> Check Price
The 10-piece here includes a 5-quart dutch oven, 3.5-quart skillet, 3-quart saucepan as well as 8 and 10.5-inch saute pans. Except for the 2 sauté pans, the rest comes with fitting glass lids. 2 nylon cooking tools are also included to complete the set.
You can use this at high temperature as it can withstand heat up to 750ºF. It is not for induction cooking though, and the warranty does not cover damages caused by dishwashing.
To get a better idea if the WearEver Ceramic Coated Cookware is really easy to use and non-stick as claimed, you can watch this video below:
To check out other ceramic pots and pans, you can also go to our home page to see more options.
Paula Deen 12512 15-Piece Porcelain Cookware Set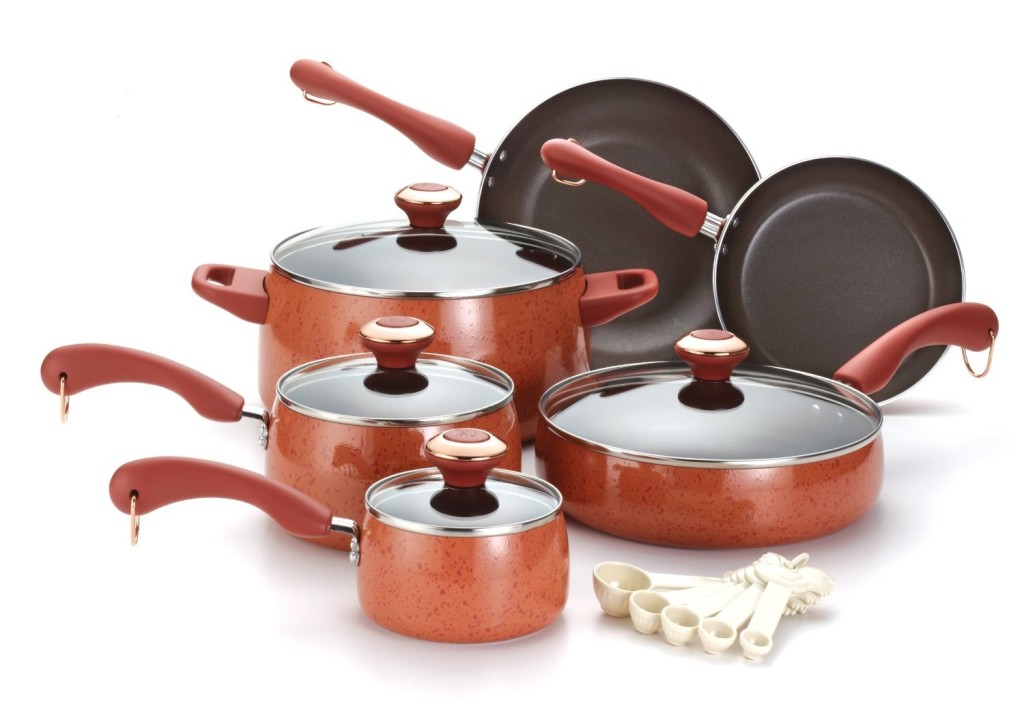 If you want some style and class, then the Paula Deen Porcelain pots and pans set would be something to look into. Available in 6 different colors with speckles as patterns and knobs with corresponding colors, it will spice up the look of your kitchen for sure and at an affordable price at that.
You get a 1 and 2-quart saucepans, 6-quart stockpot, 2.75-quart sauté pan plus 8 and 10-inch skillets in the package. There are glass lids for the sauce and sauté pans as well as the stockpot. This gives you 10 pieces altogether and the remaining 5 items is a 5-piece measuring spoon set.
The exterior is stain-resistant while the insides are non-stick with a Teflon coating. The handles are dual riveted with rings at the end for hanging convenience. For a closer look at this set, click on the clip below:
The above are a few good pots and pans sets  of different materials that have attracted great reviews by the majority of buyers. Of course, there are others that are just as popular, each with a different price range with its different brands.
Other Cookware You Might Like: