In the past, people have to rely on the Teflon coating for non stick cookware. But as technology advances, the coatings for non stick cookware have also developed rapidly. Alternatives to Teflon began to make their way into the market in order to provide consumers with greener and safer options. After all, Teflon is known to release toxic fumes when heated to a certain temperature. So, with ready buyers who are waiting to move away from Teflon pans, ceramic cookware began flooding the market. But should you just jump in and throw away all your Teflon cookware? Well, let's look at the ceramic cookware pros and cons before you do so.
Ceramic Cookware Pros And Cons
There are good things about ceramic cookware that should make you feel excited about. But there are also weaknesses that you should be aware of before you take the plunge and replace all your existing cookware with ceramic ones. The pros are:
Toxic Free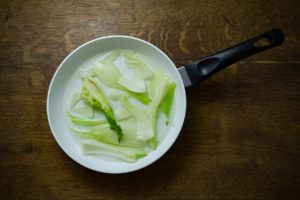 Ceramic coating like Thermolon which is used in GreenPan is made of natural minerals. For Thermolon, the non stick layer is derived from sand which goes through a manufacturing process that does not use PFAS or PFOA. Because it is made from natural minerals, the coating also has no lead or cadmium.
What this means is that there is no toxic fumes to breathe in when you overheat your pan. Overheating is a common occurrence when cooking and sometimes, it can be hard to resist cranking up the heat, especially when we are in a hurry. So, unlike Teflon, the ingredients that go into the non stick ceramic coating is natural and the result is toxic-free cookware that do not release fumes that could be harmful to the environment as well as your health.
Non Stick
Despite no toxic chemicals used, the cooking surface of ceramic cookware can still end up being slick and smooth. There are plenty of commercials that show how easy it is to cook using this type of cookware. Food slides right out with very little or even no oil used. While you can also fry eggs with stainless steel pans without sticking, you do need to use enough oil or butter to cover the whole cooking surface. So, if you are into healthy eating with less grease, ceramic cookware certainly looks like a better choice.
Easy To Clean
Because they are non stick, clean up becomes very easy to do. A simple wipe with a wet cloth after cooking will be able to get rid off all the residues. There is no scrubbing necessary when it comes to washing.
Affordable
Ceramic cookware is generally affordable. A 10-piece cookware set can cost as low as $50 to $60 such as the Cook N Home set. Even some of the best ceramic cookware sets sell for less than $100.
Of course, there are a few expensive ones like the Zwilling Spirit which has a 3-ply construction but those are the exceptions rather than the norm. Generally, a $100 to $150 ceramic cookware set is good enough for home use.
On the other hand, ceramic cookware also have their cons:
Short Lifespan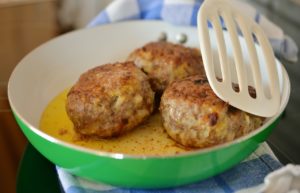 The common complaints center around the durability of the non stick ceramic coating. This coating tends to wear off pretty quickly leaving the cooking surface sticky even when plenty of oil is used.
There is still much room for improvement in this area given the frequency of the complaints across all brand names. This is no different to Teflon pans which also tend to go sticky and flake over time rendering the cookware useless.
Flimsy
Generally, ceramic cookware are lightweight pieces. Unless they are of tri-ply construction, the pieces tend to be on the thin side. The cheap ones will also have a flimsy feel.
Having said that though, some people do prefer lightweight cookware because they are easier to handle. Solid cookware can be heavy to lift especially when filled with food.
Handwash Recommended
Although some ceramic cookware sets are advertised as dishwasher safe like the GreenLife, handwashing is still recommended to prolong the longevity of the coating. Some manufacturers will also refuse to honor the warranty if you have problems with the coating after putting the cookware into the dishwasher.
No doubt, ceramic cookware are easy to clean but there will always be times when you wish you could dump them into the dishwasher. Well, the downside is you wouldn't have this convenience with ceramic pots and pans.
Not Metal Utensil Safe
You will have to be more careful when using ceramic pieces because they are more delicate compared to stainless steel cookware. Metal utensils are definitely not recommended if you want to keep your interior scratch free. Wooden or nylon utensils are best to maintain the integrity of the coating.
Low To Medium Heat Only
Ceramic cookware have to be used with low to medium heat only. High heat can damage the coating and this curbs the flexibility to crank up the heat for certain recipes or when you are in a hurry. No doubt different types of pans are best for different uses. Ceramic cookware have a clear limitation on heat levels and this means you will still need a stainless steel pan in your kitchen for cooking certain foods.
Are Ceramic Cookware Worth A Buy?
In conclusion, ceramic cookware pros and cons clearly shows they are indeed safer than Teflon pans and healthier than stainless steel but there are still weaknesses that require you to stock your kitchen with other types of cookware. This is especially true if you are a serious cook or want to develop your cooking skills. For example, searing is still best done with a good quality stainless steel or cast iron pan. But if you are a beginner and just want something simple to cook with, then ceramic cookware is a good starter set. It is also worth a buy for those opting for a healthier lifestyle.
Other Cookware You Might Like: