A word of warning when you buy the Chef's Du Jour 32-Piece Kitchen Combo set – you get what you pay for. It is probably the cheapest cookware set out there in relation the the number of pieces in the bundle, so you will have to adjust your expectations of what you will find in the box. This is, at best, only a temporary solution for someone with a bare kitchen.
Chef's Du Jour 32-Piece Kitchen Combo Set Review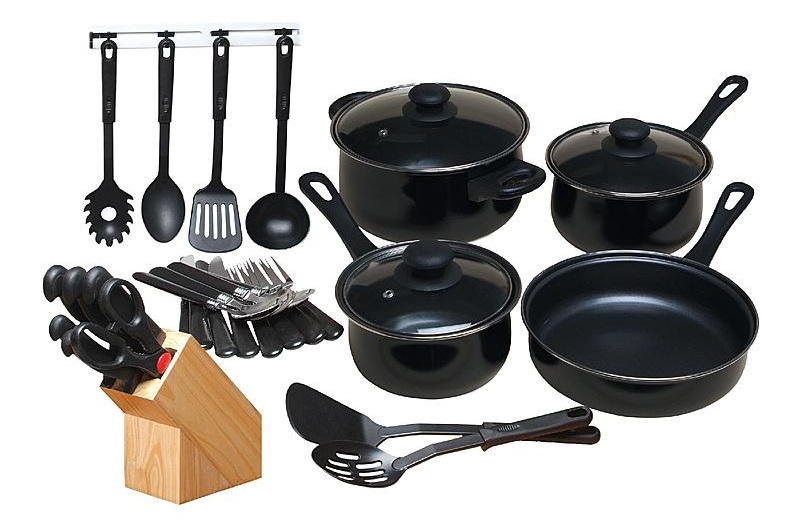 All the 32 pieces in the set are:
3.25-quart Dutch oven with lid

1.75-quart sauce pan with lid

1.25-quart sauce pan with lid

8.625-inch saute pan

7-piece cutlery set including knife block, various knives and scissors

6 kitchen tools including spatulas, serving spoons, ladle and pasta server

12-piece flatware set including forks, knives and teaspoons

=> Check Price
The cookware pieces are constructed using 0.7 mm carbon steel and the interior has a nonstick coating. The handles stay cool while on the stove and there is a hole towards the end so that you can hang them up for storage purposes.
The lids are made of tempered glass with a knob for the handle. The knobs are also of the stay cool variety. All the pieces are dishwasher-safe except for the knife block.
Should You Buy The Chef's Du Jour 32-Piece Cookware Set?
Pros
Cheapest set around – There are really few other sets that would be able to beat the price that is being offered by Chef's Du Jour 32-Piece Combo. So, it might be the best value for money for those who are struggling with finances like college students.
Complete set – If you have a bare kitchen, this set would get you started without having to buy anything else. You have knives, kitchen tools, forks and spoons besides the cooking utensils to stock up your kitchen.
Cons
Flimsy – The pots and pan are light and thin and as a result, food gets burnt quickly. They are also prone to warping because of the thin material.
Rust – The pieces tend to rust easily. Washing them immediately rather than soaking them after using and wiping them dry afterwards will be necessary to prevent rust from developing.
Coating peels – The nonstick coating might peel off and the surface becomes sticky after a few uses.
Under normal circumstances, you would not buy the Chef's Du Jour 32-Piece cookware set. Do not be taken in by the number of pieces in the bundle and the price. It is an extremely lightweight set with a shipping weight of only 9 pounds. The basic T Fal Initiatives with 10 pieces already weighs about 12 pounds which should give you a slight idea of how it compares to other cheap cookware. Generally, most cheap nonstick pots and pans will last you a year or two. This Chef's Du Jour set would probably last you a few months, judging by the various customer reviews.
So, if you can afford it, get something better. $20 more would be enough to get you a more decent set minus the kitchen tools and silverware which you can always pick up at the dollar store. Even a stainless steel set like the 7-Piece Concord Cookware does not cost that much more and it can definitely last you a lot longer.
Free Shipping For The Chef's Du Jour Kitchen Combo Set? Latest Deal Here:

Therefore, if you can, give this Combo set a miss. Unless you only need a cookware for a few short months, it makes no sense to get this when you know it will be unusable after a short period of time. When the nonstick coating peels, you have to get rid of the item due to health concerns. So, for those on a tight budget, low quality nonstick cookware is not the solution. It might be better to pick up a cheap stainless steel set than a nonstick one if you want something that wouldn't leave flakes of coating in your food and would last you a little longer.
Of course, some buyers will still see this as a good value for money buy. In a way, it is but it is all a matter of perspective. You will still need to shell out money later on to get replacement for the items but in the mean time, you do have something you could use. And you can replace the item piece by piece which is not as draining financially. Seen in this context, it is then a goody buy. So, it depends very much on your situation but as mentioned, under normal circumstances when you don't have to count every penny, this is not the cookware you will get for your kitchen.
Other Cookware You Might Like: