The Circulon Premier Professional is a little hard to find and if you are searching for this particular cookware, your best bet is still Amazon at the time of this review. If you are lucky, you might be able to find it in stock at Costco. Because of its limited availability, you might also need to pay a bit more at different times of the year because the price comparisons just isn't there for you to get the best deal possible. So, is it still worth it to pay for this cookware set?
Circulon Premier Professional 13-Piece Hard Anodized Cookware Review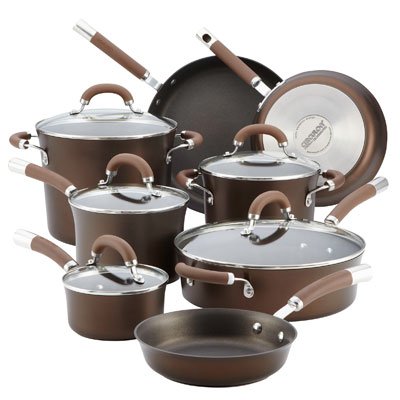 For this 13-piece set, you will be offered the following items:
1-quart saucepan with lid
3-quart saucepan with lid
4-quart saucepot with lid
8-quart stockpot with lid
5-quart saute with lid
8.5-inch skillet
10-inch skillet
12-inch skillet
=> Check Price
This is a heavy gauge hard anodized cookware set with a stainless steel base which makes it suitable for induction cooktops. The interior is nonstick, using the same coating as the Circulon Infinite, which is the advanced Autograph™ 3-layer coating from DuPont™. This coating is free of PFOA and metal utensil safe too. It also has a TOTAL® Food Release System that comprises of raised circles to minimize contact between the utensils and the nonstick surface which help to reduce abrasion and thus lengthening the lifespan of the pans.
The handles are stainless steel with rubberized texture coverings for heat resistance and a more comfortable grip. They are double riveted to the pots and pans to make them secure. The lids are made of shatter resistant glass and have stainless steel rims. The pieces are oven safe up to 400°F and dishwasher safe as well.
Should You Buy The Circulon Premier Professional Cookware?
Pros
Good range of sizes – This Circulon Premier Professional 13-Piece set has a complete range of pot sizes to suit a wide range of needs. On the smallest side, you have the 1-quart saucepan and on the largest end, you are given a 8-quart stockpot. In between, there are the 3 and 4-quart saucepans and a 5-quart saute pan. Not many cookware sets will offer a 8-quart stockpot and 5-quart saute pan together with a 12-inch skillet.
Dishwasher safe – You can put this in the dishwasher which is a plus for convenience but it is also very easy to clean with its nonstick surface if you choose to wash by hand.
Looks pretty – The exterior has a chocolate bronze matte finish which is not too common for hard anodized cookware which are typically black or grey.
Cooks well enough – The bottom is thick and retains heat. It cooks evenly and there is little problem of food sticking to the pans. The majority of buyers have no complaints on the cooking performance of the pieces.
Cons
Water traps in the handles – The handles are hollow with a hole underneath towards the edge for you to hang your pots and pans. So, if you leave them face down in your dishwasher, water will get trapped in the handles.
Lack of individual pieces – As it is, this set is not widely available compared to say, the Circulon Contempo. So, if you want a few individual pieces to match this set that you have, you could have a tough time finding them to complete your collection.
Price – The price can vary widely which could be due to its limited availability. Some customers are able to get this for less than $200 at times from Costco but unfortunately, it is not always in stock. At the time of this review, Amazon has it for nearly $290 which means you are going to have to pay a lot more if you want to get it immediately.
The assortment of sizes is what would attract me to the Circulon Premier Professional vs Circulon Symmetry. Symmetry is very similar to the Premier Professional with its chocolate finish (there is also a black model) but it is not as economical. The Symmetry has 2 pieces less which is the lid for the 1-quart saucepan and the 12-inch skillet. One of the saucepans and the saute pan are also of a smaller size.
Comparing the prices of the two sets on Amazon, the Premier Professional is slightly cheaper (about $10 less at the time of writing). Given that it has 13 pieces, it is definitely a more economical buy. But if you want more items to add to the set, you will have to get the Symmetry because it will have much greater options of individual pieces.
Free Shipping For The Circulon Premier Professional? Don't Miss Out:

Other Cookware You Might Like: