Sometimes, it can be hard looking for a small cookware set for just one to two persons. Most cookware bundles would have 10 or more pieces and most of the pieces are large enough for family use. So, if you are single or merely a couple just starting out anew, the options are pretty limited. But for the Concord 7-piece stainless steel cookware package, it offers a nice budget set for those who want just a few small essential pieces in the kitchen.
Concord 7 Pcs Stainless Steel Cookware Review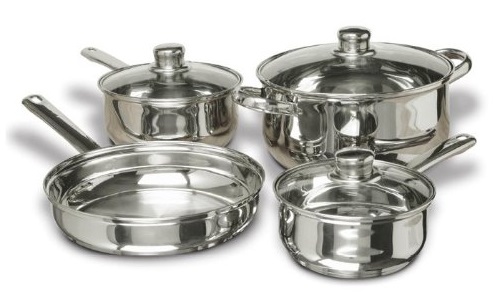 The 7 pieces in the set are:
4 quart covered Dutch oven; pot measures 5 inches high and 9.5 inches wide
2 quart covered saucepan; pot measures 4 inches high and 7.5 inches wide
9 inches fry pan; pan measures 2.5 inches high and 9 inches wide
1.5 quart covered saucepan; pot measures 3.5 inches high and 7 inches wide
These items are made from polished stainless steel. It has a tri-ply bottom with aluminum in between the layers for quick heat distribution. It is oven-safe as well.
The sizes of the pieces are on the small side. So, do beware that this is not a family-sized cookware set.
Should You Buy The Concord Cookware Set?
Pros
Cheap – This is a very cheap stainless steel cookware set. The price is hard to beat for those few essential pieces that will get heavy use in the kitchen. A similarly priced set would be the Excelsteel 7-Piece 18/10 Stainless Steel cookware if you are shopping on a tight budget. The next step up would be the WearEver Strain and Cook but for this, you would need to pay slightly more.
Heats up well – The pots and pans heat up quickly and evenly for easy cooking.
Glass lids – The glass lids make it easy to view your food while it is in the pot.
Small set – Only the essential items are included in this 7-piece set. No unnecessary items like turner and spatula to inflate the number of pieces and hence, the price.
Cons
Light – These pieces are very thin and lightweight. Don't expect the solidness that you will find with better quality 18/10 stainless steel cookware like the Cuisinart Multiclad Pro. These are budget cookware and the quality will reflect as such.
Handles get hot – The handles can get very hot when cooking and this can be a bit inconvenient when transferring the pieces from the stove.
The Concord Stainless Steel Cookware set's main selling point is its price, which is highly affordable. The quality that you will get isn't too bad either for the price that it currently retails at. It looks nice with its polished finish but it just doesn't feel solid with its thinness and light weight. If you are comfortable cooking with light pieces, then it would be a good buy. Otherwise, you will definitely need to spend more for cookware with a heavier construction. For something better but a bit more expensive would be the T Fal Ultimate cookware.
The other thing to bear in mind is that cheaper cookware pieces are not something that will last you a lifetime. The corrosion resistance is usually not as good as your more expensive stainless steel cookware and the thin material would also make it more likely to warp and become dented over repeated use.
However, cheap pots and pans also has its place. For some, they would rather replace pieces as and when needed than invest in an expensive set. While stainless steel cookware can last you a long time, the pieces can get stained. For cheap sets, you probably wouldn't be bothered about the stains and simply replace them when necessary. But with an expensive cookware, the stains could be a real bother because you are less inclined to throw it out.
So, cheap stainless steel cookware like the Concord 7-piece set has its pro and cons. It is not a bad buy if you are not looking for something to last you a decade or two. It will do the job for a much smaller amount of money and for a lot of people, that is more than sufficient.
Is The Price Worth A Look? Check It Out Here:

Other Cookware You Might Like: