Paula Deen and Rachael Ray are the two big names in the porcelain enamel cookware category with various sets in bright and stylish tones to cater to those who have a more modern taste for the kitchen. But Emeril has also gotten into this product line with its 13-piece Emeril by All-Clad Hard Enamel Nonstick cookware set. But does this set live up to the Emeril name? A review of this cookware is as below.
Emeril By All-Clad Hard Enamel Nonstick Cookware Review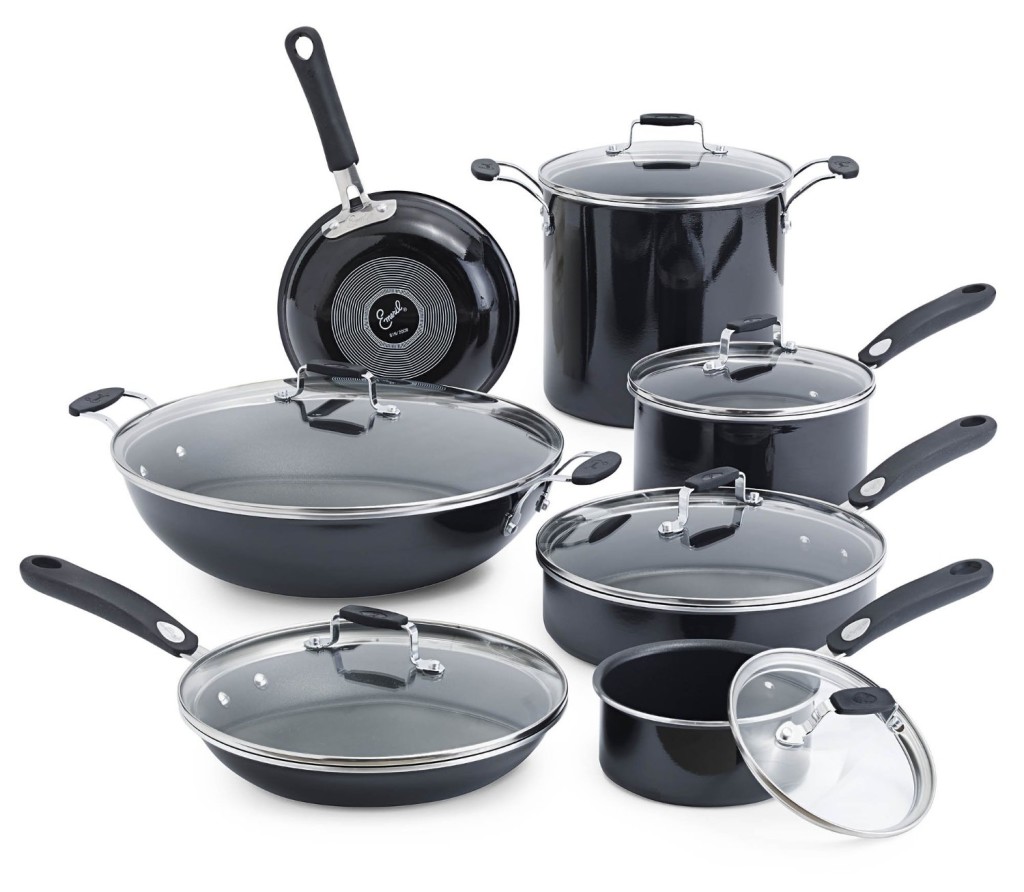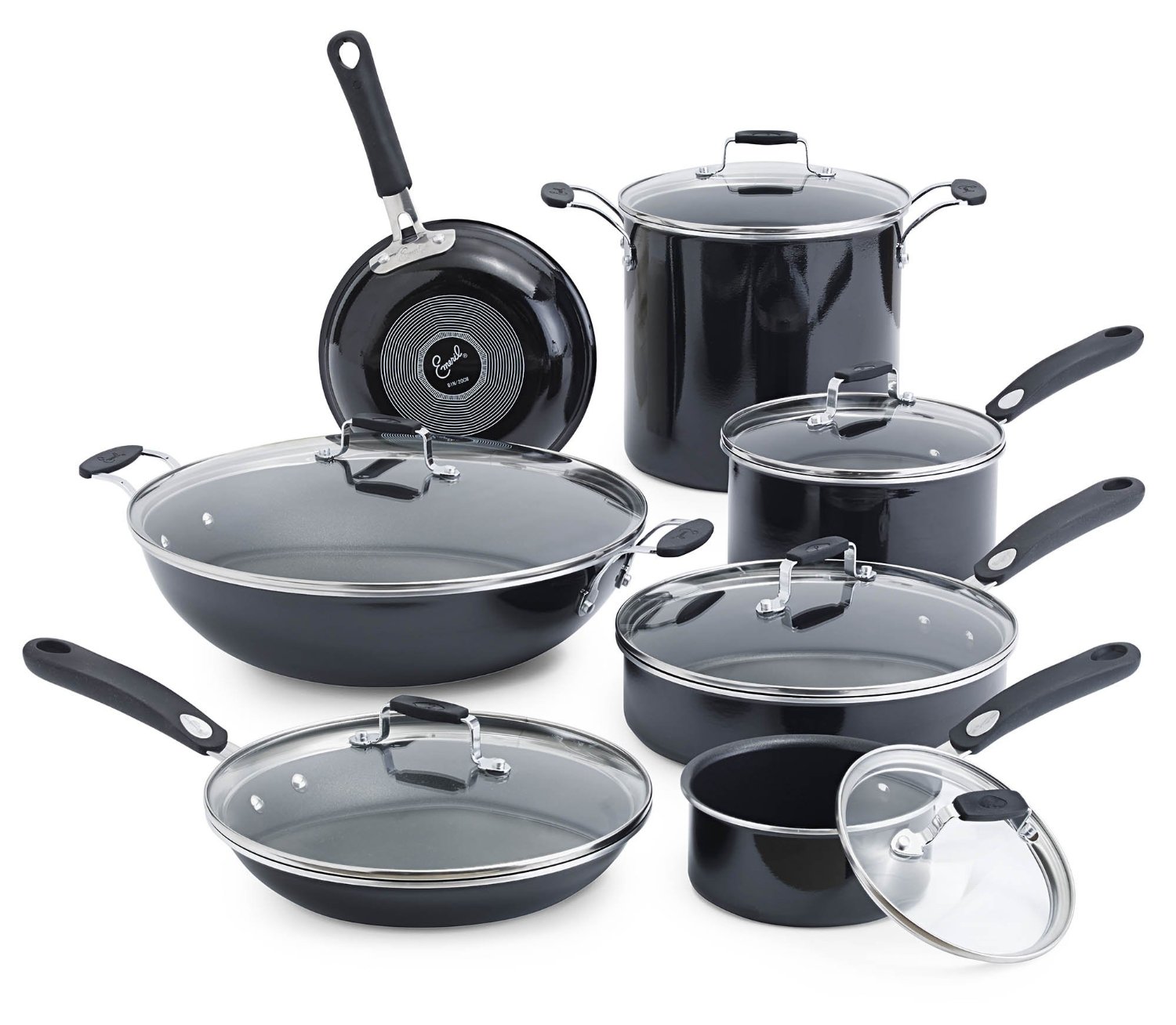 The 13-piece set has the following items in the box:
1-quart covered sauce pan
3-quart covered sauce pan
3-quart covered saute pan
8-quart covered stock pot

8-inch fry pan,

10-inch fry pan
14-inch covered everyday fry pan
==> Check Price
Firstly, the Emeril Hard Enamel cookware set is available in various colors – black, blue, red and green. When we were writing this review, the price varies for the different colored sets. The cheapest is the black at less than $150 and the most expensive being the green set at slightly above $200.
The base material for this set is aluminum which goes all the way up the sides for quick and even heating. The interior is nonstick and scratch-resistant. The hard enamel exterior has different colors as mentioned above with a durable and glossy finish.
The riveted handles are stainless steel and stay cool on the stove top while the soft silicone gives a more secure and comfortable grip. The lids are made of glass and it is oven-safe only up to 350°F. The pots and pans themselves are heat-safe up to 410°F. For long term durability, plastic or wooden utensils are recommended. You can also put the pieces into the dishwasher although hand-washing is best to maintain their shine.
Should You Buy The Emeril Hard Enamel Nonstick Cookware?
Pros
A complete set – Not many cookware sets will give you a 3-quart sauce pan and a 14-inch everyday fry pan. The usual complaint from buyers when shopping for a cookware set is that the pieces are incomplete or are too small, even for a small family. For instance, you can also get a 3-quart sauce pan with the Rachael Ray Cucina but you will be missing the large everyday pan and an 8-quart stock pot (the Cucina offers a 6-quart).So, the Emeril Hard Enamel Nonstick set seems to be the most complete out there with a better range of sizes.
Looks beautiful – The colors are glossy and the pieces do look nice out of the box. They will be a beautiful addition to your kitchen. For more color options, you can also take a look at the Paula Deen 15-Piece Porcelain set.
Simple to use – The pieces heat up fast and the nonstick surface means it is simple to use for newbies. Food comes out easily even if it is overdone and cleaning is not a problem at all. You can also put the pots and pans into the dishwasher if you don't mind the color turning dull over time. For alternative nonstick cooking, you can also check out ceramic cookware.
Cons
Appearance doesn't last – This is a common issue with porcelain enamel cookware. Once you get scratches on the exterior, it will mar the appearance and leave you frustrated, especially if you bought it for its stylish looks. Utmost care is needed to maintain its gloss and color and yet, there is no guarantee the shine will last, especially the base which tends to scratch easily. Your set might end up looking worn after a few months of use.
Red color seems off – If you are buying the red tone, there are customers who complained that the shade is more of a brick color than bright red.
Handles are small – For those with big hands, you might find the handles a little too small. A few customers have raised this issue and be prepared with pot holders as the handles do get hot.
Whether the Emeril by All-Clad Hard Enamel Nonstick 13-piece cookware set is worth a buy really depends on your expectations. For less than $200, you cannot expect All-Clad quality with this set. In fact, to some people this cookware is flimsy and cheap although if you compare it to Paula Deen and Rachael Ray's cookware, the quality certainly matches those standards. And we would buy this set over those two brands because of the larger sized pots and pans.
However, the price differentials among the various colors means you might end up paying a lot more for some shades. We wouldn't recommend paying $200 for this set because at this price, you might be better off with a hard anodized nonstick set like the Circulon Elite which is more durable. Around $150 is more reasonable and closer to the prices of its competitors in this category.
Free Shipping For The Emeril Hard Enamel Cookware? Don't Miss Out:

Other Cookware You Might Like: