In the Emeril Hard Anodized 12-Piece cookware set review, we find that it is selling in the same price range as the Cuisinart Chef's Classic. At the time of writing, the 14-piece Cuisinart set is only slightly cheaper than the Emeril package although the latter has 2 additional pieces which is the pasta insert and a cover for the steamer insert. The stock pot is also larger for the Cuisinart Chef's Classic.
Emeril Hard Anodized 12-Piece Cookware Review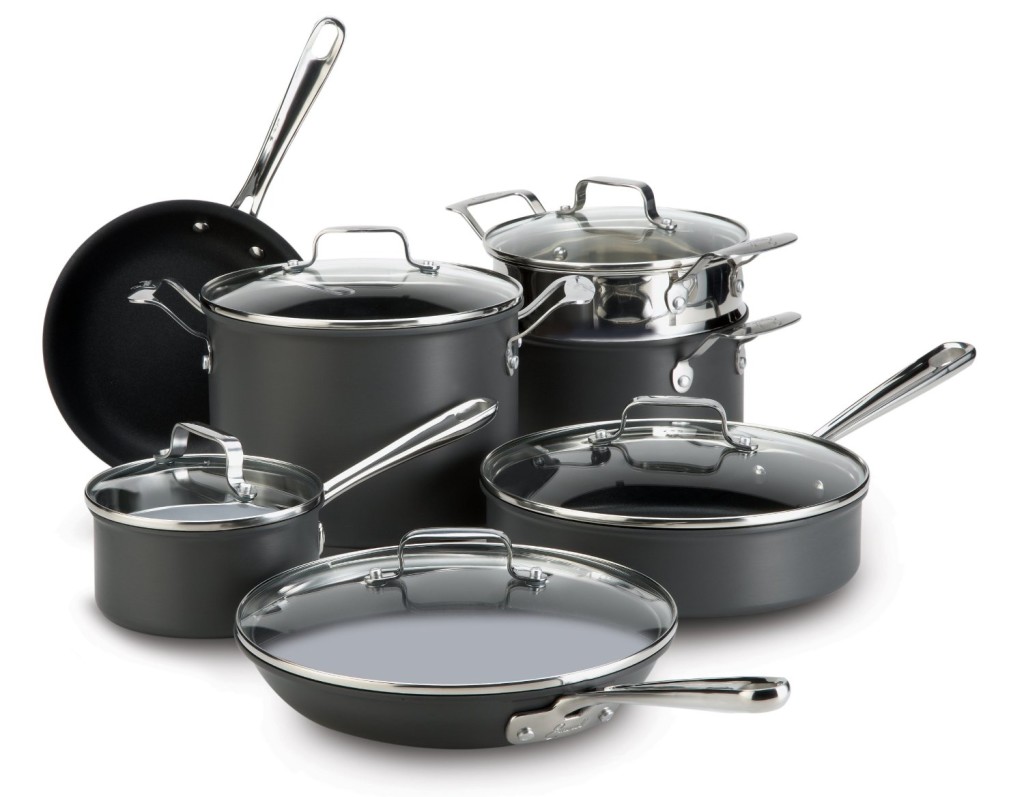 The 12 pieces that are included in the box for the Emeril E871SC64 Hard Anodized cookware are:
8-inch fry pan
10-inch fry pan with lid
1.5-quart saucepan with lid
3-quart casserole with lid
3-quart steamer insert
3-quart sauté pan with lid
6-quart stockpot with lid
=> Check Price
The pieces have a polished hard anodized aluminum exterior that is also resistant to scratches for durability. The interior has a multi-layer nonstick coating for even heating and this set is also marketed as PFOA and Cadmium free.
The lids are of of tempered glass design and are over-safe up to 350°F although the cookware pieces are able to withstand a higher temperature of up to 450°F. The lids are also interchangeable between the saucepan and fry pan. The handles are ergonomically designed and secured to the body with stainless steel rivets.
Suitable for gas, ceramic, electric and glass stovetops, the set also comes with a lifetime warranty.
Should You Buy The Emeril By All Clad Hard Anodized Cookware?
Pros
Easy to clean – The nonstick coating is very slick that little oil is needed and food slides out pretty easily. Wiping with a sponge is all it takes when it comes to cleaning up.
Price is reasonable – As mentioned, the price is comparable to the Cuisinart Chef's Classic. It is not too expensive that it is hard to justify the cost and it is not too cheap either that you need to compromise on much needed quality.
PFOA and Cadmium free – Not many nonstick cookware are free of PFOA and Cadmium, so this is an added benefit for those who want a "greener" cookware.
Cons
Small – While the pieces are pretty standard in terms of size for most cookware bundles, it may not fit for those with a medium to large household. For example, the 10-inch fry pan could be too small when the more common 12-inch would be preferable.
Hot handles – The handles are stainless steel which can get hot if you have left the pot simmering for quite a while or have it sitting on high heat. Pot holders and mittens are definitely necessary with this set.
Hand-wash – Putting the pieces into the dishwasher is not recommended. This could be a hassle for some but the upside is clean-up is not that difficult with the nonstick surface.
Between the Emeril by All Clad Hard Anodized cookware and the Cuisinart Chef's Classic, we would go with the former. Although the Emeril set is slightly more expensive, the reviews are better. Performance-wise, they have generally better reviews with fewer complaints compared to Chef's Classic which have had complaints of lids shattering for the 14-piece set and coating peeling off.
The price point is also just right and few would want to spend $400 to $500 for a set of nonstick cookware. The pots and pans are sturdy and yet not too heavy that they become difficult to lift when filled with food. At the same time, it is not too cheap and light like what you would find in the lower end of the market. For that, the popular  T Fal Signature Hard Anodized set comes to mind. You can check that out if you want a much cheaper set to fit your budget.
For this Emeril set, it is more of a mid-range item. More importantly, it does perform to expectation for the price it is selling at. It won't satisfy those that want heavier cookware like the higher end Circulon and Calphalon models but bear in mind that those are in the different price range altogether. They do look more elegant with a better finish and may have a more durable patented interior nonstick coating which is why they are selling at a premium price compared to this Emeril set. But for everyday cookware for home use, the Emeril by All Clad Hard Anodized 12-Piece cookware set is more than sufficient to serve up a meal.
Free Shipping For This Emeril Cookware? Don't Miss Out!

Other Cookware You Might Like: