If you cannot justify spending $500 or more on some pots and pans then, you can forget getting a All Clad set. The cheaper, but close, alternative would be Emeril. In this Emeril Pro-Clad cookware review, let's take a look if this cheaper alternative is a good option for your kitchen.
Emeril Pro-Clad Tri-Ply Stainless Steel 12-Piece Cookware Review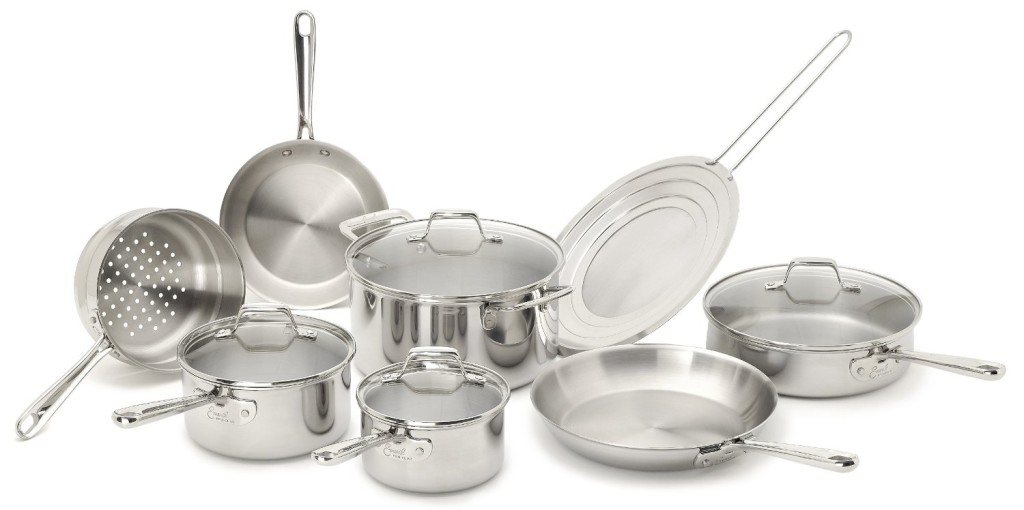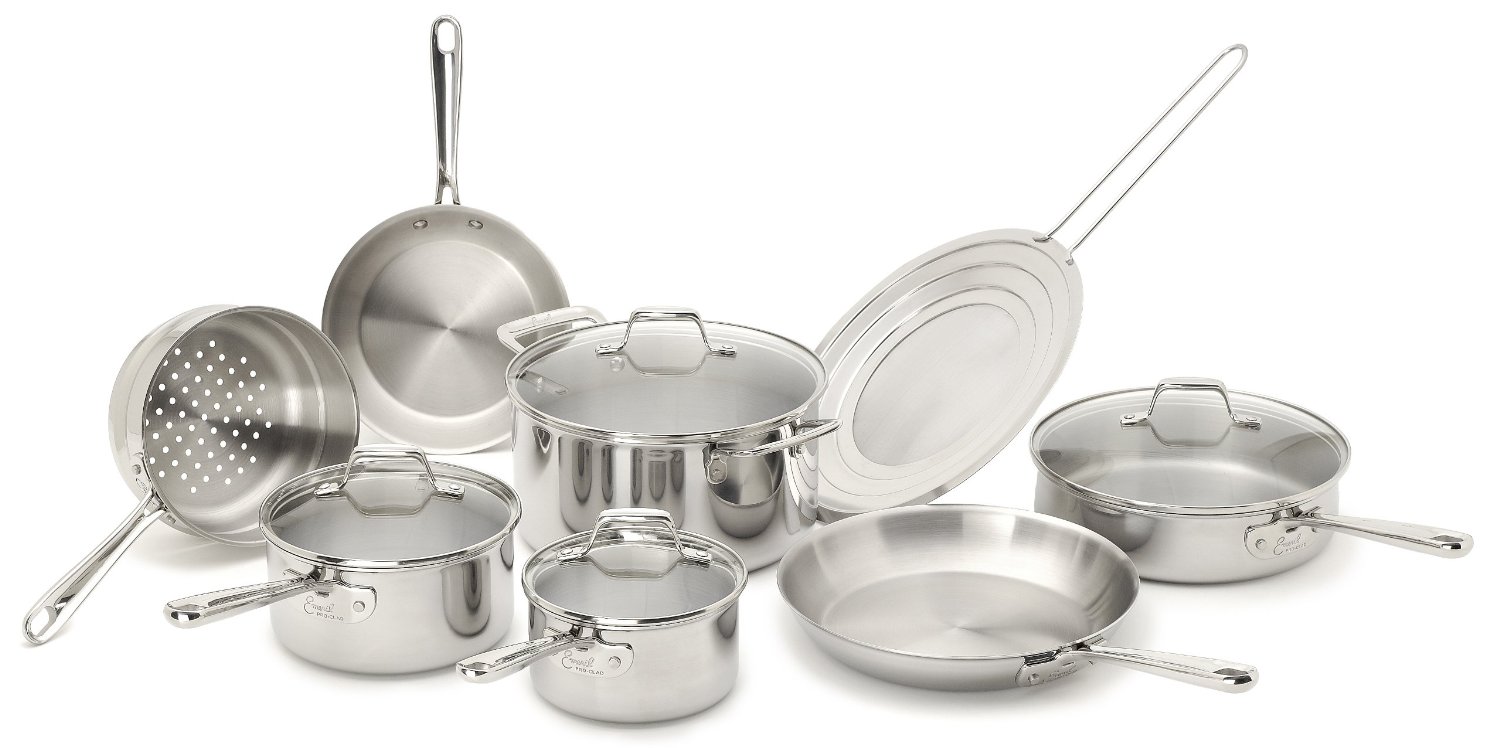 The Emeril by All Clad Pro-Clad Tri-Ply cookware (E914SC64) comes in 12 pieces and they are:
1.5-quart covered saucepan
2.5-quart covered saucepan
3-quart covered saute pan
6-quart covered Dutch oven
8-inch fry pan
10-inch fry pan
steamer insert
universal splatter screen
The universal splatter screen will fit the fry pans and the saute pan while the steamer insert will fit the 2.5-quart saucepan.
=> Check Price
The pieces have a tri-ply construction with an aluminum layer in between two stainless steel layers. This construction is to maximize heat conductivity and even heat distribution. The cooking surface has a 18/10 stainless steel grade which has non-reactive properties.
The flared rims make pouring much easier with less mess. The tempered glass lids are heat and shatter resistant and are oven-safe up to 350°F. The pots and pans have a higher heat resistance of 550°F. The ergonomic handles are riveted to the pieces and have a tapered design and hanging hole at one end.
The set is dishwasher-safe and also suitable for induction cooktops, similar to their other model, the Emeril Chef's Stainless Steel Cookware set.
Should You Buy The Emeril Pro-Clad Tri-Ply Cookware?
Pros
Price – The cookware is expensive but still affordable for those who want weightier and better quality pieces than the lower end products like T Fal. It is also far less than what you would typically pay for for an All Clad cookware set.
Quality – The construction of the pieces are sturdy and solid with a nice weight to them. They retain heat well and cooking using the right temperature will be key to avoid burning food.
Handles stay cool – The sturdy handles for the pans stay cool during cooking which is a convenience. Only the loop handles for the lids and Dutch oven would require pot holders.
Cons
Made in China – Some people will find a problem with this because of the association with poorer quality. Unfortunately, most cookware nowadays are made in China or some other developing countries. That is the price you need to pay for more affordable pots and pans.
No vent hole for the lids – The lids do not have any vent holes. Some people would prefer it that way but others may find it to be a minor inconvenience.
Small size – It is not suitable for larger families with an absence of a 12-inchh skillet and larger stockpot. You may still need to get individual pieces to round up the set.
The Emeril Pro-Clad Tri-Ply cookware is definitely a good substitute for an All Clad set. In fact, it is debatable whether the additional benefit of using an All Clad piece would really justify the much higher price. They may be heavier and have stick-resistant interior but does that justify the cost? Probably not, unless you decide to upgrade to the 5-ply pieces with a copper core but then those would be in a totally different league altogether.
As for the Emeril Pro-Clad vs Cuisinart Multiclad Pro, the latter is slightly more expensive (about $30 more at the time of writing) but it has a bigger 8-quart stockpot. The Cuisinart set also has stainless steel lids. The handle design is also different with the Emeril Pro-Clad's handles being thicker at the grip edge. Weight and performance-wise, there shouldn't be any big difference between the two. So, it boils down to your preference on the individual pieces/sizes and the little details like lids and handles.
The other comparable set would be the Cooks Standard Multi-Ply Clad. It has the same aluminum core with 18/10 stainless steel layers and you can get it in a 10-piece set which will not be as costly in terms of upfront investment. It also has stainless steel lids and a larger stockpot than the Emeril Pro-Clad.
For those few stainless steel cookware mentioned above, personally, I would go for the Emeril set because I have a preference for glass lids. But if I'm not fussy about about the lids, the Cooks Standard Multi-Ply would get my vote. The price is lower at the time of review for the same type of construction and similar positive reviews overall.
Free Shipping For The Emeril Pro-Clad Cookware? Don't Miss Out!

Other Cookware You Might Like: