The Farberware Classic Stainless Steel Cookware set is a little different from other bundles. In our review, we noticed that while sold as a stainless steel set, the skillets have a nonstick interior instead. Usually, for stainless steel cookware sets, the fry pans would be made of the same material. After all, one of the main reasons people want stainless steel cookware is to avoid the health hazards that come with Teflon-coated pans. So, this set is indeed uncommon although it does have its advantage and hence, demand among buyers.
Farberware Classic Stainless Steel Cookware Set Review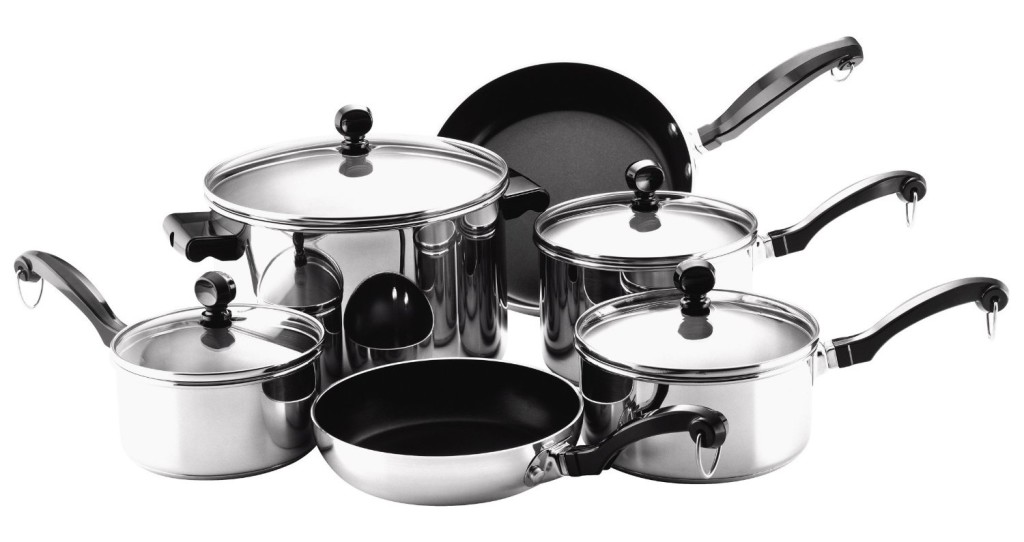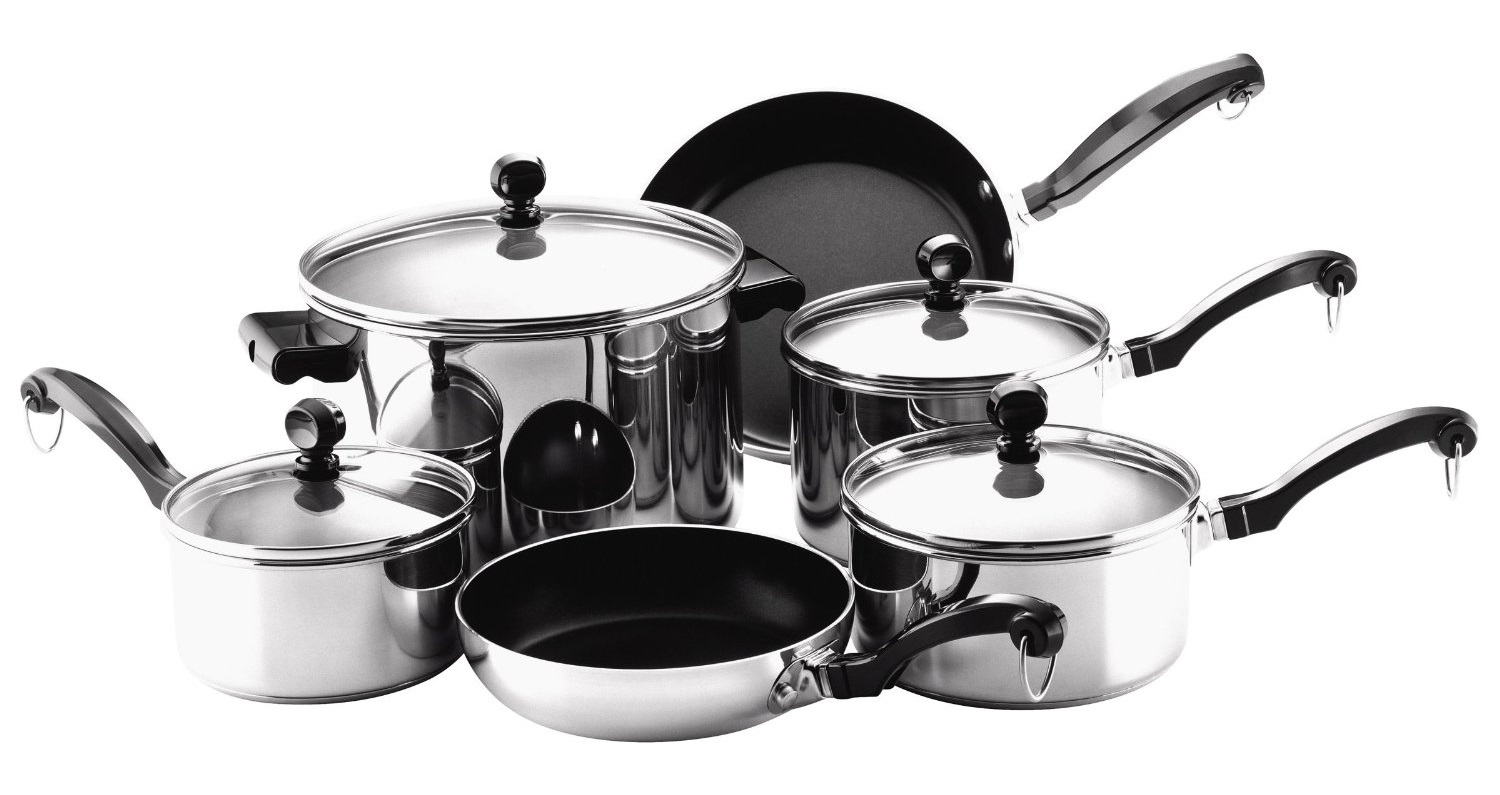 The Farberware Classic Stainless Steel Cookware are available in two different bundles – 10 and 15-piece sets with slight variations between the two. For the 10-piece set, you will receive these items:
1-quart saucepan with glass lid
1.5-quart saucepan with glass lid
2-quart saucepan with glass lid
5.5-quart saucepot with glass lid
7-inch skillet
9-inch skillet
For the 15-piece set, the sizes of the pots and pans are different with an additional few items included:
1-quart saucepan with stainless steel lid

1.5-quart

2-quart saucepan with stainless steel lid

2-quart

3-quart saucepan with stainless steel lid

5.5-quart

4-quart saucepot with stainless steel lid
8-quart stockpot with stainless steel lid

7-inch

8-inch skillet

9-inch

10-inch skillet
3 nylon tools
=> Check Price
For heat distribution, the pots use a thick aluminum core surrounded with stainless steel. The exterior is polished to a mirror finish to give it an attractive look. The lids are glass for the 10-piece set and stainless steel for the 15-piece bundle. Both have dome-shaped knobs and fit snugly onto the pots. The edges of the pots are rolled for mess-free pouring.
The heat-resistant handles are phenolic and with a ring at the end for hanging. The pieces are oven-safe up to 350°F and dishwasher-safe, except for the skillets. As mentioned above, the aluminum skillets have a nonstick coating and thus, should be hand-washed.
The Farberware Classic series also have other pieces that are not included in the set such as a steamer, 12-inch covered fry pan and double boiler which you can pick and choose to make your cookware complete.
Should You Buy The Farberware Classic Stainless Steel Cookware?
Pros
Nonstick skillets – The inclusion of nonstick skillets into the set is uncommon for stainless steel cookware. However, more often than not, we do not need nonstick pots but we could find it hard to live without nonstick fry pans. Therefore, this combination of stainless steel and nonstick pieces is practical and ideal for some.
Attractive price – The cost of the pots and pans is highly affordable although it is a well-known old brand name. Its price is comparable to the T Fal Ultimate and is less than half the price of the Cuisinart Multiclad Pro. In short, you are getting a trusted band name but without the designer prices.
Easy to clean – As the skillets are nonstick, cleaning is not a problem at all with its food release system while the stainless steel pots can be dumped into the dish washer for convenience.
Cons
Quality not as good – Some buyers have noted that the quality of the Farberware Classic is not as good anymore compared to years ago. Bear in mind that previous generation of Farberware pots and pans are America-made but now, this set is made in China. The quality is obviously not the same anymore and the same can be said with many other products nowadays.
Nonstick skillets don't last – There are also complaints that the nonstick coating for the skillets will peel after a few months of use.
On the small side – The pieces, especially the 10-piece set, are rather small in terms of size. A 7 and 9-inch skillet will most probably be too small for family use and as such, you will need to supplement the pieces with bigger ones if you are cooking for a few people at home.
The problem with the Farberware Classic Stainless Steel cookware set is that the skillets are nonstick. While this is preferred by some, you would have to fork out money for stainless steel ones if you have a different preference. Furthermore, the skillets, most probably, will not last as long as the pots which means replacements are still needed down the road for this set.
The other thing to note is that the quality may not be as expected if you have been using Farberware cookware from years ago. While many people have brand loyalty because of previous positive experiences, it doesn't hurt to look at other popular cookware sets in the market. Even cheap cookware sets can have equally good reviews now and for this, the Cook N Home Stainless Steel set comes to mind.
Free Shipping For The Farberware Classic Cookware? Don't Miss Out!

Other Cookware You Might Like: